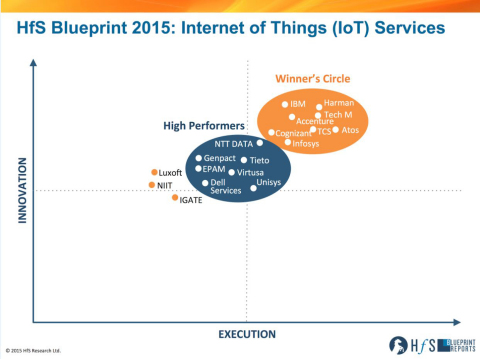 NEW YORK--(BUSINESS WIRE)--Accenture (NYSE:ACN) has been placed in the 'Winner's Circle' in HfS Research's inaugural IoT Services Blueprint report. Highlighting Accenture's breadth of robust platform-based offerings, strength of IoT vision, As-a-Service IT operating models and deep enterprise and industry expertise among its strengths, HfS placed Accenture as a leader in IoT Services for both execution and innovation.
Tweet this
"Accenture is a leading IoT partner," said Charles Sutherland, HfS analyst and author of the report. "Accenture has all the necessary digital, industry and enterprise experience and skills to support IoT deployments in G2000 companies. By forming strong collaborations with other technology vendors and service providers and creating one of the most thorough IoT reference architectures with corresponding platforms, Accenture is cementing its role as a key player in the IoT ecosystem. This is supported by its development of offerings such as the Accenture Connected Platforms as a Service and its array of pricing models."
In the HfS Blueprint Report: IoT Services 2015, 18 service providers were identified as designing and delivering IoT services for enterprise clients. Focused on the emergence of the 'as-a-service' economy and the impact that digital services are having on IT and business processes, HfS undertook the Blueprint to review how the IoT is being delivered to clients today.
"We are focused on delivering the benefits of the IoT to our clients," said Craig McNeil, global IoT Practice lead, Accenture Digital – Mobility. "To be recognized as a leading...
More