S&P500 Slides A Bit Further, Will Fear Or Fear of Missing the Bounce Reign?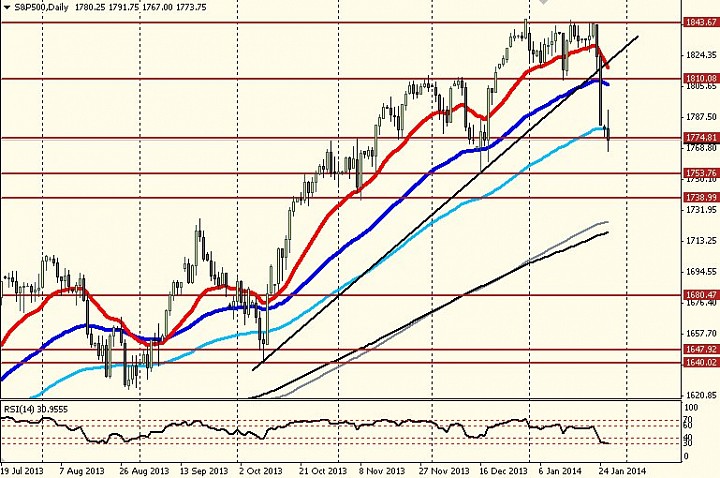 The S&P500 had another down session to start this week, following the sell-off Thursday and Friday. Today's move was more choppy and didn't carry the same negative punch, but it shows that the slide last week was not necessarily a one-off, and the index is now working its way through important support at 1775. The next levels of support, if US equities were to slide further come in at 1754 and 1739. Safe to say that the correction that has been unleashed may not have a quick turnaround, though once conditions improve, investors used to the gains in 2013 will not want to miss the bounce. My prognosis is the start of a bottoming around the middle of the week, but things can still get hairy if sentiment worsens.
 JPY Crosses Battle Back Some:
When risk sentiment is at the forefront and traders are worried about risk-off/risk-on it pays to pay close attention to the JPY crosses. In general, the JPY opened stronger at the Sunday open, but most currencies managed to pare their worst losses.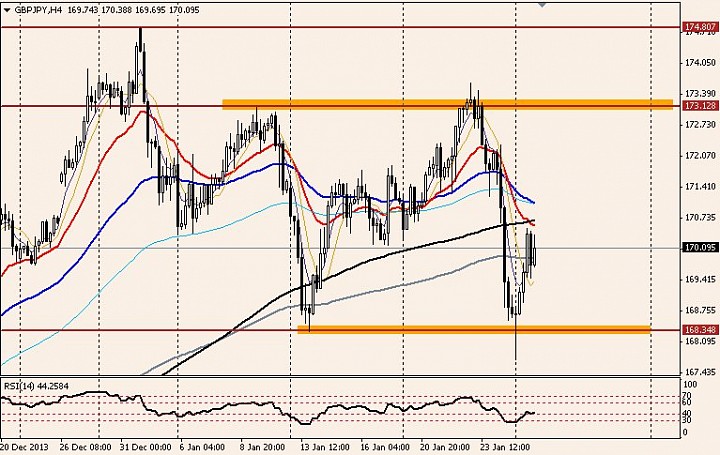 For example, here is the GBP/JPY. Granted the GBP was one of the stronger currencies today, but it managed to find buying interest around its lows from 2 weeks ago. The pair has therefore formed a sideways range, and it will be interesting to see if the middle of the range, which coincides with the 200-hourly SMA (in black) will act as a resistance this week. If stocks turn around, then the pair can reclaim its highs from last week, but for the time being the bearish outlook seems more likely. It really depends on how one sees risk heading into the middle of the week, as to how one plays the JPY crosses. I'm having a hard time deciding myself and so will wait for some catalysts to help and guide me.
CAD Turns Out To Be The Weakest Link: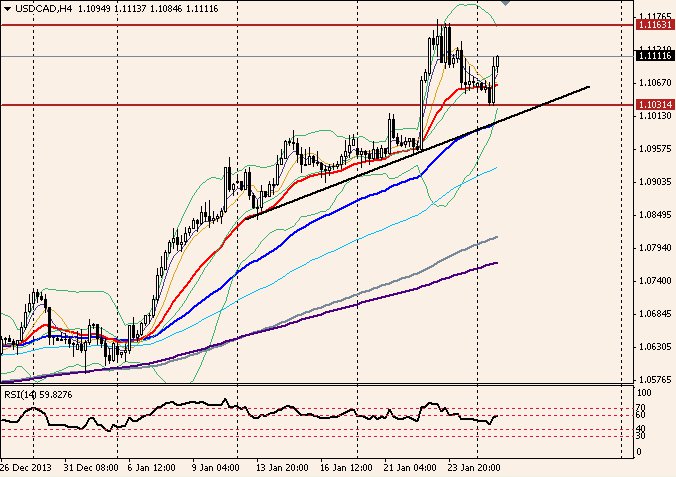 Out of the currencies that I follow regularly (USD, JPY, EUR, GBP, AUD, NZD, CAD) it was the CAD that was softest in today's session, a sign that it may be most vulnerable at the moment. It barely managed to make headway against the JPY, unlike just about everyone else, and the USD/CAD pair, after seeing a down day on Friday was back pushing above 1.11 in late NY trading.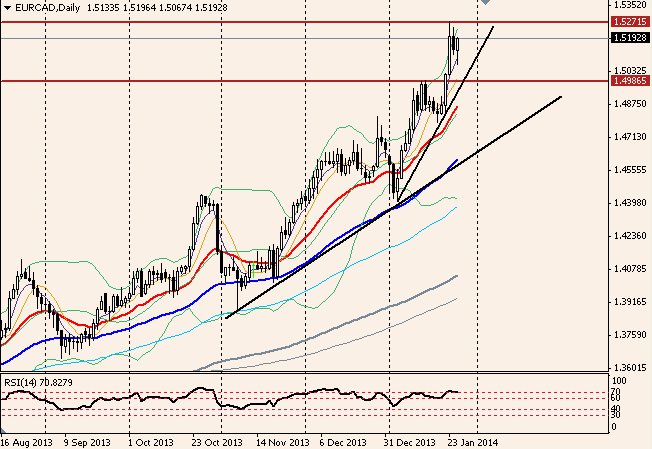 Looking at the CAD against the EUR and GBP, they too looked poised to continue their trends higher against the CAD. Above we have the EUR/CAD, which stalled out around 1.5270 late last week, but today's action suggests that the EUR is gunning again for those highs and sets up a possible break further to the topside.