The EUR has shown some interesting price action of late. In the EUR/USD pair, the euro has managed to extend its month-long rally, coming close to its highs set in early June near 1.3415. However, against other currencies the euro has been weaker, especially when we look at the Japanese yen, the British pound, and some of the commodity currencies like the Canadian dollar and New Zealand dollar.
The recent data-stream from the euro zone hasn't held too many surprises, and as we all know, traders and politicians right now are enjoying their summer holidays. While that means lower liquidity in financial markets it doesn't necessarily mean lower volatility, as sometimes it means fewer traders can push around prices somewhat.
Key Risk Events to Watch - ZEW Economic Sentiment

This week could set up like that because we do have some important fundamental data to consider - both forward and past looking. In terms of forward-looking data, we consider the ZEW Economic Sentiment surveys from Germany and the wider euro zone. The report comes out on Tuesday, and the expectation is for the index to improve in both cases (an increase to 40.3 for Germany from 36.3, and an increase to 37.4 from 32.8 in the Euro-zone). If the reading meets expectations (or exceeds them) it should help to buttress the story that the European economy as a whole is bottoming out as the ZEW survey is a forward looking one that tries and gauge businesses expectations of the next 3-6 months.

Key Risk Events to Watch - Preliminary 2Q GDP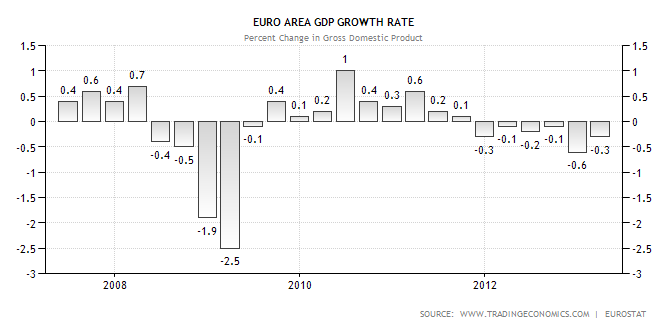 On Wednesday, we get preliminary readings for second quarter GDP from Germany, France, and the wider entire euro zone on Wednesday. It may be the first quarter of positive growth in the last six, officially ending the recession there, though while Germany is expected to post a 0.6% increase (from 0.1% gain in the 1Q), France is expected to barely nudge into positive territory at 0.1% from -0.2%. In the Euro-zone as a whole, GDP is expected to rise 0.2%.  The important thing here is that this is our first look at the 2Q numbers and usually means that volatility is strongest around this release, rather than the final revised version.
A disappointing result from either the ZEW or the GDP data then can weight on the EUR's fortunes and extend its declines vs. the GBP, JPY, CAD, and NZD (other things held equal), while better than expected results could mean that the EUR/USD pushes through the critical resistance at the 1.34 handle.

I'll follow up with some charts of the EUR/USD (later today) and some others EUR crosses (throughout the week), as well as try and break down the reaction to the important risk events.

If there's a particular EUR pair you guys/gals want to see from a technical perspective, let me know below.
- Nick