Of any sector in the market, along with the tech market, healthcare and biotechnology may be the one with the highest growth trajectory over time. Populations in developing countries are aging and with that comes higher demand for healthcare and new pharmaceutical products. Though developed economy growth is slowing most prominently from aging demographics and excessive debt accumulation, we can say with a reasonable degree of confidence that healthcare demand will exceed the demand for other services in the economy.

There is nonetheless a high degree of volatility in the healthcare/biotech sector, as valuations rise and fall heavily based data results, FDA approvals, and the like, particularly among small- and mid-cap companies.
Unless one knows the landscape extremely well, it's difficult to bet on individual names and expect consistent success. This is where an ETF can come in and provide exposure to the sector for those with more of a longer-term focus, but at lower volatility. Vanguard's healthcare fund VHT has an expense ratio of just 0.10% (i.e., $10 for every $10,000 invested) and provides exposure to 369 different holdings.
Since its introduction in January 2004, it has provided better returns at slightly lower volatility than the S&P 500. Its overall correlation with the broader market is +0.85.
(Click to enlarge)

Holdings

The fund is cap-weighted and tracks the MSCI U.S. Investable Market Health Care 25/50 Index, wherein approximately 98% of the US healthcare market (measured by market capitalization) is included within it.
Large caps naturally dominate as client demand and liquidity slants the ETFs toward heavier weighting in the most popular companies.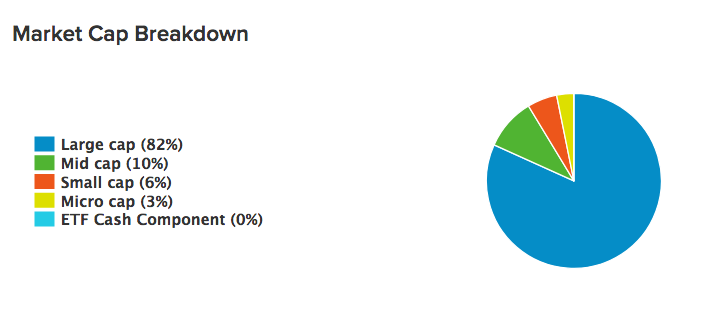 The top ten holdings constitute 44% of the fund.
Johnson & Johnson (JNJ) is the top holding at a 10.3% weighting due to its $350+ billion market capitalization.
Pfizer (PFE), Merck (MRK), and UnitedHealth (UNH) each have 5%-6% representation.

Medtronic (MDT), Amgen (AMGN), AbbVie (ABBV), Bristol-Myers (BMY), Celgene (CELG), and Gilead (GILD) round out the top ten, each at 2.5%-3.5% weightings.
The top 15 holdings take up 55%, with 1.6%-2.5% allocations to Allergan (AGN), Eli Lilly (LLY), Abbott Laboratories (ABT), Thermo Fisher (TMO), and Biogen (BIIB).
By the 27th holding, no stock comprises more than 1.00% of the fund. By the 41st holding, no stock makes up more than 0.50% of the fund.
Over half of the holdings have less than 0.04% weighting. Overall, 83% of the weight is concentrated in the top 50 holdings.
A complete list of what's in the fund can be found below: