Computer accessory company, Logitech International S.A. LOGI acquired Astro Gaming – a popular console gaming headset maker – as it attempts to carve a deeper niche in the gaming peripheral market. The deal was valued at $85 million in cash and Logitech expects the acquisition to close in early August.
Logitech is an established player in the mice, keyboards, headsets, and other peripherals space, while Astro Gaming caters to enthusiast and professional console gamers. This acquisition is a strategic move on Logitech's part to get a jumpstart on the console market, as it has historically targeted PCs, tablets and phones.
Astro Gaming is famed for its expensive, high-quality Astro A40 and A50 headsets, and Logitech plans to leverage the Astro brand. Astro Gaming will be integrated into the Logitech G division, Logitech's PC gaming-focused sub-brand. Post acquisition, Logitech G will continue to focus on PC gaming products, while Astro Gaming will cater to the console market.
Astro Gaming will enable Logitech to explore the console gaming market and thus help accelerate the long-term growth of its gaming business. Logitech expects the acquisition to be slightly dilutive to the bottom line in the first year, due to integration expenses and investments. In fiscal 2018, Astro Gaming is anticipated to add approximately two points of growth to the top line.
This is not the first time Logitech has taken the acquisition route to expand into a peripheral market. It became a major player in Bluetooth speakers after it acquired Ultimate Ears for $34 million in 2008. Then, the company bought wireless earbud maker – Jaybird – for $50 million last April.
Logitech's fourth-quarter fiscal 2017 sales rose 15.2% year over year to $496.2 million. The increase came on the back of the company's Retail segment, which grew a remarkable 15% year over year in constant currency. Backed by its impressive growth drivers, the company's stock has had an impressive run on the bourse over the past one year, having appreciated a whopping 130.3% — miles ahead of the Zacks categorized Computer - Peripheral Equipment industry's average gain of 39.6%.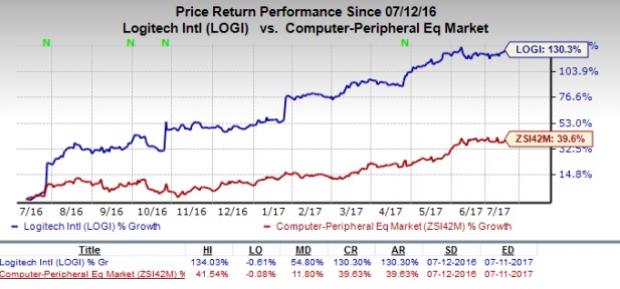 In order to further boost growth, the company is pursuing innovation and expanding its product lines to tap the high potential market for accessories. In recent times, Logitech launched innovative offerings like the fastest performing mouse and keyboard switches, and a wireless mouse with the long-lasting battery, among others.
The products most recently introduced include Second Street Collection Bluetooth speakers, conference-cam offering Logitech MeetUp, a protective cover for Apple Inc.'s AAPL new iPad Pro – Logitech Slim Combo, and the software – Logitech Flow – to control multiple computers with a single mouse.
Logitech International S.A. Price and Consensus
Logitech remains optimistic that the steady traction of its product lines, as well as positive industry trends will continue to fuel growth. We believe that the thriving cloud-based video-conferencing services, strategic product launches and restructuring actions will continue to stoke this Zacks Rank #1 (Strong Buy) company's growth.
Other Key Picks
Other top-ranked stocks in the broader sector include Exa Corporation EXA and Red Hat, Inc. RHT, both sporting the same rank as Logitech. You can see the complete list of today's Zacks #1 Rank stocks here.
Exa Corporation has an impressive average positive earnings surprise of 91.7% for the trailing four quarters, having beaten estimates strongly all through.
Red Hat, Inc. has a robust earnings surprise history, with an average positive surprise of 11.1%, driven by consecutive earnings beats over the trailing four quarters.
More Stock News: 8 Companies Verge on Apple-Like Run
Did you miss Apple's 9X stock explosion after they launched their iPhone in 2007? Now 2017 looks to be a pivotal year to get in on another emerging technology expected to rock the market. Demand could soar from almost nothing to $42 billion by 2025. Reports suggest it could save 10 million lives per decade which could in turn save $200 billion in U.S. healthcare costs.
A bonus Zacks Special Report names this breakthrough and the 8 best stocks to exploit it. Like Apple in 2007, these companies are already strong and coiling for potential mega-gains. Click to see them right now >>
Want the latest recommendations from Zacks Investment Research? Today, you can download 7 Best Stocks for the Next 30 Days.
Click to get this free report
Apple Inc. (AAPL): Free Stock Analysis Report
Logitech International S.A. (LOGI): Free Stock Analysis Report
Red Hat, Inc. (RHT): Free Stock Analysis Report
Exa Corporation (EXA): Free Stock Analysis Report
To read this article on Zacks.com click here.
Zacks Investment Research