Technology has, and will continue to, shape the world we live in. Not only has this had major implications for the average individual, but it has had profound effects for investors. One cannot read a history of the modern stock market without getting at least a hint of the unimaginable wealth that has been generated by disruptive, dominant, innovative technology firms. This is not to say that the secret to wealth is exclusively investing in technology, but not to have a stake in the future itself via owning pieces of today's top tech firms is downright, well, (lowercase) foolish.
With this in mind, and in the hopes of finding the next winning tech shares, some of The Motley Fool's best and brightest put their heads together and came up with three tech stocks that they believe could soar in 2016. Read on to learn what they came up with.
Tim Green: Advanced Micro Devices (NASDAQ:AMD) has been hemorrhaging market share in both the GPU and CPU markets over the past couple of years. The company is posting big losses every quarter, and its stock has been decimated over the past five years, losing about two-thirds of its value. Over the past 10 years, the stock has lost a staggering 90% of its value.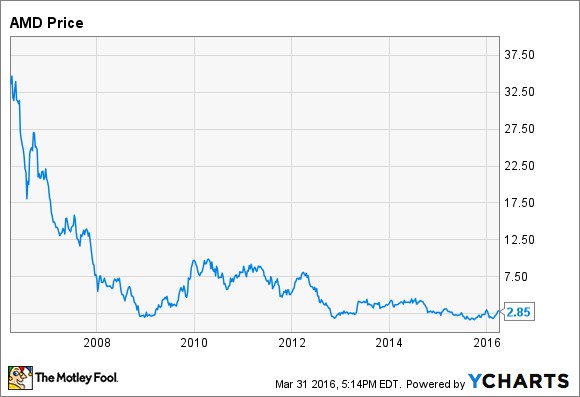 But 2016 is a big year for AMD, and if things go right, the stock could make a major recovery. After losing considerable share in the GPU market, the company plans to launch a brand-new line of graphics cards, Polaris, later this year. AMD promises significant performance and efficiency gains, and if Polaris meets expectations, AMD's GPU business may finally return to growth.
Towards the end of 2016, AMD plans to launch Zen, its brand-new CPU microarchitecture. The company's current line of CPUs has largely been a disaster, giving Intel an enormous lead in both the PC and server markets. Zen aims to fix these issues, with AMD promising a 40% boost in instructions-per-clock, which should go a long way in closing the performance gap with Intel products. And with Intel delaying its 10nm manufacturing process, the manufacturing gap between Intel and AMD will narrow considerably.
If AMD can execute and launch competitive GPU and CPU products this year, a change in investor sentiment could send the stock soaring. The company has a history of...
More