Can S&P 500 earnings sidestep another quarter of forecast declines?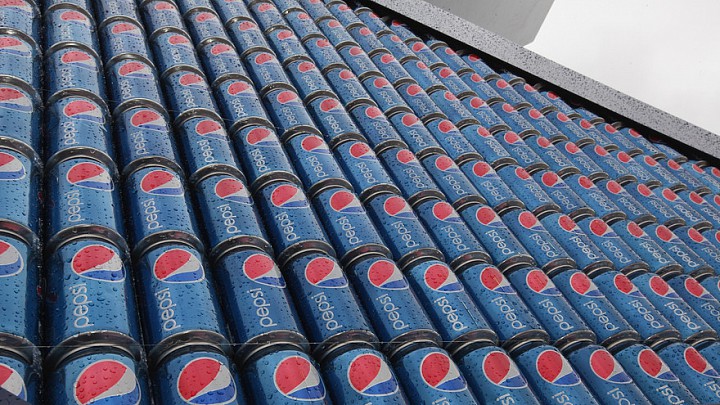 Getty Images
Soda & Aluminum: Pepsi, Alcoa earnings to kick off earnings season

Stocks finished last week higher with the both the Dow Jones Industrial AverageDJIA, +1.85% and the S&P 500 index SPX, +1.83% gaining 1%, snapping a two-week trend of declines. The Nasdaq Composite Index COMP, +1.56% gained 0.5%.
Another quarter of earnings declines is predicted for the S&P 500, but investors have seen this game before.
The previous two earnings seasons started and ended in a similar way: Forecasters were calling for the first year-over-year decline in S&P 500 earnings in five years only for companies to beat traditionally lowered forecasts and show a net year-over-year rise for the respective quarters.
This time around, the bounce back could fall short of the mark, said Sam Stovall, U.S. equity strategist at S&P Capital IQ, in a recent note.
"This quarter, however, while actual Q3 EPS results will likely come in ahead of estimates, the depth of the predicted Q3 EPS shortfall implies that this third successive quarterly estimate for a first negative reading since Q3 2009 may finally come true," said Stovall.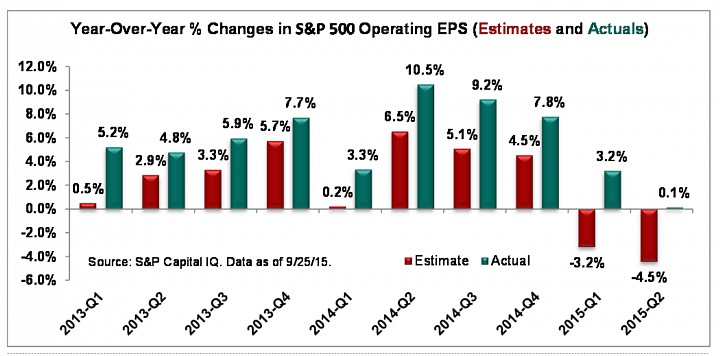 Stovall estimates a 4.6% decline in S&P 500 earnings over the year ago period because of a drop in earnings from the energy sector. Seeing that actual earnings results have outperformed forecasts by an average of four percentage points over the past 14 quarters, the third-quarter bounce back could fail to make it into a net gain.
An even sharper decline of 5.1% is seen by John Butters, senior earnings analyst at FactSet. One positive trend, however, going into this earnings season is that fewer companies have issued profit warnings while more companies have forecast earnings that have been higher than consensus estimates, Butters said.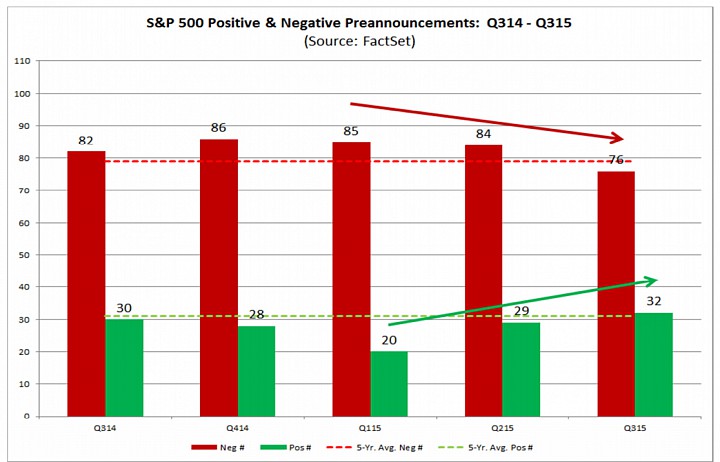 With only 76 companies in the S&P 500 issuing profit warnings for the third quarter, that is the fewest number of companies issuing them since the second quarter of 2012, Butters noted.
If S&P 500 earnings live up to those healthier-than-usual forecasts, that would a welcome sign to investors who got battered in the third quarter and are looking for stronger fundamentals in stocks as they navigate the prospect of a volatile October. After all, one thing the correction achieved was lowering price-to-earnings ratios.
While forward 12-month P/E ratios for the S&P 500 are still above average, they did drop considerably over the third quarter. The current forward 12-month P/E is 15.1x—above the 10-year average of 14.1x—but lower than their level of 16.4x at the beginning of the third quarter, according to Butters.
Four other S&P 500 companies report earnings this week in addition to Alcoa Inc.AA, +0.19% : PepsiCo PEP, +2.55% Monsanto Co. MON, +0.80% Yum Brands Inc. YUM, +1.78% and Constellation Brands Inc. STZ, +2.42%
With a light week of economic data ahead, Fed watchers will be looking to parse the release of minutes from September's Federal Open Market Committee on Thursday as another FOMC meeting looms near the end of October.
Report date
Company/ticker (FactSet EPS / revenue estimate)
Mon., Oct. 5
Tues., Oct. 6

PepsiCo ($1.27 / $16.22 billion)

Weds., Oct. 7

Monsanto (loss of 2 cents / $2.79 billion)
Yum Brands ($1.07 / $3.67 billion)
Constellation Brands ($1.32 / $1.73 billion)

Thurs., Oct. 8

Alcoa (15 cents / $5.69 billion)

Fri., Oct. 9
More from MarketWatch