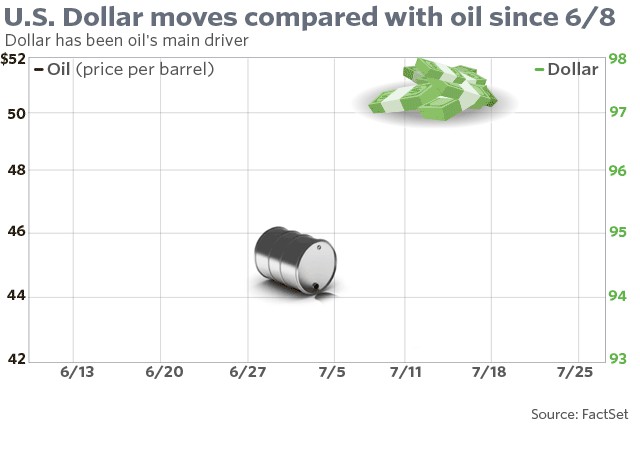 After enjoying a stellar run-up, crude futures are headed south again, hovering at three-months lows. However, the fundamentals of supply and demand may not be the key reason behind the recent bout of weakness in crude futures.
U.S. benchmark oil, West Texas Intermediate trading on the New York Mercantile Exchange CLU6, -2.26% has lost more than 11% of its value so far in July, as of Tuesday.
Back on June 8, WTI had nearly doubled its value closing at a 2016 high of $51.03 a barrel after reaching a low of $26.21 on Feb. 11.
What a difference seven weeks can make.
The change in direction has industry specialists like those at Morgan Stanley pointing to "worrisome trends" and forecasting crude prices to resume a fresh decline—possibly to as low as $35 a barrel for the second half of 2016.
Also read: Dollar rises against yen as Abe rolls out stimulus; Fed decision looms
Morgan Stanley, in a Sunday research note, argues that positive tailwinds that have underpinned the recent rise in crude prices, namely a reduction in supply and output problems, are fading. Morgan Stanley describes the headwinds for crude this way:
Supply continues to return from disruptions, refined products are severely oversupplied, crude demand is falling well short of product demand, and key product demand is decelerating. Our revised below-consensus GDP outlook, macro risks and longer positioning in oil markets only add to downside risks.
Morgan Stanley points out that one of key issues for crude is a severe...
More