Himax was looking strong at the start of year after maintaining price above the 5.65-6.00 consolidation support area. 

HIMX Daily Chart 8/10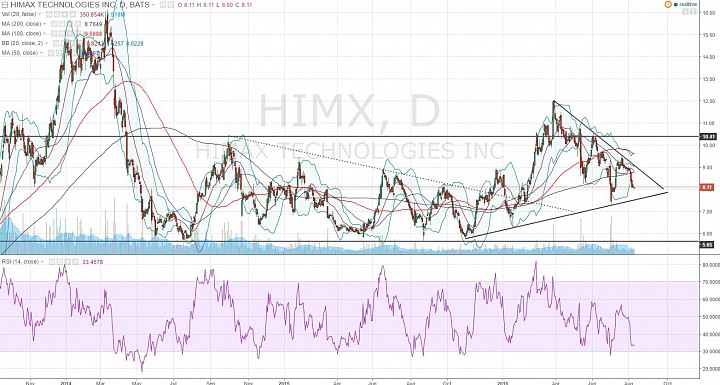 (click to enlarge)
Bullish breakout:
- At the end of 2015 and start of 2016, we saw price rally above a descending triangle resistance.
- After that breakout, HIMX made a higher low and started to extend the rally further. 
- Eventually by April, price broke above a previous consolidation range resistance at 10.40. 

Deep, choppy pullback:
- After the bullish breakout to start the year, price stalled after hitting 12.00.
- Since hitting 12.00 price has been choppy and bearish.
- This deep pullback suggests that the bullish breakout earlier in the year might have failed. 

Critical juncture:
- Now, while the bullish outlook seems to be failing, bears have a challenge in the form of a rising trendline.
- Essentially, if price falls below the July 1st low of 7.25, the short-term choppy bearish trend would open up the 5.65-6.00 support level.
- This is a neutral-bearish scenario.
- If price instead starts to form a low above that July 1st low, we can look at HIMX as a neutral-bullish market.