The scorching ADP print may have brought another life into the reflation trade this morning, with TSYs dropping and the dollar rising, pushing S&P futures higher, but that may not be sufficient according to SocGen's Kit Juckes who points out that as oil prices bounced from their lows under USD 26/bbl and the US economy gathered momentum in the middle of last year, breakeven inflation rates on US Treasuries moved up from a low of 1.2%, eventually reaching a peak just under 2.1% in early 2017. The trendier 5y5y inflation swap rate rose from 1.8% to 2.6% over the same period. Both are now drifting lower, the breakeven inflation rate at 1.96% currently.
If breakeven inflation can't cling on to the Fed's 2% inflation target (which is also the average breakeven rate of the last decade), what does that say about investor mindset? The danger is that the longer nominal yields remain in their current range, the greater the pressure on investors to buy longer-dated bonds. And that would not be good for the dollar at all.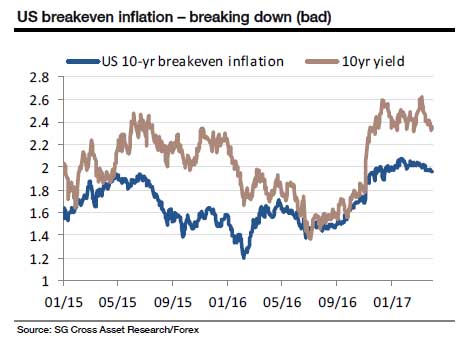 Juckes also note that yen bears have plents of reasons to be nervous: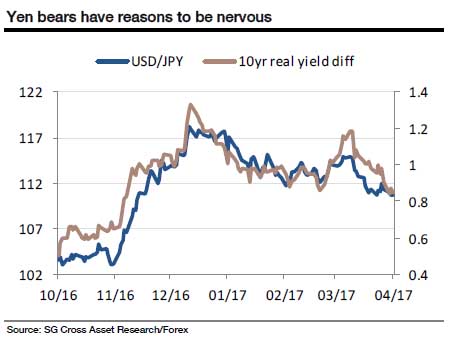 As for EUR/USD, Juckes notes that it remains stuck. The 'winner' of last night's TV debate was apparently Jean-Luc Melenchon, who is chasing down Fancois Fillon for third place. The effective winner seems to be Emmanuel Macron. The big question is still. Whether a large percentage of undecided voters and a low turnout could give Marine Le Pen a chance that is not reflected in any of the opinion polls. The Euro may struggle to rally amid the uncertainty but the fundamental backdrop points more and more to a sharp post-election spike.