Recreation vehicles (RV) are popular in developed countries and there is a RV lifestyle term which describes people interested in traveling and camping. Therefore let me present Thor Industries, Inc (NYSE:THO), which operates in the USA since 1930s . 
In fact, Thor was founded in 1980 by Wade Thompson and Peter Orthwein with the purchase of Airstream (since 1930s). It is the sole owner of operating subsidiaries that, combined, represent the world's largest manufacturer of recreational vehicles.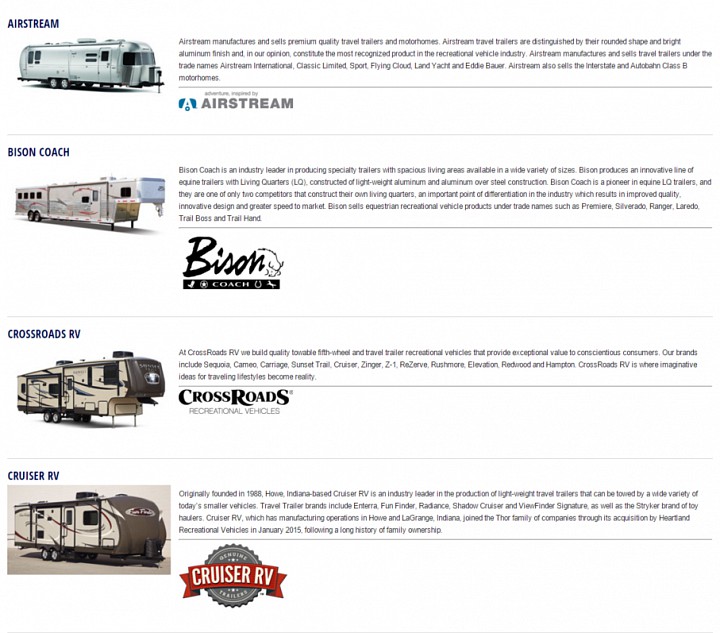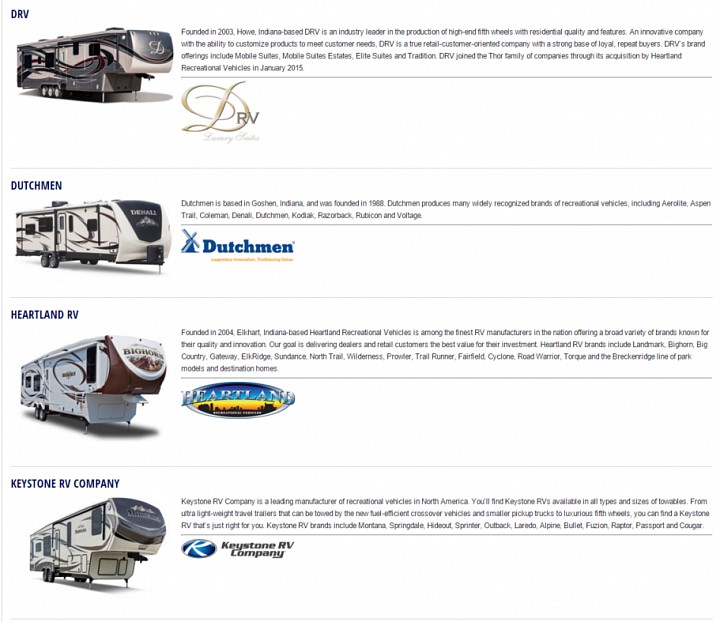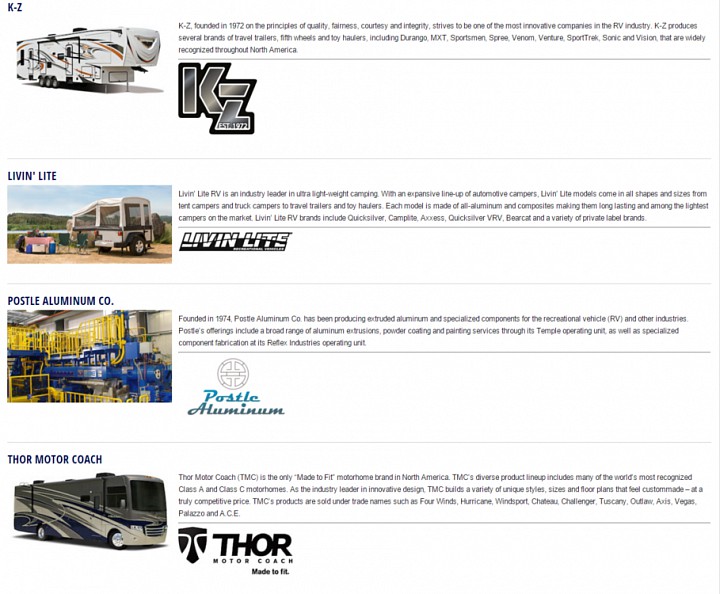 Under twelve brands Thor represents one of the world's largest manufactures of RV which total share in the market estimates 34.5% (2nd place). 

According to this table, I have to mention several interesting facts:
Profitable every year since 1980 – 34 years without an annual loss, even during the recession of 2007-09;
All time record $3.5 billion sales from continuing operations in FY2014, up 9% from $3.2 billion sales in FY2013, which was up 23% from FY2012;
FY2014 net income from continuing operations of $175.5 million, up 16% from FY2013;
FY2014 diluted EPS from continuing operations of $3.29, up 15% from $2.86 in FY2013, FY2014 total diluted EPS of $3.35, up 16% from $2.88 in FY2013.
So, I would like to emphasize that M&A model of growth helps company have a sustainable growth and Thor analysts are expecting an 8 % growth from 2011. At the moment, Thor sold 373.7 thousand vehicles which is 14% more, than in 2013. Therefore the total revenue increased by 19% in comparison with 2013. At the end the total profit of Thor grew from $ 152.9 billion in 2013 to 199.4 billion in 2015 or by 23%.

This table shows, that the debt ratio down by 2 % in 2015 and now estimates 29 %. On the one hand it shows, the company is less dependent from external financing, whereas on the other hand Thor looses the leverage effect for increasing ROE. Debt-to-equity ratio estimates 44 %  proves this tendency despite a 3 % growth in comparison with previous financial year. Therefore the growth of liabilities increased sales revenue by 12% in 2015 against 2014.
In 2015 capitalization ratio is 5 % which is 1 % less than in previous year. The share of long-term liabilities is too much low for the industry. As the result, the share of it's own capital and short-term liabilities is the major and this fact attracts conservative investors to buy and hold.
ICR indicates a significant decline by 23654.7 points but Thor still has a high interest coverage ratio and this feature is yet more proofs that Thor management raises money carefully. 
Finally, In 2015 the cash flow to debt ratio estimates 0.57 points which is 0.22 more than in 2014. It shows that the company needs about year to pay for its debt. All fundamental facts underlines a conservative M&A strategy which maximizes the use of its own capital with ROE declining at the same time. But the company has sustainable revenue and profit growth for about 35 years, excluding 2007 - 2009 recession.  
Chart 2. Daily Thor Chart
<!== INSTRUMENT %% %1440% ==!>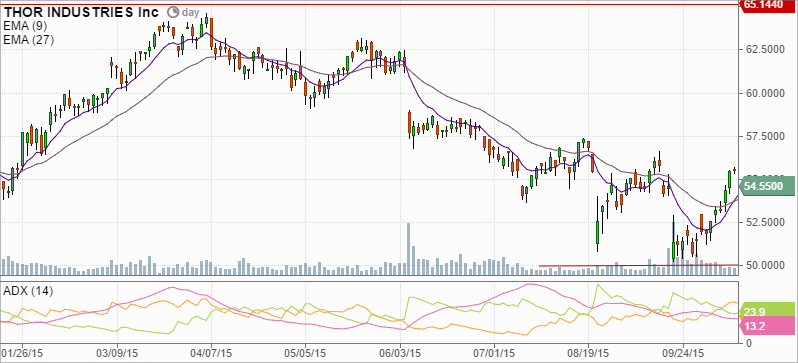 To be more precise, according to the company's fourth quarter results, from September 9, 2015 to November 11, 2015 the stock was under "bears' absorption". By the way, Thor gained a potential low and 50 level could be interpreted as a support level but low volumes and recent bear absorption indicates, there is no reason to trade this share in short-term period whereas healthy figures in Thor's report attract us to buy and hold this stock.