We are on the final leg of the Q1 earnings season with only 13% of S&P 500 companies left to report their quarterly numbers. Overall earnings are expected to drop 6.7% for the quarter. In case the projection is realized, this will mark the fourth consecutive quarter of negative earnings growth for the index. For a detailed account of the earnings outlook for all the Zacks sectors, please read our Earnings Trends report.

The Paper and related products industry falls under the Basic Materials sector, earnings of which are expected to decline 15.8%. One bright spot this quarter is that the proportion of companies with both top and bottom line beats is at 38.9%, faring better than the 4-quarter and 12-quarter averages of 8.3% and 21.3%, respectively.

Despite the projection of overall negative earnings growth for the sector, the paper and related products industry is placed favorably with a Zacks Rank #38. Let's take a closer look at what sets this industry apart.

For the world's largest paper and pulp maker, International Paper Company IP, the first quarter saw a modest performance on the back of continued strength in its North American Industrial Packaging business, along with improved results at the global printing papers businesses driven by better conditions and lower costs.

Growing demand of paper for use in packaging materials continues to be the primary growth driver for the industry. Lately, prices of all types of containerboard have been declining. Nevertheless, low input costs (wood fiber, recycled fiber, energy, chemicals, etc.) helped maintain margin stability despite the ongoing price erosion. Even though the price decline is not permanent, we expect paper stocks to benefit from the same in the first quarter. Further, backed by higher-than-expected demand, producers should be able to deliver solid earnings this quarter. On the flipside, exchange rate volatility remains a major concern as many companies are exposed to input costs and selling prices in different currencies.

With this in the backdrop, investors would be interested to see how paper stocks fare in their upcoming releases this week. Apart from beats and misses, focus will be on management outlook, updates on market conditions, domestic and export pricing environment, and whether they will take downtime to bring inventory levels to more manageable levels.

Neenah Paper, Inc. NP, which produces and sells technical products and fine paper and packaging products globally, will report first-quarter 2016 results after the market closes on May 11. Neenah Paper has been striving to diversify its product portfolio in order to drive further growth. Also, the company's manufacturing efficiencies and improved productivity have ensured sustainable margin expansion. However, the combination of Neenah Paper's Zacks Rank #3 (Hold) and 0.00% Earnings ESP makes a beat uncertain this quarter.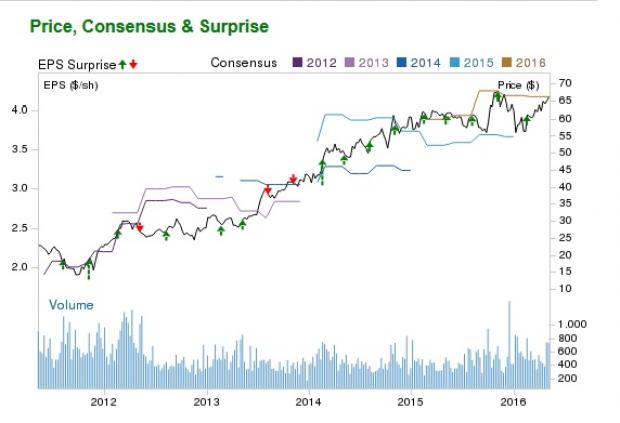 Neenah Paper's Surprise History: In the prior quarter, this paper manufacturer reported a positive earnings surprise of 8.33%. Neenah Paper has an impressive earnings surprise history, wherein the company beat earnings estimates in all of the past four quarters, with an average positive earnings surprise of 8.09%.

Veritiv Corporation VRTV, a business-to-business distributor of print, publishing, packaging and facility solutions in the U.S., Canada, and Mexico, is slated to report first-quarter fiscal 2016 results on May 10, before the market opens. Veritiv's strong execution throughout 2015 enabled the company to remain on track to meet its long-term financial goals, while positioning it beneficially for future growth. Though Veritiv's Zacks Rank #3 increases the predictive power of ESP, its 0.00% ESP makes surprise prediction difficult.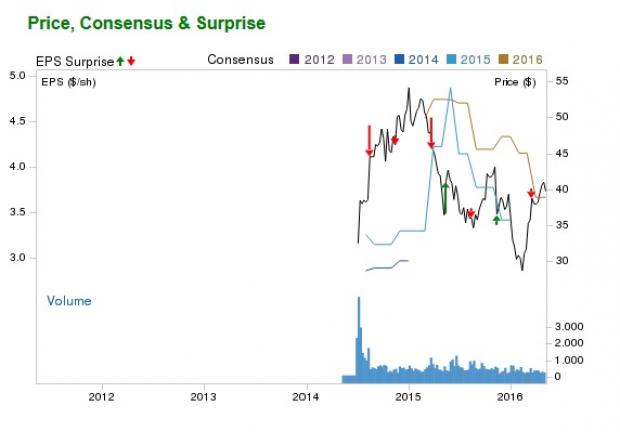 Veritiv's Surprise History: Veritiv missed the Zacks Consensus Estimate in the last reported quarter, resulting in a negative earnings surprise of 5.38%. However, the company has outpaced the Zacks Consensus Estimate in two of the last four quarters, bringing the average positive surprise to 29.07%.

The Bottom Line

While the tide seems to be in favor of these paper stocks in the first quarter, will they ultimately be able to sail through the season and deliver solid earnings beats?

Want the latest recommendations from Zacks Investment Research? Today, you can download 7 Best Stocks for the Next 30 Days. Click to get this free report >>
Want the latest recommendations from Zacks Investment Research? Today, you can download 7 Best Stocks for the Next 30 Days.
Click to get this free report
INTL PAPER (IP): Free Stock Analysis Report
NEENAH PAPER (NP): Free Stock Analysis Report
VERITIV CORP (VRTV): Free Stock Analysis Report
To read this article on Zacks.com click here.
Zacks Investment Research