We had relatively positive data coming out for the US today.
First we saw
jobless claims come in at 312K
for the most recent week. The forecast was around 316K, and the previous week's reading was 318K. IF jobless claims can edge lower, and eventually below 300K, the Fed will likely have more reason to raise rates sooner in 2015 rather than later.
Philly Fed Manufacturing Index came in at 17.8
for June. May's reading was 15.4, and economists were forecasting a slight drop to around 14.3. This is the best Philly Fed reading since Oct. 2013.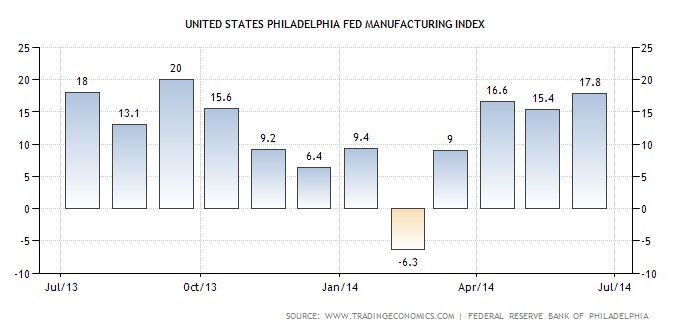 (source:
tradingeconomics.com
)
The USD was bearish coming into the 6/19 US session. The positive data this morning might have helped stop the bleeding, although some like GBP/USD oand XAU/USD (gold) have continued to extend higher.