In the latest development, Apple Inc.'s AAPL suppliers, namely, Compal, Hon Hai Precision, Pegatron and Wistron have reportedly joined the Cupertino-based tech giant in its fight against chipmaker QUALCOMM Incorporated QCOM.
Per media reports, Apple's suppliers have filed a lawsuit in the U.S. District Court for the Southern District of California, accusing Qualcomm of "violating" two sections of the Sherman Act, part of the U.S Antitrust Law. They have claimed that Qualcomm continues to extract additional licensing money over assembling of iPhones.
The lawsuit is a retort to Qualcomm's lawsuit filed in May this year, in which, the company had accused the four suppliers of holding its royalties/license fees on Apple's insistence. Back then, Qualcomm's president had said "despite Apple's claims against Qualcomm, Apple suppliers remain contractually obligated to pay royalties to Qualcomm under their license agreements with us, including for sales of iPhones to Apple."
The Story So Far
The Apple-Qualcomm dispute started in January this year when Qualcomm was dragged to court by Apple in a $1 billion lawsuit related to licensing royalty payments. In the suit filed, Apple had accused Qualcomm of overcharging for chips and refusing to pay some $1 billion in rebates.
Later on, Apple also asked its manufacturing partners – Foxconn, Pegatron, Wistron and Compal Electronics – to stop paying Qualcomm and agreed to indemnify them if Qualcomm took them to court.
In Apr 2017, Qualcomm launched a counterattack on Apple by mentioning the value of its invented technologies, and their contribution and share in the industry through its licensing program. The filing also elaborated on Apple's illegal and improper handling of agreements and negotiations with device manufacturers, misleading regulators to attack Qualcomm around the world and not utilizing the full performance of Qualcomm's modem chips in its iPhone 7.
Apple Inc. Price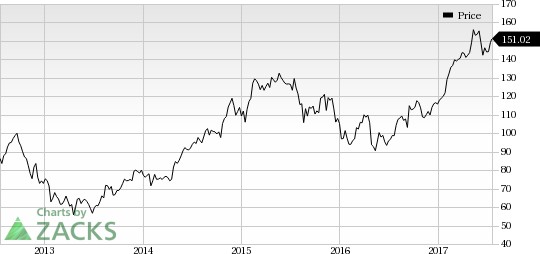 In Jun 2017, Apple had fired a legal salvo at Qualcomm, accusing the Qualocomm of having questionable business practices that helps it get more patent money and at the same time, suppresses innovation.
In response, per a filing with the U.S. International Trade Commission, Qualcomm is seeking an injunction on iPhone import from China. Qualcomm has accused Apple of infringing six of its patents related to mobile technology and filed another lawsuit against the company with the U.S. District Court for Southern California seeking damages for patent violation.
Qualcomm Revenues Take Hit
Recently, Qualcomm reported its third-quarter fiscal 2017 earnings, wherein both the company's earnings and revenues topped estimates driven by strength in its semiconductor business. However, on a year-over-year basis, Qualcomm's revenues fell 11% due to the dispute with Apple and its suppliers. This has resulted in loss of a chunk of licensing fees. Consequently, profits fell nearly 40%.
Qualcomm has excluded QTL revenues pertaining to the sale of Apple products by the latter's contract manufacturers/other licensee involved in the legal spat, in its guidance for the fourth quarter.
The company expects earnings for the fourth quarter to be around 75–85 cents, a sharp decline of 34–41% on a year-over-year basis. Revenues are expected in a range of $5.4–$6.2 billion compared with $6.2 billion earned in the fourth quarter of fiscal 2016.
Touching upon the dispute with Apple, Qualcomm CEO, Steve Mollenkopf said "Our products and technologies continue to enable the global smartphone industry, and we are expanding into many exciting new product categories, including automotive, mobile computing, networking and Internet of Things (IoT). We believe that we hold the high ground with regard to the dispute with Apple, and we have initiated new actions to protect the well-established value of our technologies."
This dispute is unlikely to have an end in the near term.
Zacks Rank and Stock Price Movement
At present, Apple carries a Zacks Rank #3 (Hold). You can see the complete list of today's Zacks #1 Rank (Strong Buy) stocks here.
In the past one year, shares of Apple have registered growth of 51.1% compared with the Zacks categorized Computer Miniindustry's gain of 50%.

Stocks to Consider
Better-ranked stocks in the broader tech space include Cypress Semiconductor Corporation CY and Marvell Technology Group Ltd. MRVL, each sporting a Zacks Rank #1.
Cypress and Marvell have delivered average positive earnings surprise of 83.30% and 86.70%, respectively, in the trailing four quarters.
3 Top Picks to Ride the Hottest Tech Trend
Zacks just released a Special Report to guide you through a space that has already begun to transform our entire economy...
Last year, it was generating $8 billion in global revenues. By 2020, it's predicted to blast through the roof to $47 billion. Famed investor Mark Cuban says it will produce "the world's first trillionaires," but that should still leave plenty of money for those who make the right trades early.Download Report with 3 Top Tech Stocks >>
Want the latest recommendations from Zacks Investment Research? Today, you can download 7 Best Stocks for the Next 30 Days.
Click to get this free report
Marvell Technology Group Ltd. (MRVL): Free Stock Analysis Report
Cypress Semiconductor Corporation (CY): Free Stock Analysis Report
QUALCOMM Incorporated (QCOM): Free Stock Analysis Report
Apple Inc. (AAPL): Free Stock Analysis Report
To read this article on Zacks.com click here.