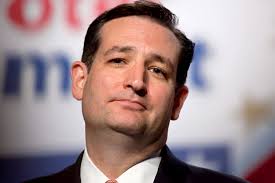 Ted Cruz , a firebrand Republican, will become the first declared candidate in the 2016 presidential race on Monday morning when he announces his candidacy with a speech at Liberty University in Virginia.
Cruz, who has been in the Senate just two years, announced his plan to throw his Stetson in the ring with a short campaign Video posted online overnight.
"It's going to take a new generation of courageous conservatives to help make America great again," Cruz says in the video. "And I'm ready to stand with you to lead the fight."
Cruz is one of as many as 20 Republicans expected to declare a campaign for the 2016 White House. The first primary voting starts in about 10 months with the Iowa Republican caucuses next January.
One of the most dynamic figures to emerge on the national political landscape since Barack Obama, Cruz quickly rose to fame as a freshman senator by pursuing a plan to block the president's healthcare policy that resulted in a 16-day partial closure of the federal government in October 2013. 
Many Republican colleagues resented the move, which did not work and which they saw as politically costly. But the conservative base loved it, and sharply anti-Obama, small-government partisans remain the core of Cruz's support.
Cruz came in third in straw-poll voting at the Conservative Political Action Committee's annual conference in Washington earlier this year, trailing Kentucky senator Rand Paul and Wisconsin governor Scott Walker.
"It's a time for truth. a time to rise to the challenge, just as Americans have always done," Cruz says in his first campaign video .
Comments from readers on Guardian :
" He's still not "a natural born citizen" and as such cannot be President according to the Constitution."
"I do not like green eggs and ham. I do not like them sam I am." - this 18 hour plea to congress clearly paid off. Luckily, it will make for a fine concession speech as well. What a CLOWN!"