USD/CAD has recently broken a rising support and re-introduced the bearish outlook. We looked at USD/CAD last week, and suggested downside risk towards 1.2460, the 2016-low. Before this target, I think we should anticipate some bounce first.

USD/CAD Daily Chart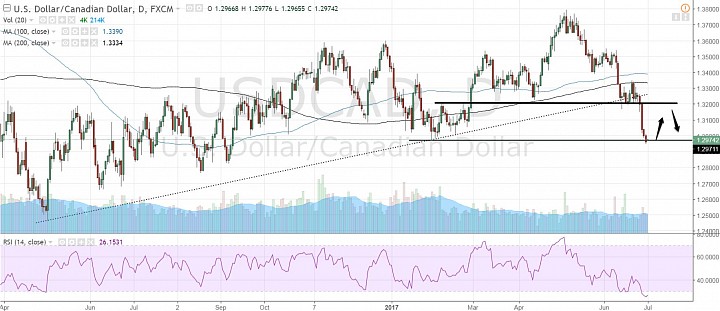 (click to enlarge)

Support and Oversold:
- 1.30 is a key psychological level, and there was a previous support around 1.2975.
- Also, the RSI has dipped below 30, which reflects oversold condition IF the market is bullish or sideways. In this scenario, the market might have turned bearish, but the overall mode since 2016 has been more or less sideways. In other words, it's not a mode where the oversold reading is significant, but it is a mode where we should NOT ignore it. If this market has been bearish since 2016, then we could probably ignore it.
Upside:
- Now let's say price finds support just under 1.30 ie. 1.2950, and then climbs back up, we should limit the bullish outlook first to 1.32.
- We should also NOT expect the RSI to push above 60, again if we assume the market has turned bullish at least in the short to medium-term.
- At this point, a rebound above 1.3350 should invalidate the bearish outlook.