Alibaba Group Holding Ltd. has been described as a mixture of Amazon.com Inc. and EBay Inc. (EBAY) during the preparation for its U.S. initial public offering. In the last quarter, Alibaba earned more than those companies combined.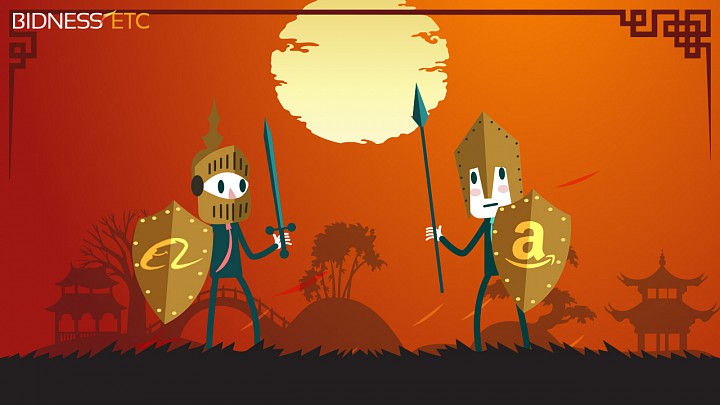 Operating income at China's biggest e-commerce operator rose to $1.1 billion in the three months ended June, or 42 percent more than the combined profit of Amazon and EBay for the period. After including one-time gains, Alibaba's net income was more than double those of its competitors.
Alibaba's results, probably the last before the IPO, underscore how its Taobao and Tmall platforms are connecting consumers to businesses in the most populous nation and how the company is transitioning to mobile services. Alibaba may kick off its roadshow meetings to market the share sale next week, people with knowledge of the matter have said.
"Alibaba still has huge potential for making money, mostly because of its mobile platform," said Li Muzhi, a Hong Kong-based analyst at Arete Research Service LLP. "Alibaba has advanced more than EBay in that it also has its own business-to-consumer business, instead of just linking individual buyers and sellers."
Net income at Hangzhou-based Alibaba nearly tripled to $1.99 billion, helped by gains on stakes held in UCWeb Inc. and OneTouch, the company said in a filing.
Alibaba has yet to announce the price of shares in the IPO. The company may be worth $187 billion after the share sale, according to the average estimate of 11 analysts surveyed by Bloomberg last month.
EBay and Amazon (AMZN) have a combined market value of $226 billion, according to data compiled by Bloomberg.
Stock Compensation
Alibaba issued stock-based compensation worth $59 a share, which indicates a market value of $138 billion, based on 2.34 billion shares outstanding as of June 30, according to the Aug. 27 filing. The share count includes preferred and unvested restricted shares.
Revenue rose 46 percent in local currency to the equivalent of $2.54 billion, Alibaba said.
"This was a pretty good quarter that should help sentiment around the valuation of the deal," said Jeff Papp, an analyst at Oberweis Asset Management Inc., which oversees more than $1.5 billion in Lisle,Illinois.
Alibaba said the number of customers accessing sites through smartphones, a key plank of its growth strategy, increased sharply. The company had 188 million mobile monthly active users in June, up from 163 million in March, according to its filing. The company agreed in June to acquire the rest of UCWeb to add Internet browsers and an application store to its services for mobile devices.
Mobile Transactions
Mobile transactions accounted for 32.8 percent of Alibaba's total in the June quarter, up from 27.4 percent in the previous three months and just 12 percent a year earlier.
Alibaba's retail platforms helped generate 6.1 billion packages in the 12 months ended June, accounting for 54 percent of the nation's total, the company said.
Shares of Yahoo! Inc., which owns a 23 percent stake in Alibaba, rose 0.3 percent to $38.31 in New York yesterday. The Sunnyvale, California-based company will be selling the largest chunk of shares in the IPO. SoftBank Corp. (9984), which owns more than 30 percent of Alibaba, rose 2 percent as of 9:27 a.m. in Tokyo.
Still, Alibaba's profit margins narrowed during the quarter in part because of rising marketing expenses. Alibaba's margin on adjusted earnings before interest, taxes, depreciation and amortization, declined during the quarter to 54 percent from more than 56 percent a year earlier.
Investor Meetings
"Margins had been coming down a bit and that continued," Papp said. "That's continued to be a negative, with the one exception that they already still have extremely high margins to begin with."
EBay has an Ebitda margin of 26.7 percent and Amazon 5.7 percent, according to data compiled by Bloomberg.
Alibaba's investor meetings for the IPO will give the company the opportunity to answer questions from the world's biggest fund managers and build demand for its shares.
The schedule, put forth by banks managing the offering, would have meetings begin in Hong Kongand Singapore before executives travel to London and eventually host their first U.S. event in New York on Sept. 8, people with knowledge of the matter have said. The timeline has Alibaba targeting a Sept. 16 trading debut, the people said.
Acquisition Spree
Chinese Internet users have grown to 632 million, greater than the population of any other country except India, and could exceed 850 million by 2015, according to government data. McKinsey & Co. predicts online retailing in the world's second-largest economy will reach $395 billion next year, triple its 2011 level.
Alibaba has announced 29 deals worth $16 billion since the start of 2012, expanding into everything from finance and soccer to media entertainment and taxi booking services.
In May, Alibaba bought a 10 percent stake in Singapore Post Ltd. (SPOST) to develop its logistics in Southeast Asia. It also invested in Youku Tudou Inc. (YOKU), Intime Retail Group Co. (1833) and TangoMe Inc., and on July 15 announced plans for a video streaming service in China with Lions Gate Entertainment Corp.
One of Alibaba's recent acquisitions, film producer Alibaba Pictures Group Ltd., said this month its new management uncovered accounting flaws and won't be able to publish results on time. Alibaba acquired 60 percent of the company for about $800 million in June.
In the earnings filing, Alibaba said it has made provisions to the value of the assets, noting that the issues at Alibaba Pictures won't materially affect its overall financial position.