Tesla Inc. TSLA just released its second quarter fiscal 2017 earnings results, posting earnings, before non-recurring items, of a loss of $1.33 per share and revenues of $2.8 billion. Currently, TSLA is a #3 (Hold) on the Zacks Rank, and is up 2.42% to $325.89 per share in trading shortly after its earnings report was released.
Tesla:
Beat earnings estimates. The electric car maker said it lost $336.4 million, or $2.04 per share. Excluding non-recurring items, Tesla lost $1.33 per share, which beat Street estimates by a comfortable amount.
Beat revenue estimates. The company posted revenues of $2.8 billion, topping our consensus estimate of $2.55 billion. Automotive revenues of $2.286 billion grew 93% year-over-year largely due to its delivery growth this quarter, and a smaller percentage of vehicles sold with residual value risk that were subject to lease accounting.
Deliveries grew 53% compared to the second quarter of fiscal 2016.
The company said that Q2 Automotive gross margin came in at 27.9% GAAP and 25% non-GAAP.
Tesla noted that Model 3 production is on track to hit its previously announced targets, and the company is expecting positive Model 3 gross margin in Q4, with 25% margin in 2018.
Looking ahead, Tesla expects, Model S and Model X deliveries to increase in the second half of fiscal 2017 versus the first half.
Here's a graph that looks at Tesla's price, consensus, and EPS surprise:
Tesla Inc. Price, Consensus and EPS Surprise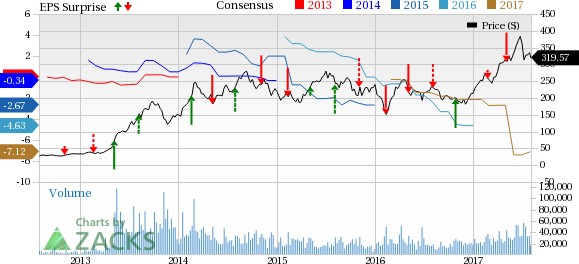 Tesla Inc. Price, Consensus and EPS Surprise | Tesla Inc. Quote
Tesla Inc. designs, develops, manufactures, and sells electric vehicles and stationary energy storage products. It operates primarily in the United States, China, Norway and internationally. Tesla Inc., formerly known as Tesla Motors Inc., is headquartered in Palo Alto, California.
More Stock News: Tech Opportunity Worth $386 Billion in 2017
From driverless cars to artificial intelligence, we've seen an unsurpassed growth of high-tech products in recent months. Yesterday's science-fiction is becoming today's reality. Despite all the innovation, there is a single component no tech company can survive without. Demand for this critical device will reach $387 billion this year alone, and it's likely to grow even faster in the future.
Zacks has released a brand-new Special Report to help you take advantage of this exciting investment opportunity. Most importantly, it reveals 4 stocks with massive profit potential. See these stocks now>>

Want the latest recommendations from Zacks Investment Research? Today, you can download 7 Best Stocks for the Next 30 Days.
Click to get this free report
Tesla Inc. (TSLA): Free Stock Analysis Report
To read this article on Zacks.com click here.
Zacks Investment Research