Hang on to your seat. The pound is getting slammed. First let's take a look at the event risk today that brought about the huge drop in GBP. 

BoE's monetary policy has changed (Official BOE release):
- Cutting the official bank rate to 0.25% from 0.50%. (First rate cut since Sept. 2009). 
- Expanding QE by GBP60 billion to a total of GBP435B
- No dissent on rate cut, but some dissent in QE. 
- Further rate cut to 0.0% expected by year-end. 

You can get a pretty good summary from bloomberg.com: BOE Cuts Rate to 0.25% With More QE to Fight Brexit Fallout
Reaction in GBP: The rate cut did not come as a surprise, and in the same vein the expansion of QE should not be shocking neither. Still, as the first BoE policy meeting after Brexit, this session set the tone for the rest of the year and into 2017. It will likely keep a lid on GBP-strength and possibly extend GBP-weakness in the short-term ahead. 
GBP/USD 1H Chart 8/4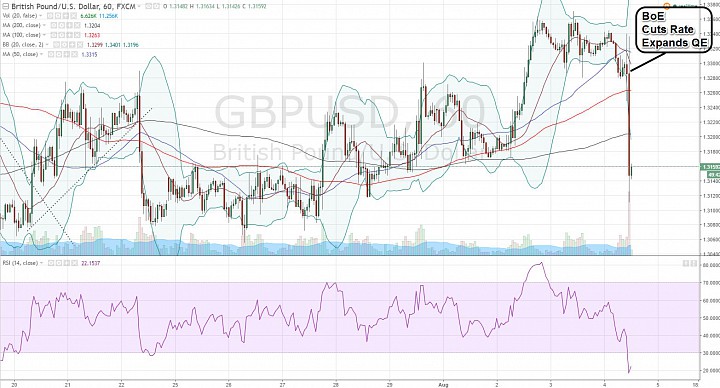 (click to enlarge)
Bearish Reversal:
- Thge 1H chart shows the GBP/USD rallying choppily since last week.
- Price found resistance around 1.3360 ahead of the BoE event risk.
- We even had a price top heading into the BoE meeting. 
- The reaction is clearly bearish, and price is now bearish with downside towards last week's low around 1.3055 and the 1.30 psychological handle. 
- With the market anticipating further rate cut this year, I would expect GBP/USD to dig towards the 1.2790 low on the year. 
- What looks like a bearish reversal in the 1H chart, could be the initiation of bearish continuation in the daily chart. So even that 1.2790 is vulnerable. 

GBP/USD Daily Chart 8/4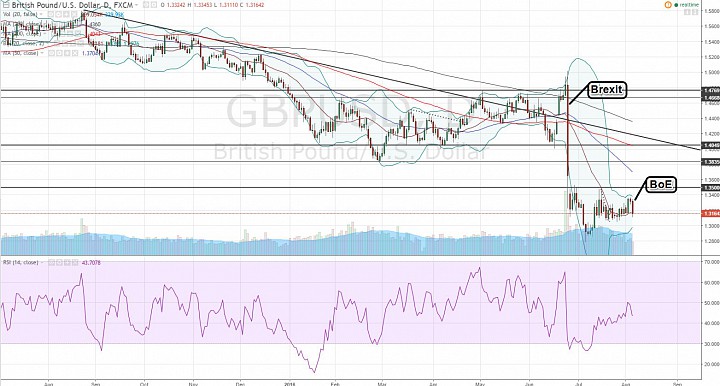 (click to enlarge)