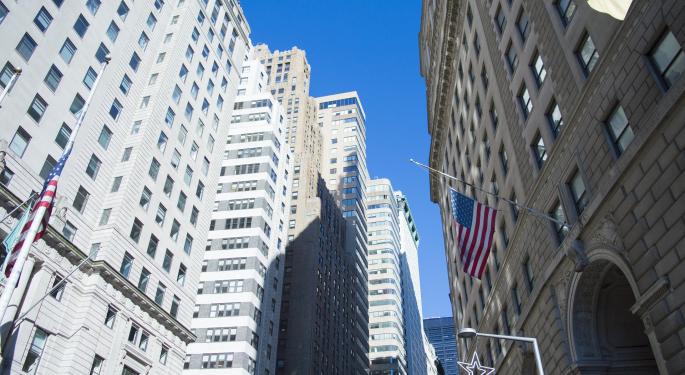 Below is a tool used by the Benzinga News Desk each trading day -- it's a look at everything happening in the market, in five minutes. Apply for daily AM access by clicking here or email minutes@benzinga.com.
Macro Focus
The major U.S. equity averages were higher to start the week, with the Dow, S&P and Nasdaq all closing at new-all time highs. Futures for the Dow Jones Industrial Average fell 28 points to 18,551.00, while the Standard & Poor's 500 index futures declined 2.50 points to 2,183.00. Futures for the Nasdaq 100 index slipped 4 points to 4,817.50.
NYMEX crude oil futures jumped a little better than 3 percent, while Brent contracts added 3.24 percent to $48.89. Natural gas rose 0.15 percent to $2.59. Oil prices traded higher as Brent crude futures gained 0.54 percent to trade at $48.61 per barrel, while US WTI crude futures also rose 0.59 percent to trade at $45.99 a barrel.
USA Core CPI (MoM) for Jul 0.10% vs 0.20% consensus estimate.
USA Building Permits (MoM) for Jul -0.10% vs 0.60% consensus estimate.
USA Housing Starts for Jul 1.21M vs 1.18M consensus estimate.
The Johnson Redbook Retail Sales Index for the latest week is schedule for release at 8:55 a.m. ET.
Data on industrial production for July will be released at 9:15 a.m. ET.
Data on e-commerce retail sales for the second quarter will be released at 10:00 a.m. ET.
The Treasury is set to auction 4-and 52-week bills at 11:30 a.m. ET.
Atlanta Fed President Dennis Lockhart is set to speak in Knoxville, Tennessee at 12:30 p.m. ET.
BZ News Desk Focus
Dicks Sporting Goods DKS Reports Q2 EPS $0.82 vs. Est. $0.69, Rev. $2B vs. Est. $1.88B
Home Depot HD Reports Q2 EPS $1.97, Inline; Revenue $26.472B vs $26.49B Est
Advance Auto Parts AAP Q2 EPS $1.90 vs $2.12 est, Revenue $2.26B vs $2.24B est
Famous Dave's DAVE Reports Q2 Adj. EPS $0.17 vs. Est. $0.12, Rev. $28M vs. Est. $28.7M
Imprimis Pharma IMMY Reports Q2 Loss $(0.35), Rev $4.9M vs $4.53M Est
Sell-Side Themes
Several analysts downgraded Hain Celestial HAIN. Shares plummeted more than 24 percent after the organic and natural foods maker said it's delaying the release of its Q4 results while it evaluates its internal control over its financial reporting.
Sell-Side's Most Noteworthy Calls
First Analysis downgraded Rubicon Project RUBI and TubeMogul TUBE to Equal-Weight.
Bank of America upgraded Marathon Oil MRO to Buy.
Raymond James upgraded Shenandoah SHEN to Outperform.
Oppenheimer started coverage of IBM IBM at Perform.
Jefferies started GrubHub GRUB at Hold.
Deal Talk
Dell and co-investor Silver Lake Partners are expected early this week to get approval from Chinese regulators to buy EMC EMC, ahead of an expected Friday closing on the $63 billion merger, sources close to the situation told The New York Post.
Blueair, a world leader in air purifying solutions with acclaimed leading-edge filtration technologies and design, has been acquired by Unilever UL. Blueair founder Bengt Rittri said the acquisition will enable even more people to protect their health by using Blueair air purifiers to remove indoor airborne contaminants. Terms of the deal weren't disclosed.
Traders cited unconfirmed market chatter that FitBit FIT hired bankers to handle approaches from multiple private equity groups. "Sources" say a takeover bid of $24 per share is being mentioned. FitBit declined comment to on being approached by private equity. FitBit closed at $15.65, up 4.54 percent.
In The News
In past five years, Tesla TSLA failed to meet more than 20 of Elon Musk's projections and missed 10 goals by nearly a year on average; Musk says he "doesn't set targets that I know can't be met."
A blow to Obamacare, Aetna AET is vastly reducing its presence on the individual exchanges in 2017. The insurer will stop offering policies on the exchanges in 11 of the 15 states where it currently operates. Aetna will only sell Obamacare products in Delaware, Iowa, Nebraska and Virginia.
Blogosphere
What happens when you combine the power of a machine with the power of the human brain?
Trending
HD TWLO MEET HAIN NQ AAP XON HTZ FCX FN SGYP GOLD KTOS
https://twitter.com/JasonShubnell/status/765521190035283968
Forrest Gump, The Lion King, Goodfellas, Dumb & Dumber, The Big Lebowski, Friday Night Light, Castaway.
© 2016 Benzinga.com. Benzinga does not provide investment advice. All rights reserved.
Source