Bristol-Myers Squibb Company's BMY second-quarter 2017 earnings of 74 cents per share beat the Zacks Consensus Estimate of 73 cents and increased 7% from the year-ago period.
Bristol-Myers Squibb Company Price, Consensus and EPS Surprise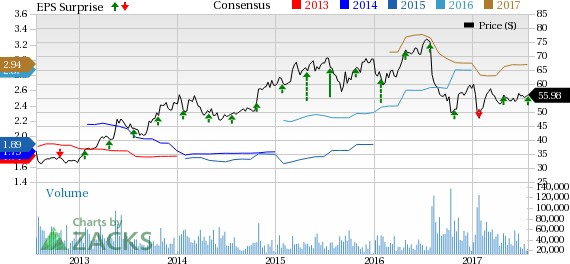 Bristol-Myers Squibb Company Price, Consensus and EPS Surprise | Bristol-Myers Squibb Company Quote
Total revenue of $5.14 billion increased 6% year over year and surpassed the Zacks Consensus Estimate of $5.07 billion. Strong sales of Opdivo and Eliquis drove the top line in the reported quarter.
We note that Bristol-Myers' shares have declined 4.2% so far this year, which compares unfavorably with the industry's increase of 10.7%.

Quarterly Details
Revenues were up 7% year over year when adjusted for foreign exchange impact. Revenues in the U.S. increased 7% to $2.9 billion and increased 4% outside the U.S. Ex-US revenues were up 7% when adjusted for foreign exchange impact.
Leukemia drug Sprycel raked in sales of $506 million, up 12% year over year. Melanoma drug Yervoy contributed $322 million to the top line during the reported quarter, up 34%.
Opdivo, which is approved for multiple cancer indications, generated revenues of $1.19 billion, up 42% from the year-ago period.
However, the performance of key drugs in the Virology unit was disappointing. Sales of Baraclude declined 9% to $273 million. The Reyataz and Sustiva franchises deteriorated 24% and 31% year over year, respectively to $188 million..
Nevertheless, sales of Eliquis were $1.17 billion during the reported quarter, up 51% year over year. Bristol-Myers has a partnership with Pfizer Inc. PFE for Eliquis. Bristol-Myers' HCV franchise contributed $112 million to its top line, down 79%. Orencia revenues were up 10% to $650 million.
Multiple myeloma drug, Empliciti recorded sales of $55 million, up 62% year over year.
Research and development (R&D) expenses in the quarter increased 31% to $1.66 billion due to a charge of $393 million related to license and asset acquisition, while marketing, selling and administrative expenses fell 5.7% to $1.17 billion.
Gross margin was 69.6% in the quarter compared with 75.2% in the year-ago quarter due to change in product mix and recognition of an impairment charge of $127 million related to the expected sale of manufacturing operations in Swords, Ireland.
In Feb 2017, the company repurchased its common stock worth $2 billion under accelerated share repurchase (ASR) agreements. The ASR funding was done through a combination of debt and cash as part of the company's existing share repurchase authorization.
Pipeline Update
Bristol-Myers' key drug, Opdivo received approval for label expansion in locally advanced unresectable or metastatic urothelial carcinoma in adults after failure of prior platinum-containing therapy and for squamous cell cancer of the head and neck in adults progressing on or after platinum-based therapy in EU during the quarter. Two supplemental Biologics License Applications (sBLA) for label extension of Opdivo to include hepatocellular carcinoma (HCC) after prior sorafenib therapy and update its dosing in all currently approved monotherapy indications are under review in the U.S.
2017 Earnings Guidance Revised
Bristol-Myers has raised the lower end of its earnings expectations for 2017. The company now projects earnings in the range of $2.90 to $3.00 per share (old guidance: $2.85 to $3.00). The Zacks Consensus Estimate for earnings is pegged at $2.94.
Our Take
Bristol-Myers delivered yet another strong quarter with the top and the bottom line beating expectations. Robust sales of drugs like Opdivo, Eliquis and Yervoy in the quarter drove the top line. The revised 2017 guidance was also encouraging. Meanwhile, we are positive on Bristol-Myers' efforts to develop its pipeline.
Bristol-Myers carries a Zacks Rank #3 (Hold). A couple of better-ranked stocks in the health care sector are Enzo Biochem, Inc. ENZ and Sanofi SNY. Enzo sports a Zacks Rank #1 (Strong Buy) whereas Sanofi carries a Zacks Rank #2 (Buy). You can see the complete list of today's Zacks #1 Rank stocks here.
Enzo Biochem's loss per share estimates narrowed from 12 cents to 7 cents for 2017 and from 11 cents to 3 cents for 2018, over the last 60 days.
Earnings estimates for Sanofi have decreased 5% to 75 cents per share for the second quarter but increased 1.25% to $3.24 for the full year over the last 30 days.
More Stock News: Tech Opportunity Worth $386 Billion in 2017
From driverless cars to artificial intelligence, we've seen an unsurpassed growth of high-tech products in recent months. Yesterday's science-fiction is becoming today's reality. Despite all the innovation, there is a single component no tech company can survive without. Demand for this critical device will reach $387 billion this year alone, and it's likely to grow even faster in the future.
Zacks has released a brand-new Special Report to help you take advantage of this exciting investment opportunity. Most importantly, it reveals 4 stocks with massive profit potential. See these stocks now>>
Want the latest recommendations from Zacks Investment Research? Today, you can download 7 Best Stocks for the Next 30 Days.
Click to get this free report
Sanofi (SNY): Free Stock Analysis Report
Bristol-Myers Squibb Company (BMY): Free Stock Analysis Report
Pfizer, Inc. (PFE): Free Stock Analysis Report
Enzo Biochem, Inc. (ENZ): Free Stock Analysis Report
To read this article on Zacks.com click here.