The entire US Treasury complex has seen yields plunge following last night's "surprise-that-everyone-except-Wall-Street-economists-saw-coming" Yuan devaluation. While there are numerous factors driving the rally in bonds, RanSquawk notes two crucial ones... that will likely persist...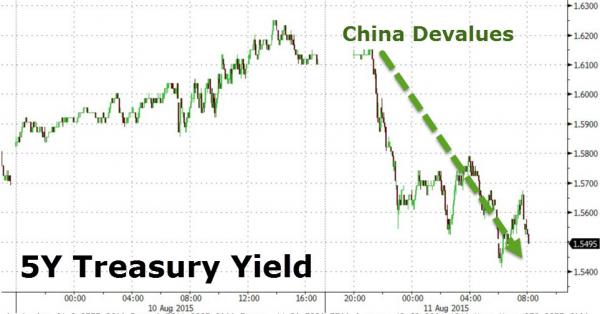 Via RanSquawk,
T-Notes trade higher by around 15 ticks due to the following reasons:

 

Firstly, the PBoC has acted to weaken their currency in an attempt to remain competitive amid falling exports and this has therefore been interpreted by some as an admission of global growth concerns.

 

Secondly, in practicality,the PBoC will have to buy USTs in order to weaken their currency. The weaker CNY will in turn could lead to an overall stronger USD, which may influence the Fed's plans for future rate hikes
In other words, China only had to liquidate Treasury holdings to push CNY higher (in an effort to maintain capital outflows), now that it may no longer be doing this there is no more implicit selling pressure.
That and of course China just admitted its economy is bad enough to warrant this kind of extreme policy response which means China will be exporting an tsunami of deflation.