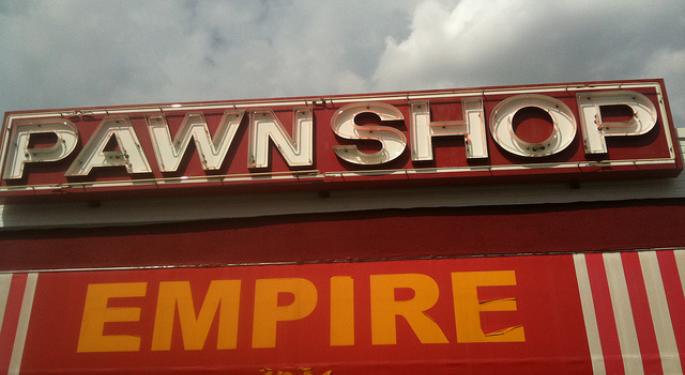 If you've ever watched a show like truTV's Hardcore Pawn or A&E's Pawn Stars, you know the pawn shop business can be pretty cutthroat.
That's especially true if you're trying to sell goods. How do you know if you're getting a good deal?
Two years ago Jonathan Polter had that same question. So he went around to several Detroit-area pawn shops with a backpack full of stuff to see what he could get.
His laptop received an offer for $50 at one place, and $350 at another. His iPad went for $70 and $200. And a diamond ring went for $60 and $1,060.
Out of that experience, Polter partnered up with David Stiebel to launch PawnGuru, an online marketplace that wants to make buying and selling at pawn shops easier and more efficient for both sides. Today they have over 150,000 users in major cities across the country, including New York, Los Angeles, Chicago, Houston, and Atlanta.
"Underbanked consumers are the primary users of pawn shops," PawnGuru COO Jordan Birnholtz told Benzinga. "People who don't have access to normal credit or banking services often rely on pawn shops to make ends meet. For someone like that, they don't have the luxury, time, or resources to go comparison shopping. So we solved that problem by bringing the industry online."
Making Pawn Shopping Easier
Pawn shops generally fulfill three basic roles: they buy items outright, they sell to consumers, and they make loans against the value of itmes. The problem with the current industry setup however, is you have to physically go to a pawn shop to make a deal. That puts the nearly 30 million people who rely on pawn shops to help make ends meet at an immediate negotiation disadvantage.
"Obviously if you had an item you wanted to sell, you'd want to get as many offers as possible, like eBay Inc EBAY 0.55%," Birnholtz said. "For somebody who's unbanked and very likely low income, the difference between $60 and $1,060 is the difference between making ends meet and not."
With PawnGuru, users can post products they want to sell, get them appraised by several pawnshops, and negotiate a final price.
A recent study PawnGuru conducted revealed that the average price spread for a single item (meaning the amount of money each pawnshop offers the seller) was 260 percent. This means that, on average, you could get a $100 offer and a $360 offer for the same good, depending on the pawnshop you chose.
Good Things Come To Those Who Wait
Right now, PawnGuru is free for users, although the site might decide to take a piece of transactions in the future.
"At the beginning, the pawnshops were very uncertain about our service, because they weren't very acquainted with technology. So, what he had to do before we could ask value from them, was to actually provide value, and provide a flow of customers to their door," Birnholtz added. "Now, we are in the process of monetizing."
So far, the company has raised $1.2 million in funding from angel investors. However, they are now considering a second $2 million funding round to support the expansion into new cities, and into thrift stores and antique shops markets.
"Technology has made traditional marketplaces more equitable. eBay made it very easy for people to sell things online for the first time. We're extending that logic to people who traditionally are not as well-served by technology."
Disclosure: Javier Hasse holds no interest in any of the securities or entities mentioned above.
© 2016 Benzinga.com. Benzinga does not provide investment advice. All rights reserved.