Still seems bearish...next shortterm target 42,3$?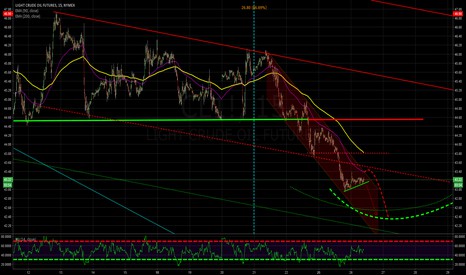 After the in my former Analysis exspectet break of the 44,5$, the downtrend and bearish momentum accelerated..

Former Analysis:
Shortterm view: Smells bearish
https://www.tradingview.com/chart/CL1%21/fEIRUevd-Shortterm-...
Shortterm view: Oil reached an action point @ 44,5. For me it really looks bearish ..the only thing that makes me thinking of is the oversold RSI ..because of the oversold situation i have illustrated the alternative way of my view (orange arrow). Prices below 44,5 are bearish - the tp copuld be 43$
Comments are welcome - agree or disagree !