Once again, the two major macroeconomic announcements over the weekend came from China, where we first saw an unexpected, if still to be confirmed, increase in FX reserves (and gold), and then Chinese trade data once again disappointed tumbling by 6.9%, missing for the 4th consecutive month, while imports plunged 18.8% putting the government's trade, and economic recovery, plan in jeopardy.
MarketNews put this number in context:
"January-October total trade was down 8.5% in U.S. dollar terms, making a mockery of the 6% increase in overall trade that was planned for this year. Exports have fallen 2.5% this year through October and imports have slumped 15.7% - heading for the first annual declines since 2009 in the middle of the global financial crisis. This year's miss is far bigger than in 2014, when total trade rose 3.4% compared with a goal of 7.5%, and brings into sharp relief the slowdown in China's own economy and the lacklustre recovery in the global economy. The global picture has been far worse than the assumptions underpinning the Chinese government's target."
How did the market react? The Shanghai Composite Index rose for a fourth day and reached its highest since August 20 now up 25% from its summer lows, because more bad data means another devaluation is imminent, means more easing from the PBOC, and just to give what few investors are left the green light to come back to stocks, overnight Chinese brokers soared as CICC became the first company to go public after a 5 month hiatus.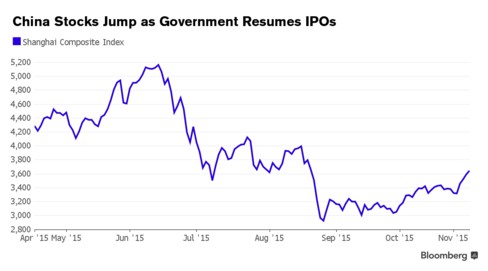 However, while China was rebounding (and Japan soaring thanks to the latest surge in the USDJPY carry trade), other emerging markets were doing far worse. As a result of the strong Friday NFP, the dollar soared to multi-month highs as odds of a December rate hike have jumped to 68%. As such, the prospect of a U.S. interest rate increase in December and weak China trade data is weighing on emerging market stocks, which have dropped 2.6% in the past three trading sessions, the biggest fall in six weeks. Bloomberg's index tracking developing nation currencies also slipped to a five-week low, with Malaysia's ringgit falling 1.3 percent. The MSCI Emerging Markets Index has risen 10 percent since hitting a six-year low in August.
Elsewhere in Asia, equity markets traded mixed following Friday's flat close on Wall St. coupled with the weak Chinese trade figures over the weekend. While the aforementioned Shanghai Comp. (+1.6%) traded at 11-week highs led by brokerages following China's CSRC resuming IPOs, which signalled that regulators were confident that markets have stabilised. Nikkei 225 (+2.0%) was lifted by USD/JPY as it traded near its highest level since late August supporting exporters, while the ASX 200 (-1.8%) underperformed amid pressure from BHP Billiton, following reports Brazilian prosecutors seek to revoke iron ore licenses following the Samarco mine disaster. 10yr JGBs tracked USTs lower as a Fed rate hike looms ominous, while the BoJ purchasing JPY 1.18trl of bonds failed to support the paper.
Key Asian News:
Santos Raising Takes Australian Oil Share Sales to 6-Year High: AU oil producers and utilities are on track to sell almost $5b in new shares this yr, most in at least 6 yrs
Return-Starved Japanese Megabanks Boost Lending 25% in Australia: Japan's biggest banks are expanding loans in AU 2% in the past yr
Modi Losing Streak May Prompt Tactical Shift to Reform India: The win by Modi's opponents in India's third-most- populous state gives Modi political momentum for economic reform
Asian Wrap:
7 out of 10 sectors fall with energy, materials underperforming and consumer, health care outperforming
MSCI Asia Pacific down less than 0.1% to 134
Nikkei 225 up 2% to 19643
Hang Seng down 0.6% to 22727
Shanghai Composite up 1.6% to 3647
S&P/ASX 200 down 1.8% to 5119
In Europe, for once there was some good news out of Germany which has seen a series of negative economic reports in the past month, when Exports rose 2.6%, on expectations of a 2.0% rebound. Equities have traded mixed in the first session of the week (Euro Stoxx: -0.32%), with energy names among the best performers. This comes after comments from Saudi Arabia's Oil Minister al-Naimi suggesting that growth will soon be seen as a result of low oil prices, something he has been repeating for just about a year since the Great OPEC Thanksgiving massacre. Elsewhere, stock specific stories are weighing on the indices after Continental (-4.6%) reported earnings, Intercontinental (-4.2%) denied takeover reports and Deutsche Lufthansa (-2.3%) suffered as a consequence of their cabin crew strike.
Despite somewhat mixed performance by stocks in early trade, Bunds are also seen lower as market participants position for this week's supply of approx. EUR 16.25 Bn (92k Bund futures) as well as a potential ESM syndication, whilst also of note, there are no coupon & redemptions this week. Separately Portuguese bonds have underperformed in early trade, with PO/GE 10y spread wider by 14bps following reports that Portugal's socialists plan to form coalition to oust Coelho.
In FX markets we have seen the USD leading much of the price action, with the USD-index residing in negative territory (-0.4%), amid touted profit taking after Friday's NFP inspired gains. Over in the UK, scaled back expectations of rate hike by the BoE have failed to weigh on GBP/USD this morning, with the pair supported by rate differential flows vs. EUR short-end rates, as Short-Sterling strip trades a touch heavy following US NFP last Friday, while JPY remains weaker across the board, supported by growing expectation of Fed rate hike in December, with USD/JPY at its highest level since mid-August and RSI (14-day) in overbought territory at 71.45.
Commodities have seen a bid today on the back of a weaker USD, with spot gold higher by over USD 4.00/oz in a slight paring of some of Friday's NFP inspired losses, while WTI and Brent both head into the NYMEX pit open in modest positive territory amid a host of OPEC comments from the likes of Saudi Arabia, Iran and Libya.  According to Saudi officials, the nation will continue to produce enough oil to protect their global market share, despite the economic squeeze this could place on the nation.  Saudi Prince Abdulaziz states the country remains committed to investing in its oil and gas sector and believes that suggestions that oil has moved to a new low equilibrium will be proved incorrect.
On the calendar today, there is no tier one data scheduled out of the US and as such focus will instead fall in potential comments from ECB's Mersch and Fed's Rosengren.
Key European News:
Eurozone November Sentix Investor Confidence 15.1 vs Est. 13.1
Germany September Exports +2.6% M/m; Est. +2%
Germany September Imports Seasonally Adj. +3.6% M/m; Est. +1%
Lufhansa Cancels Monday Flights as Strikes Expand to Munich: Almost 1,000 flights cancelled amid the longest strike by cabin crew in the airline's history
Lonmin Avoids Collapse by Offering Shares at 94% Discount: Public Investment Corp. will take up its rights in the new stock, while HSBC, JPMorgan, Standard Bank will support the offer
Trelleborg Buys Czech Company CGS Holding for $1.25 Billion: Co. expects to extract annual synergies of 300m kronor from the purchase
Portugal's Socialists Forge Four-Way Alliance to Oust Coelho: Raises the prospect of a new govt committed to speeding the reversal of spending cuts tied to country's intl bailout
Global GDP Worse Than Official Forecasts Show, Maersk Says: Trade is "currently significantly weaker" than it normally would be under the growth forecasts co. sees, Maersk CEO said
European Wrap:
14 out of 19 Stoxx 600 sectors fall with real estate, personal & household underperforming and basic resources, oil & gas outperforming
58% of Stoxx 600 members decline, 39% gain
Stoxx 600 down 0.4% to 379
FTSE 100 up less than 0.1% to 6359
DAX down 0.3% to 10955
German 10Yr yield up 2bps to 0.71%
Italian 10Yr yield up 3bps to 1.81%
Spanish 10Yr yield up 7bps to 1.99%
S&P GSCI Index up 0.6% to 355.8
Top News:
Banks May Need to Raise $1.2 Trillion to Prevent Another Lehman: Financial Stability Board, created by the G-20 in the aftermath of the crisis, published plan for tackling banks seen as too big to fail
Weyerhaeuser to Buy Timber Rival Plum Creek for $8.4b: Deal would create largest private owner of timberland in U.S.
Electrolux May Swallow Bitter Pill to Get GE Appliance Deal: Co. may prefer to sell brands than factories if it tries to reach a settlement to salvage the deal before the verdict
With Long Handshake, China and Taiwan Affirm Better Ties: China, Taiwan ties at their best since civil war, Ma says; Xi says Taiwanese independence biggest threat to peace
Fed's Williams Says October Rate Decision Was a Close Call: Williams says economy is at his estimate of full employment
Apache Said to Get Takeover Approach for $18 Billion Co.: Said to reject initial offer and is working with Goldman Sachs on defense
Goldman's BRIC Era Ends as Fund Folded After Years of Losses: BRIC fund is being swallowed up by the Emerging Markets Equity Fund as part of GS's efforts to "optimize" its assets and "eliminate overlapping products"
PrairieSky to Acquire Majority of Canadian Natural Royalty Assets for C$1.8b in Cash, Stock: Combination will have more than 14.7 million acres of royalty lands
U.S. Says Takata Air Bag Recalls May Widen to More Carmakers: VW, Daimler, Jaguar Land Rover, Tesla among those still using Takata air bags
Credit Suisse May Cut Bonuses by 60% After Writedown, SamS Says: Calculations made by Schweiz am Sonntag come as CEO Tidjane Thiam wants to substantially write down assets
China Bonds Drop Most Since May as IPOs to Resume; Stocks Climb: Chinese bonds fell as plans to resume IPO fueled concern that investors will switch out of debt and into equities
Plane Crash Seen Adding to Pressure on Egypt to Devalue Currency: Govt had hoped tourism revival would help FX shortage
Bulletin headline summary from Bloomberg and RanSquawk
Asian and European equities kicked off the weak in mixed territory, with energy names among the best performers in Europe
FX markets have seen USD lead much of the price action, with the USD-index residing in negative territory (-0.4%), amid touted profit taking after Friday's NFP inspired gains
Looking ahead, there is no tier one data scheduled out of the US and as such focus will instead fall in potential comments from ECB's Mersch and Fed's Rosengren
Treasuries decline, extending losses seen Friday after better than expected employment and wage growth in October payrolls report; week's auctions begin with $24b 3Y notes, WI 1.265%, highest since 2011, vs 0.895% last month.
China exports fell 6.9% in October in dollar terms, a bigger decline than estimated by all 31 economists in a Bloomberg survey, while weaker demand for coal, iron and other commodities helped push imports down 18.8%, leaving a record trade surplus of $61.6b
Banks may need to raise $1.2 trillion to avert another Lehman moment, according to the FSB, which said most systemically important lenders must have total loss- absorbing capacity equivalent to at least 16% of risk- weighted assets in 2019, 18% in 2022
The scale of the global oil and gas industry's spending cuts are making another surge in energy prices possible by diminishing future supply, Saudi Vice Minister of Petroleum & Mineral Resources Prince Abdulaziz bin Salman said.
Goldman folded its money-losing BRIC fund and merged it last month with a broader emerging-market fund, saying it doesn't expect "significant asset growth in the foreseeable future"
Credit Suisse may need to cut bonuses by as much as 60% this year because of losses incurred by a writedown, according to calculations made by Schweiz am Sonntag
Dutch Prime Minister Mark Rutte warned the U.K. against leaving the EU, saying that life outside the world's biggest trading bloc would harm Britain's status as a global financial center
Rutte also complained that eastern European nations such as Poland, Hungary and Slovakia are not taking in refugees to the same extent as countries in western Europe
Portugal's Socialists approved plan to join forces with 3 other parties and oust PM Passos Coelho's administration, raising prospect of new govt committed to speeding the reversal of spending cuts tied to the country's international bailout
Sovereign 10Y bond yields rise. Asian, European stocks mostly lower, U.S. equity-index futures decline. Crude oil and gold higher, copper little changed
US Event Calendar
10:00am: Labor Mkt Conditions Index Change, Oct. (prior 0)

MBA Mortgage Foreclosures, 3Q (prior 2.09%)
Mortgage Delinquencies, 3Q (prior 5.3%)

1:00pm: U.S. to sell $24b 3Y notes
Central Banks
12:00pm: Fed's Rosengren speaks in Portsmouth, R.I.
Market Wrap
S&P 500 futures down 0.2% to 2089
Stoxx 600 down 0.4% to 379
MSCI Asia Pacific down less than 0.1% to 134
US 10-yr yield up 2bps to 2.34%
Dollar Index down 0.22% to 98.95
WTI Crude futures up 0.6% to $44.55
Brent Futures up 0.8% to $47.79
Gold spot up 0.4% to $1,094
Silver spot down 0.2% to $14.76
DB's Jim Reid completes the overnight wrap
Friday' payrolls certainly had the X-Factor. Indeed it was hard to fault the much better-than-expected 271k print and the 12k of upward revisions to September and August. Also average hourly earnings rose +0.4% (YoY 2.5%, the highest since July 2009) and the unemployment rate declined a tenth to 5.0%. In so far as the Fed is desperate to raise rates, they will be pleased to see the probability of a December move rise from 56% pre-number to 70% now. What's important now is the market's reaction to the print over the days and the month or so ahead to see if its sets the Fed back to square one by creating volatility and down trending markets or whether stability allows them to do what they've been desperate to do now for some time. On the plus side Friday saw the S&P 500 close pretty flat (-0.03%) but on the negative side Oil fell 2% (although has recovered a bit this morning) with the Dollar up 1.3% (vs. the Euro). 2yr and 10yr US Treasury yields rose +6.0bps and +9.3bps respectively and emerging markets FX sold-off heavily with the likes of Russia, Colombia, Poland, Turkey and Mexico all weakening at least 1.5%. At the moment it seems risk asset positioning is less extreme than it was in the late summer so if data holds up the Fed have a better chance of being able to push through their desired rate hike than they did back them. On balance although we've had a long standing view that the Fed won't raise rates in 2015, the chances are getting stronger that they will. We've thought hard all weekend as to whether this changes our constructive view on credit but for now valuations remain compelling and the market has probably got more used to the idea of a hike. We still think it risks being a policy mistake but there is a long lag in monetary policy so we may not know until 2017 if it is. Anyway a lot to watch and play for over the next five weeks until decision day.
The Fed also won't be able to ignore international developments and China has again added some intrigue to the debate about the global economy. Over the weekend both exports and imports declined by a larger margin than expected and down on last month. Exports declined by -6.9% yoy (-3.6% in RMB terms) versus -3.2% expected. Imports went down more sharply by -18.8% (-16% in RMB terms) versus -15.2% expected. The trade surplus was only slightly smaller at $61.6bn against $62bn expected. So activity globally seems to have still been weak in October. The reserve data was stronger though increasing $11bn against expectations of a $49bn decline. Although there are lots of smoke and mirrors in this number it's fair to say that China seems to be stabilising from a systemic risk point of view with the house view that the data will now start to pick up. As you'll see in the week ahead Wednesday is a big day on this front with CPI tomorrow also interesting.
The data has caused little concern in Chinese equity markets this morning where the Shanghai Comp is currently +1.55% and CSI 300 is +1.36%. Helping the better tone there is the news on Friday that the securities regulator is set end its five-month freeze on IPO's before the end of the year which was previously put in place to help mitigate the huge slide in Chinese bourses earlier in the summer. That news appears to have sparked some concern of outflows from Chinese government bonds as a result, with 10y yields up 10bps to 3.25%, marking the biggest rise since December 5th last year. Elsewhere this morning it's been a strong start to the week for the Nikkei (+1.81%) having been supported by some better than expected cash earnings data. The Kospi is -0.57% and Hang Seng -0.09% while the weakness in commodity markets on Friday has seen the ASX (-1.83%) tumble this morning.
Also out over the weekend were comments from San Francisco Fed President Williams. The Fed official, while noting that October's decision to stay put was a 'close call' is of the opinion that 'it makes sense to gradually remove the policy of accommodation that helped get the economy to where we are'. When questioned on whether or not he is in support of a December hike specifically, Williams said that there is a lot of data between now and then and that he will 'wait and see on that'. Post Friday's data Chicago Fed President Evans said that 'the real side of the economy is looking a lot better' and that 'we've indicated that conditions look like they could be right for an increase' and that December is 'absolutely' a live meeting. St Louis Fed President Bullard hawkishly added that 'the case continues to be compelling for liftoff' and that 'I would emphasize cumulative progress in labour markets and not just the latest jobs report, which was obviously strong'.
Moving on, earnings season is winding down in the US with 443 S&P 500 companies, or 89% having reported their latest quarterly numbers. As it stands 71% have beaten earnings expectations and just 44% have beaten top line estimates. That's a weaker trend compared to what we've seen in the last two quarters. In Q1 earnings and sales beats stood at 73% and 48% respectively, before improving slightly to 75% and 49% in Q2. If we take a look at the aggregate moves, the obvious weakness is at the sales line where YoY aggregate sales are -5.0%. As we noted last week a lot of this weakness has been driven by the energy sector so if we strip this out then aggregate sales are actually a little higher YoY (+0.6%) based on Bloomberg calculations. Aggregate earnings YoY are now down -3.5%, although this is again driven to a large extent by the energy sector. The number actually rises to +3.5% excluding these names. Meanwhile, over in Europe and with 318 Stoxx 600 companies having now reported, 48% have beaten earnings expectations and 45% sales expectations. That's well down on both Q1 (57% and 72% respectively) and also Q2 (61% and 67% respectively) this year although it's worth noting that the data is a little less reliable for European companies given not all have earnings expectations are on Bloomberg.
Sovereign bond yields in Europe moved higher with the move in Treasuries on Friday too. 10y Bunds closed 8.6bps higher at 0.692% and to their highest level since September 17th, while 5y yields (+0.003%) closed back in positive territory. Despite the weakness in the bulk of risk assets post-payrolls on Friday, the big depreciation in the Euro helped nudge up European equity markets through the afternoon. The Stoxx 600 eventually finished +0.31% while the Dax was up a strong +0.92% despite the latest German IP numbers. On the back of the soft orders data the day before, German industrial production was down -1.1% mom in September (vs. +0.5% expected), dragging the YoY rate down now to just +0.2%. Our colleagues in Europe noted that this meant we saw negative Q3 industrial output growth (-0.2% qoq) after increases in the first two quarters this year and as result have adjusted their Q3 GDP forecast from +0.4% qoq to +0.3%. There was a softer than expected IP report out of the UK too where production fell -0.2% mom during September (vs. -0.1% expected). Manufacturing production data was a bit better than expected however at +0.8% mom (vs. +0.6% expected). There was better industrial data out in Spain however where IP rose a robust +1.2% mom in September (vs. +0.4% expected).