Japan Tobacco International
Summary:
The recent proposal of US lawmakers for the inclusion ban the use of tribunals to attack anti-smoking laws again causes a conflict with the corporations.
For 20 years period JAPAF / JAPAY have a 38% a potential fall in share price.
The policy of the United States, which has recently adopted a vector directed to anti tobacco promotion, has become a serious problem for the Trans-Pacific Partnership. Launched in 2013, the conflict has again started to gain momentum after the announcement of the US government on the use of restrictions for companies which use tribunals to attack anti-smoking laws. More precisely, we are talking about banning the procedure Investor-State Dispute Settlement on which companies could apply to the court for the state, the leading anti-smoking policy.
With great certainty, it is possible to make a statement that the measures could lead to a marked reduction in the number of smokers. This will lead also changes in policy of company.
To quantify, you can use the statistics of the different countries where approved anti-smoking propaganda. For example the percentage of smokers in the UK over the last 15 years has fallen from 27% to 20%. In Australia, 22% to 16%. But when you consider that the average percentage of smokers in Asia is higher than in Australia or the UK, the fall will be stronger and for 20 years the number of smokers will be reduced by 40-60%.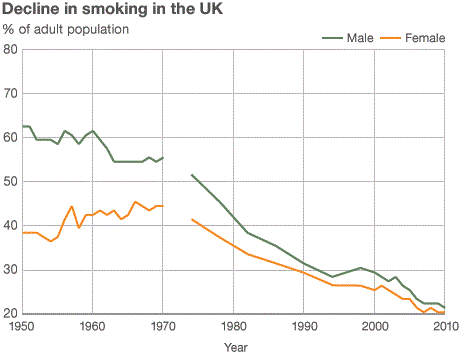 Let's look at the current situation of the company. JTI has net income of $ 2.16 billion. Using the latest data, we can calculate the key indicators:
P / B ratio = 3.30
P / E ratio = 19.80
Talking about financial ratios JTI looks worse than its competitors in most cases. It has the lowest margins, growth rate and ROIC. But it is also cheaper.
Policies aimed at reducing demand for the goods, has a significant impact on the stock price of JTI. Using our model of statistical data, company's net profit may fall to $ 280 million. Share price may fall to the level of $ 22.38, that is 38%.
In conclusion, it is worth noting the fact that the government has a clear direction vector of policy to regulate the tobacco market. Therefore, we can see that the future of the company as possible and the future of the Trans-Pacific Partnership, will depend on the actions of US lawmakers, and as we have seen, this can have serious consequences.
USA policy can make a large impact on the future of JTI, but we should also consider that the Old World is the key market for JTI, and we see sales are increasing mostly because of CIS.
We do not recommend JTI for conservative investors, JTI's future is very cloudy, but we think company will maintain their market share and adapt to new law and economic reality.