Today, the Bureau of Labor Statistics released its monthly non-farm payroll report. It saw solid jobs growth in June, stronger than what economists expected. The May report was also revised higher.
NFP June: 222K
Forecast: 175K
NFP May: 152K (revised up from 138K)
(courtesy of forexfactory.com)

Historically, the 222K reading is just above the middle of its 5-year range.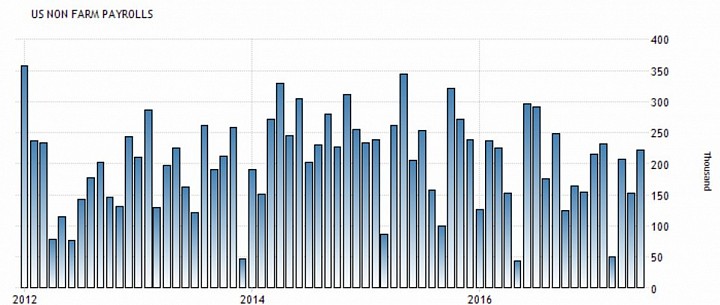 The unempoyment rate stands at 4.4%, a tick higher than the 4.3% seen in April.
Furthermore, average earnings per hour rose 2%, or $0.04, making it $26.25.

The US Dollar got a boost after the NFP. The improved job growth, if sustained should let the Fed raise interests 2 more times as they had planned.