Have you been eager to see how pipeline operator Magellan Midstream Partners L.P. MMP performed in Q3 in comparison with the market expectations? Let's quickly scan through the key facts from this Tulsa, OK-based partnership's earnings release this morning:
About Magellan Midstream: Structured as a master limited partnership, Magellan Midstream owns and operates a diversified portfolio of energy infrastructure assets. The partnership primarily transports, stores, and distributes refined petroleum products and, to a lesser extent, ammonia. Magellan conducts its operations in three segments: Refined Products, Crude Oil, and Marine Storage.
Zacks Rank & Surprise History: Currently, Magellan Midstream has a Zacks Rank #3 (Hold) but that could change following its third quarter 2017 earnings report which has just released. You can see the complete list of today's Zacks #1 Rank (Strong Buy) stocks here.
Coming to earnings surprise history, the company has an excellent record: its beaten estimates in each of the last four quarters resulting in an average positive surprise of 6.58%.
Estimate Revision Trend: The Zacks Consensus Estimate for 2017 earnings for the current quarter has been revised downward by a cent over the last 30 days. Further, the Zacks Consensus Estimate for 2017 for earnings have also moved south over the last 30 days. However the consensus estimates have remained unchanged during the past 7 days.
We have highlighted some of the key details from the just-released announcement below:
A Lower-than-Expected Profit: Adjusted earnings per unit came in at 87 cents, lower than the Zacks Consensus Estimate of 95 cents. Weaker contribution from Refined Products and Marine Storage segments along with increased costs led to the underperformance.
Revenue Came in Lower than Expected: Magellan Midstream reported revenues of $572.8 million, missing the Zacks Consensus Estimate of $582 million.
Magellan Midstream Partners L.P. Price and EPS Surprise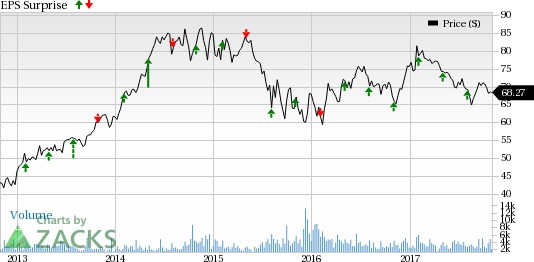 Magellan Midstream Partners L.P. Price and EPS Surprise | Magellan Midstream Partners L.P. Quote
Key Stats: Operating margin from the Refined Products segment was $173.8 million compared with $183.8 million in the year-ago quarter.
Magellan Midstream's Crude Oil unit generated $115.8 million of operating margin in the quarter compared to $98.04 million for the same period in 2016.
For the Marine Storage division, operating margin was $25.9 million as against $33.3 million earned in the year-ago period.
Magellan Midstream reported that its distributable cash flow for third-quarter 2017 came in at $235.2 million, down 3.6% from the year-ago quarter.
Total costs incurred in the quarter amounted to $374.3 million, up 11.5% from the prior-year quarter.
Stock Performance: Units of Magellan Midstream declined 0.3% during the third quarter versus the 5.8% loss of the broader industry.
Check back later for our full write up on this Magellan Midstream earnings report later!
Zacks' Best Private Investment Ideas
While we are happy to share many articles like this on the website, our best recommendations and most in-depth research are not available to the public.
Starting today, for the next month, you can follow all Zacks' private buys and sells in real time. Our experts cover all kinds of trades… from value to momentum . . . from stocks under $10 to ETF and option moves . . . from stocks that corporate insiders are buying up to companies that are about to report positive earnings surprises. You can even look inside exclusive portfolios that are normally closed to new investors.
Click here for Zacks' private trades >>
Want the latest recommendations from Zacks Investment Research? Today, you can download 7 Best Stocks for the Next 30 Days.
Click to get this free report
Magellan Midstream Partners L.P. (MMP): Free Stock Analysis Report
To read this article on Zacks.com click here.
Zacks Investment Research