Trade with confidence. Are you a professional trader? Be the first to get the alert with Benzinga Pro's real-time newsfeed and audio squawk and never miss an opportunity again.
Don't miss the chance to try it FREE today.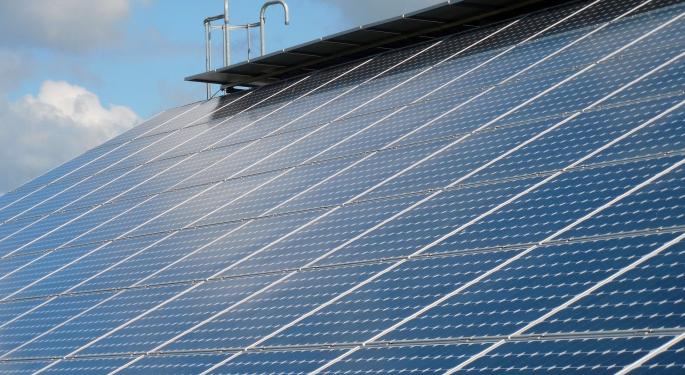 SunEdison, previously traded on the NYSE under the ticker SUNE, filed for bankruptcy April 21, but its troubles may reach beyond the company itself and continue to weigh on the entire solar industry.
Before the bankruptcy, SunEdison was down by more than 95 percent year-to-date at one point, having significant daily drops by as much as 50 percent.
On April 4, Dow Jones reported that bankruptcy for SunEdison was imminent. In the days that followed, solars were volatile to say the least.
The Solar Sector
While obvious players in the industry are likely to feel the residual burn from SunEdison's bankruptcy – as seen by their recent performances leading up to the bankruptcy and following the official notice – Credit Suisse highlighted two other names that may endure a "potential negative impact."
Credit Suisse analysts led by Patrick Jobin stated, "Following SunEdison's bankruptcy filing on April 21, we have been able to review materials (ongoing proceedings here) to gauge potential exposure for solar suppliers. Apart from the disclosed lenders and counterparties in litigation (convertible notes, DE Shaw/Madison Dearborn, Renova, Vivint Solar), SunEdison also owes ~$322 million to trade suppliers ranging from chemical suppliers for polysilicon production (POT), to cell/module suppliers (TSL and JASO) to downstream tracker suppliers."
Trina Solar Limited (ADR) TSL 1.36% and JA Solar Holdings, Co., Ltd. (ADR) JASO 0.74% are in particular danger, according to Jobin. "While it is unclear if payments will be made to module suppliers as part of the ongoing operations and potential bankruptcy, we note that TSL is owed $10.5 million and JASO is owed $10.4 million as a supplier for SUNE's solar projects."
Jobin elaborated, "These are not trivial amounts, potentially impacting full-year earnings 6.6–11.8 percent in a 'worst case' scenario of not receiving payments."
At Time Of Writing…
JA Solar was flat at $8.81.
Trina Solar was down 0.2 percent at $9.87.
| Date | Firm | Action | From | To |
| --- | --- | --- | --- | --- |
| Dec 2015 | Roth Capital | Upgrades | Neutral | Buy |
| May 2015 | Roth Capital | Downgrades | Buy | Neutral |
| Feb 2015 | Axiom | Downgrades | Hold | Sell |
© 2016 Benzinga.com. Benzinga does not provide investment advice. All rights reserved.