"They would not be raising rates unless everything is awesome, right? Right?!"
Since the dismal payrolls print in October (for September), stocks are comofrtably numb and higher as everything else is red...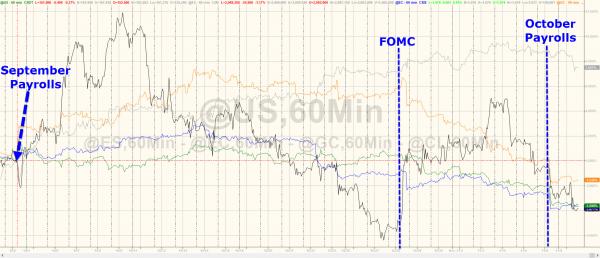 Since the 'awesome' payrolls print on Friday, everything is red again... as exuberantly bouncing stocks give it all back...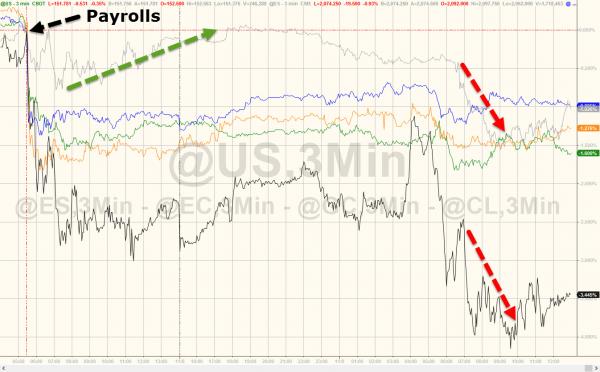 It appears, once again, JPM's Kolanovic was right that "the rally drivers are gone, downside risks ahead"... As all major equity indices are red post-Payrolls...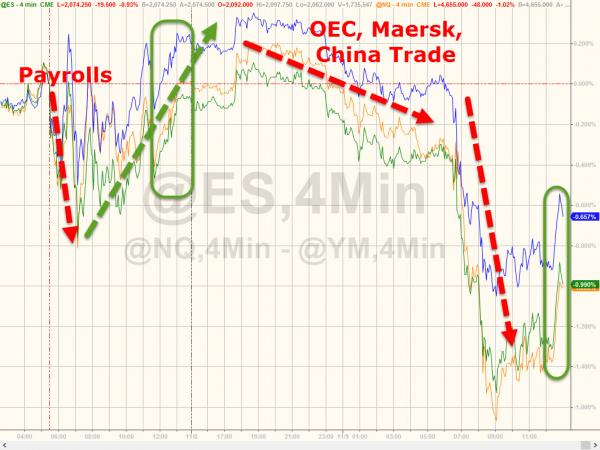 Even though Trannies surged in the middle of the day on CP-NSC news...
Again we saw a panic VXX selling, S&P buying algo run wild in the last 30 minutes of the day... what a joke!!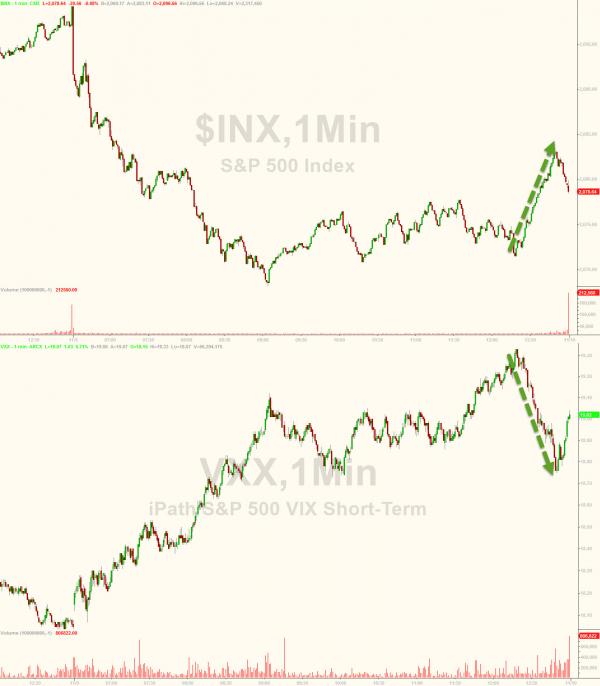 Wondering why we ramped? Wonder no more - someone wanted out in Financials at breakeven from Payrolls...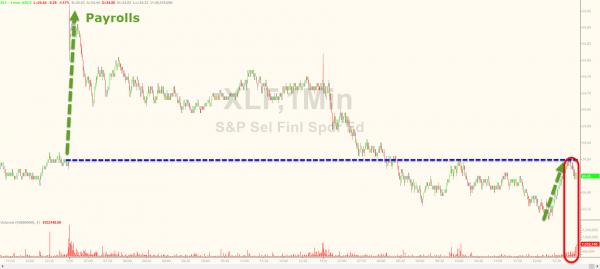 As Financials give it all back...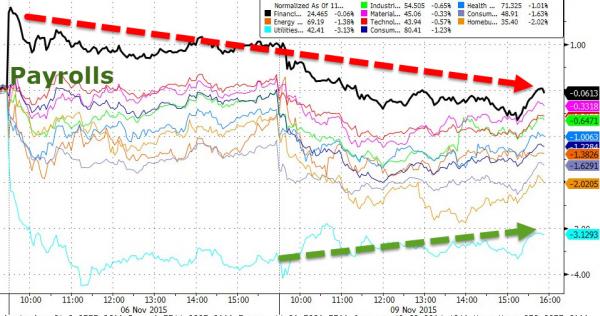 Once again stocks catch down to credit...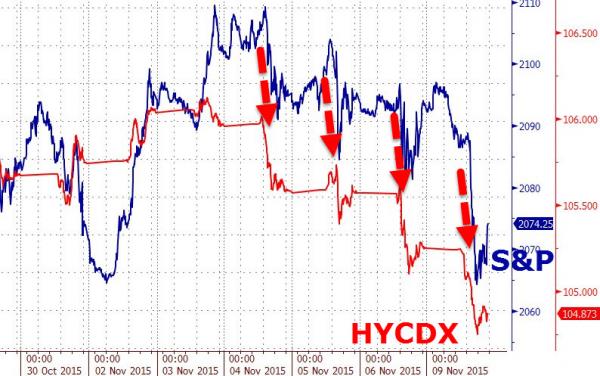 Treasury yields flip-flopped all day - major selling pressure hit early in the US day, then as stocks tanked so bonds rallied into the EU close and then yields drifted back higher on equity stability...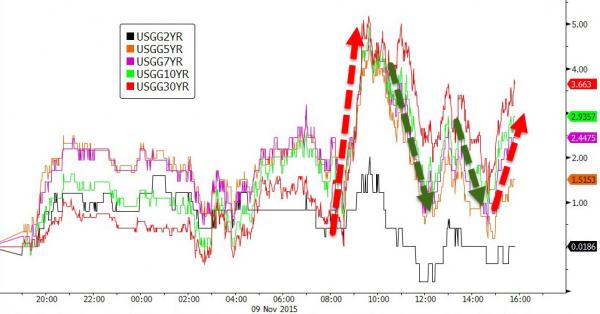 The US Dollar drifted lower  (on JPY strength) after some early strength (EUR 1.07 handle) on ECB jawboning...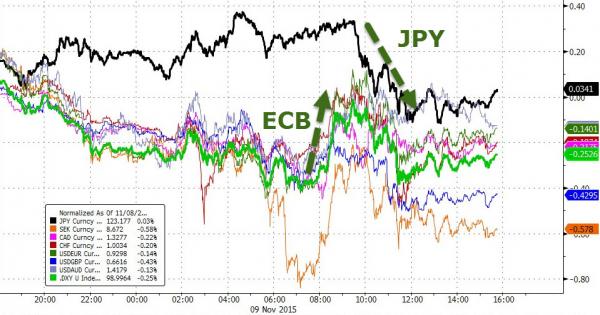 Commodities all drifted lower on the day except gold which flatlined...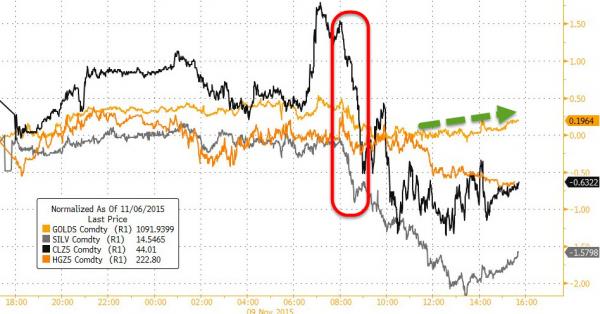 Silver extended its losing streak to 8 days as Gold broke its 8-day losing streak (longest since March)...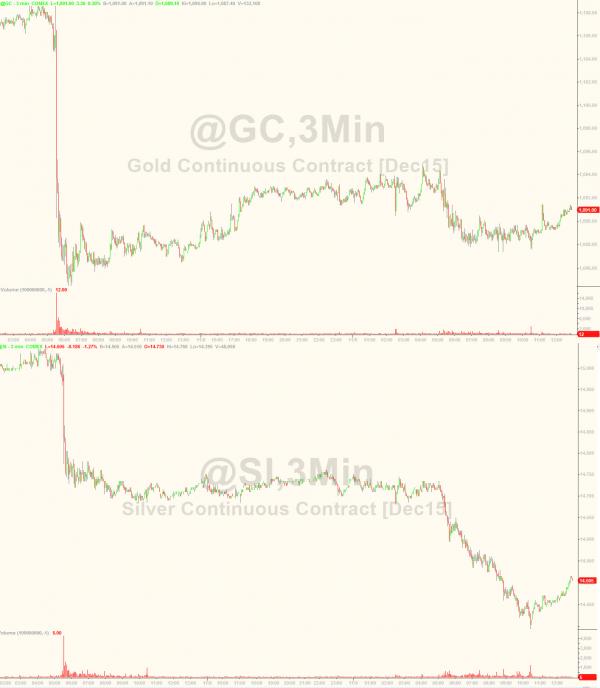 Charts: Bloomberg
Bonus Chart: Monetary Policy...
U.S. Monetary Policy vs. the MSCI World Index: pic.twitter.com/wYAUF8ub7v

— Michael McDonough (@M_McDonough)

https://twitter.com/M_McDonough/status/663813532929118210