It was supposed to be the day China's triumphantly returned to the markets from its Golden Holiday week off, and with global stocks soaring over 5% in the past 7 days, hopes were that the Shanghai Composite would close at least that much higher and then some, especially with the "National Team" cheerleading on the side and arresting any sellers. Sure enough, in early trading Chinese futures did seem willing to go with the script, and then everything fell apart when a weak Shanghai Composite open tried to stage a feeble rebound into mid-session, and then closed near the day lows even as the PBOC injected another CNY120 bn via reverse repo earlier.
This was unexpected, and with the USDJPY trying to soar after an absolutely terrible Japan machine orders which crashed -5.7% in August, the third consecutive monthly decline coupled with a drop in Japan's trade surplus, which was about to unleash more imminent QE levitation, suddenly risk was caught offside and both USDJPY, and thus Nikkei (-1%) as well as US equity futures slumping early and pushing the USDJPY to just above 119.6 (which by now everyone knows is the driver of S&P futures).
Then it was Europe's turn, and specifically Germany, which lately has gone from a model of economic virtue to a place where everything that can go wrong has gone wrong: first Volkswagen, then last night Deutsche Bank which preannounced a gargantuan $7 billion loss in a preannouncement that Goldman said was "not a kitchen sinking, but a sign of the magnitude of the challenge" yet one which the markets magically spun as a positive and after crashing yesterday the stock recently turned green...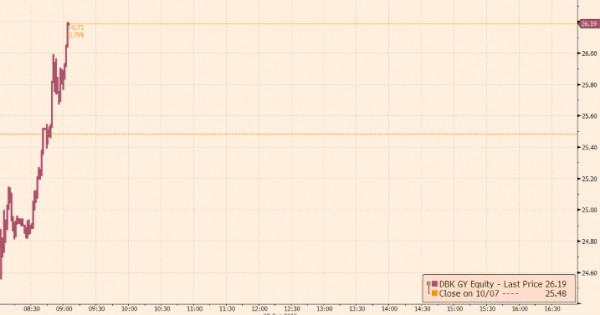 ... and then finally a few hours ago, we got the latest indication that when China sneezes Germany catches lung cancer when we learned that German exports in August plunged by a whopping -5.2%, far below the -0.9% expected, and a far cry from July's 2.2%. This, coupled with a comparable plunge in imports from 2.3% to -3.1% suggests that as long as China is openly fighting its various numerous demons, world growth isn't going anywhere, at least nowhere higher.
Then, while not directly a part of overnight events, one of the more respected bond strategists, HSBC's Steven Major, made a dramatic downward revision to his bond yield forecasts, and now sees the benchmark Bund yield as low as 0.2 percent in 2016 with the equivalent U.S. Treasury yield at 1.5 percent, down from his previous forecasts of 0.95% and 2.5% respectively.
The reason: "We have reduced our U.S. and European bond yield forecasts for end-2016 substantially, as a conventional tightening cycle has become increasingly unlikely... Our lower yield views are part of an international story, one that sees the ECB stuck in dovish mode well beyond the end-2016 forecast horizon."
In other words, kiss any global growth goodbye for the next several years as secular stagnation is here to stay, and what's worse the only "solution" to economic slowdown is what pushed it there in the first place: more easy central banks around the globe.
Back to markets, first it was Asian stocks that traded mixed following the return of mainland China from the Golden Week holiday. Shanghai Comp. (+3.0%) played catch up - but couldn't quite get there - to the gains seen in its global counterparts which has seen the S&P 500 rally by more than 5%. Furthermore, money market rates fell the most in a month after the PBoC injected CNY 120BN into the interbank system. Hang Seng (-0.7%) traded lower amid profit taking following yesterday's outperformance, while the Nikkei 225 (-1.0%) underperformed after Japanese machine orders (-5.70% vs. Exp. 2.30%) missed expectations prompting the government to lower its assessments. Finally, 10yr JGBs traded lower after the better than prior 30yr auction stoked demand in the super long end.  PBoC injected CNY 120BN via 7-day reverse repos for a net weekly injection of CNY 40BN vs. CNY 10BN drain last week.
In Europe equities (Euro Stoxx: -0.5%) initially opened lower ahead of key risk events and in reaction to reports of Deutsche Bank warning of Q3 loss €6.2BN and €5.8BN of impairments. However, this move saw a gradual paring as market participants focused on positive implications resulting from the latest announcement by the bank. In particular, analysts noted that the move by the bank would allow the German heavyweight to continue to repair its damaged reputation with new management now able to start with a 'blank canvas' even though Goldman flatly said this was not the case. As a result, heading into the North American open Deutsche Bank (+0.5%) is trading in the green.
Of note, despite the recovery in equities, the upside was driven by the more defensive health care sector. Additionally, European auto names outperform and are on track for their biggest weekly gain since 2011 with no specific new fundamental catalyst behind the move, although Fiat managed to avoid strike action in the US. In terms of US equities, earning season unofficially kicks off today with Alcoa set to report after the closing bell.
In FX land, JPY remained firmer, which in turn weighed on the USD and supported EUR/USD, as well as GBP/USD in early trade, with a general flight to quality seen in FX with CHF and JPY gaining. Furthermore, Citi noted banks and leverage names on the bid in EUR which did also help bolster EUR/USD.
The commodity complex sees WTI and Brent crude futures trade in modest positive territory, back above the lows seen yesterday on the back of the larger than expected build to DoE inventories and an increase in US output. Elsewhere gold saw subdued trade overnight alongside weakness seen across the commodities complex, while silver prices experienced a bout of selling at the open of Shanghai metals trading for the 1st time in a week, with participants booking profits after a 4 days of consecutive gains. Some analysts suggest weakness in silver is a result of China coming back to market and seeing strength in the metal, but not to the extent seen globally over the past week. Elsewhere, copper prices were marginally weaker, while iron ore bucked the trend and gained over 2.5% as China and its steel mills returned to the market.
On deck in the US, along with the FOMC minutes which could be somewhat stale, datawise we'll get the latest initial jobless claims print. Away from that, it's a busy day for Fedspeak with Bullard (due 2.30pm BST), Kocherlakota (due 6.00pm BST) and Williams (due 8.30pm BST) all due.
Overnight Media Digest from RanSquawk and Bloomberg
Treasuries gain amid declines in EM stocks and U.S. index futures after German exports slumped the most since 2009, underscoring growth concerns raised by IMF.
Week's auctions conclude with $13b 30Y bonds, WI 2.885% vs 2.98% in September
German exports slid 5.2% in August, steepest decline since Jan. 2009, est. -0.9%; trade surplus shrank to EU15.3b from EU25b in July
Japan core machine orders fell 5.7% in Aug., third consecutive monthly decline; cabinet office cuts assessment of overall machine orders to "standing still"
HSBC lowered year-end UST 10Y forecast to 2.10% from 2.40%, year-end 2016 to 1.50% from 2.80%, cites expectations for further ECB monetary easing
A year that started with almost everyone calling for the Fed to raise rates is drawing to a close with Morgan Stanley saying there's increasing chatter about the need for additional stimulus
Deutsche Bank may eliminate a dividend that's stood since postwar reconstruction as it writes down the value of its two largest divisions and boosts reserves for legal costs which will probably lead to 3Q loss of EU6.2b
CEO John Cryan indicated writedowns may hurt bonuses, a potential further blow to morale as the lender weighs cutting thousands of jobs
Volkswagen AG reported death and injury claims at the lowest rate of any major automaker in the U.S. over the last decade, numbers so good that some industry experts wonder if they add up
A global asset rout that squeezed bond trading and kept the Fed from raising rates drove down total revenue at the six biggest banks by 2.4% in 3Q, according to analysts' estimates compiled by Bloomberg
Norway is looking into whether to boost its wealth fund's stock allocation to beyond 60% as it struggles with record low bond yields
China has started a payment system for cross-border yuan transactions, part of the nation's plan to bolster the currency's global usage and win reserve status from the IMF
Turkey's Erdogan said Putin's military buildup in the region was unacceptable and warned Russia to consider its trade ties as its warships fire cruise missiles at Syria
Indonesia is considering using drones and submarines to strengthen its grip over the gas-rich waters around the Natuna Islands in response to China's growing military presence in the South China Sea.
Sovereign 10Y bond yields lower. Asian and European stocks mixed, U.S. equity-index futures decline. Crude oil higher, copper falls, gold little changed
US Event Calendar
8:30am: Initial Jobless Claims, Oct. 3, est. 274k (prior 277k)
Continuing Claims, Sept. 26, est. 2.2m (prior 2.191m)
9:45am: Bloomberg Consumer Comfort, Oct. 4 (prior 43)
1pm: U.S. to sell $13b 30Y bonds
Central Banks
7am: Bank of England bank rate, est. 0.5% (prior 0.5%)
9:30am: Fed's Bullard speaks in St. Louis
1pm: Fed's Kocherlakota speaks in Mankato, Minn.
2pm: FOMC minutes, Sept. 16-17
2pm: Bank of England's Carney speaks in Lima, Peru
3:30pm: Fed's Williams speaks in Spokane, Wash.
Deutsche's Jim Reid completes the overnight event wrap
The market continues to feed on hopes of a more positive Q4 at the moment. Tuesday's biotech-led selloff swiftly reversed course leading Wall Street to decent gains once again. The S&P 500 closed +0.80%, taking the index to the highest closing level since August 20th. In truth there's not a whole lot of new news at the moment but with Q3 earnings season around the corner and Alcoa due to unofficially kick off proceedings after market today followed by the banks next week, there will be plenty for markets to dig their teeth into. Much of the chatter is for Q3 profits to show deterioration, with Dollar strength set to be another overriding factor for corporates while the energy sector is set to lead most of the earnings weakness. As it stands and based on Bloomberg estimates, Q3 earnings for the S&P 500 are expected to fall 6.9% yoy, although stripping out the energy sector then growth is expected to be more or less flat. Revenue numbers will also be closely watched so signs of global economic weakness.
Ahead of this, today sees the release of the FOMC minutes from the September 16th/17th meeting. Usually this would be the primary focus for markets on any given day, but it's fair to say that these minutes are pretty stale now given the latest jobs report, the drop in market expectations for a Fed hike this year and the recent trade data numbers and the implications of those for US GDP growth. Despite that, it's actually a pretty busy day ahead for Central Banks as we get the BoE rate decision and ECB minutes from the last monetary policy meeting.
Before we get there though, looking at the latest in Asia this morning there's some decent divergence across equity bourses in the region. Playing catch up having reopened following a week-long break, Chinese stocks have rallied with the Shanghai Comp (+3.80%), CSI 300 (+4.09%) and Shenzhen (+4.53%) also seeing decent gains. However after being off for a week that has seen a big rally elsewhere, there is some disappointment that China has not climbed more. Elsewhere, the ASX (+0.28%) is also up while the Kospi (-0.16%) is little moved. On the other side, the Hang Seng (-0.69%) is trading with a softer tone along with markets in Japan where the Nikkei is -0.83% following some disappointing machine orders data. Credit markets are a tad softer this morning with markets in Asia and Australia 2bps wider.
Staying in Asia, late last night our China Chief Economist Zhiwei Zhang published a note suggesting that the fiscal slide which has severely affected Chinese growth this year, is coming to an end. Zhiwei believes that much of the slowdown in China's economy so far in 2015 was to a large extent driven by a collapse of land sales and the ensuing sharp drop in government revenue growth (H1'15 -3.6%). This 'fiscal slide' which dragged down investment growth is now coming to its end, led by the recovery of land sales. Zhiwei notes that land sales accounted for 22% of general government revenues in 2014. The growth of land sales value, at -33% in Q1 and -23% in Q2 this year turned to +30% in Q3. As a result, Zhiwei forecasts general government revenues to grow by 1.1% and 7.7% in Q3 and Q4 respectively, improving from -6.2% in Q1 and -1.3% in Q2. This should lead to a cyclical rebound in investment, while the recovery of land sales and the upturn of the property market also indicates a likely pickup of property investment in the near future.
Given this, Zhiwei is reiterating his view that growth may rebound in Q4 to 7.2% from 7.0% in Q3. He also expects headline activity indicators to rebound and the official manufacturing PMI to rise above 50. However, while Zhiwei expects the momentum to carry over into Q1 of 2016, he notes that growth beyond that is uncertain. He expects 2016 GDP growth to drop to 6.7% next year from 7.0% this year with the underlying assumption being that the government will be willing to tolerate the slowdown and refrain from further fiscal and monetary stimulus once growth rebounds in Q4. The Communist Party Plenum this month and Central Economic Working Conference in December should shed some more light on policy stance in 2016.
Earlier this morning we published our latest HY monthly where we look at the impact of broad market volatility indicators on credit spreads. Specifically we show a model of credit spreads against three different asset classes implied volatility (European rates, European equities and FX). The correlations are generally strong with adjusted R-squared readings of above 70% across both EUR HY and IG. We show the results of the analysis in the pdf. The left hand charts plot actual spreads against the volatility implied spread levels while the charts on the right show the difference between the series. If we are above 0 then actual spreads are wider than the volatility implied levels and if we are below 0 then the opposite is true.
Whilst we still don't believe we are quite on the cusp of the next default cycle we do recognise that the turn in sentiment and increased volatility across financial assets has contributed to recent weak credit performance, particularly as our analysis shows that spreads were comfortably tighter than what broader market volatility implied as recently as a month ago. With parts of the EUR HY and IG market now fully pricing in current levels of volatility even if volatility remains at elevated levels EUR credit should provide a decent carry opportunity. Indeed if we are correct about the need for central banks to remain accommodative and in some cases provide further stimulus we may see a decline in volatility into year end and with it a turn in fortunes for credit markets with spreads tighter by the end of the year.
Back to markets yesterday. European equities continued their decent run of gains with the Stoxx 600 in particular finishing up +0.14%. The index actually closed near its lows after falling over a percent in the last hour of trading as oil markets dropped following the latest inventory data. Having traded with a generally positive tone for most of the session, Brent closed -1.14% and WTI finished -1.48% following a higher than expected buildup of stockpiles from the latest EIA report, muddying the supply outlook picture. Mirroring the equity moves, European credit markets pared earlier strong gains but still closed tighter with Main -2bps on the day. Much of the outperformance was in US credit however where CDX IG closed over 4bps tighter, while the primary market saw decent issuance with over $10bn pricing.
Yesterday's dataflow was largely centered in Europe and made for something of a mixed bag. The early release was a disappointing August German industrial production reading (-1.2% mom vs. +0.2% expected). That reversed most of the previous month's decent upward revision. Away from this, in the UK we saw both manufacturing (+0.5% mom vs. +0.3% expected) and industrial (+1.0% mom vs. +0.3% expected) production print above market for August, the latter in particular benefiting from a decent jump in oil and gas production.
In other news, the IMF fired some further warnings signs for global markets yesterday. As per the FT, the Fund warned that 'shocks may originate in advanced or emerging markets and, combined with unaddressed system vulnerabilities, could lead to a global asset market disruption and a sudden drying up of market liquidity in many asset classes' in the face of a policy mistake or another shock to confidence.
Looking ahead to today's calendar, datawise in Europe this morning we've got German trade data for August and the September reading for French business sentiment due. As mentioned the UK BoE decision is due (no change expected) and latest ECB minutes expected - with the latter possibly showing how close a QE extension is. Over in the US, along with the FOMC minutes which as we noted above could be somewhat stale, datawise we'll get the latest initial jobless claims print. Away from that, it's a busy day for Fedspeak with Bullard (due 2.30pm BST), Kocherlakota (due 6.00pm BST) and Williams (due 8.30pm BST) all due. As well as this, the IMF's Lagarde, BoE's Carney and Brazil Finance Minister Levy are all due to speak on the global economy at an event in Peru this evening.