(Adds details from Treasury, analyst comment on Pfizer, background)
By Kevin Drawbaugh and Ransdell Pierson
WASHINGTON/NEW YORK, Nov 19 (Reuters) - The U.S. Treasury Department on Thursday took steps to clamp down on tax-avoiding "inversion" deals with new rules, though there was scarce evidence they would stop the biggest inversion of them all, between Pfizer Inc and Allergan Plc.
The $150 billion proposed deal, still under negotiation, would see New York-based Pfizer redomicile in Ireland, where Botox-maker Allergan is registered.
Treasury, which said its new measures are effective immediately, has been wrestling with inversion deals for years because they erode the U.S. corporate tax base by shifting profits overseas.
A wave of inversions peaked in September 2014, when Treasury last cracked down, reducing deal flow but not stopping it.
U.S. companies are still taking advantage of the law "to move their tax residence overseas to avoid paying taxes in the U.S., without making significant changes in the nature of their overall operations," Treasury Secretary Jack Lew said.
"While we intend to take additional action in the coming months, there is only so much the Treasury Department can do to prevent these tax-avoidance transactions. Only legislation can decisively stop inversions," Lew said in a statement.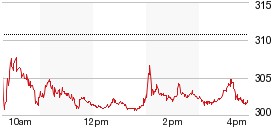 In an inversion, a U.S. company typically buys a...
More