Leading software company Microsoft MSFT is expected to report fiscal third-quarter earnings on April 22 after the bell. Let's see how things are shaping up for the company heading into the earnings announcement.
First, the Numbers
Our proprietary model shows that when a stock with Zacks Ranks #1 (Strong Buy), #2 (Buy) or #3 (Hold) have a positive ESP, its chances of reporting a positive surprise increases greatly.
Microsoft doesn't satisfy the criteria because its Zacks Rank #3 (Hold) and Earnings ESP of 0.00% actually make surprise prediction difficult per our model.
Its earnings surprise history is a valid reason for optimism: the company has topped estimates in each of the last four quarters at an average rate of 15.21%. Moreover, as estimates have moved down since the company last reported, they may be easier to beat right now.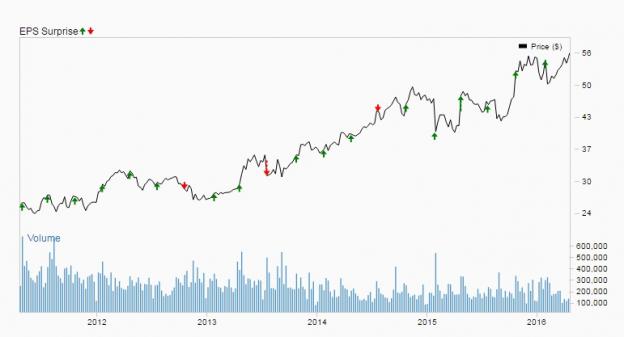 At the same time, the shares appear fully valued, so a post-earnings rally may not be in the cards.
Second, End Market Dynamics
The primary end markets impacting Microsoft are PCs, Cloud and Gaming.
On the PC side, reports from both Gartner and IDC mention steep declines in the first quarter, indicating that there are no signs of recovery in the market. Since Microsoft's Windows and other productivity software are generally installed on the majority of PCs worldwide, the sluggishness in this market remains a big negative for the company. Microsoft's Windows OS is also losing out to Alphabet's GOOGL Android and Apple's AAPL iOS as these two companies leverage their strength in mobile to increase penetration in the consumer segment and also target enterprises through their bring-your-own-device (BYOD) programs.

Microsoft's Surface devices and Universal Windows Platform (same OS across mobile and desktop machines) were intended to counter these pressures. Opening up its productivity software to rival operating systems was another measure to protect revenue. These strategies appear to be working but we'll know more as we move through the year.
Microsoft is one of the best positioned to benefit from cloud computing. Not only does it continue to pull users to its services through Office 365, but it also offers cloud infrastructure services to help enterprises transition to the cloud.Microsoft is targeting an annualized commercial cloud revenue run rate of $20 billion by 2018. When the target was first announced it looked ambitious, but the company is already halfway there. So here too, the strategy seems to be working.
This will be a seasonally slower quarter for the gaming business and not an area of focus for this quarter.
Third, Other Factors
The biggest factor here is FX, which usually has a negative impact on companies generating a chunk of their revenue overseas. Since the dollar remains strong, the negative impact may be expected to continue this quarter.
Also, macro concerns remain in China, Japan, Russia and Brazil.
Last Quarter Was Mixed
Microsoft's earnings per share adjusted for Windows 10 deferrals and currency effect of 78 cents beat the Zacks Consensus Estimate of 69 cents. Revenue missed by 5.2%, despite the fact that the currency impact of $1.21 billion was as guided.
This quarter, management said that FX would have a negative 4-point impact on revenue growth with the impact down to 3 points for the rest of the fiscal year. The impact on the Productivity segment is expected to be 5 points, Intelligent Cloud 4 points and More Personal Computing 3 points.
So total revenue will be between $21.6 billion and $22.3 billion (slightly below current estimates for the Mar quarter). Microsoft expects COGS of $7.7–7.8 billion, opex of $7.7–7.8 billion, other income/expense of -$300 million and tax rate of 19–21%.
The full-year tax rate is estimated to be 19–21% and opex estimates $31.4–31.6 billion (previous expectation: $31.9–32.1 billion).
Summing Up
Microsoft should report another strong quarter with continued strength in productivity solutions and cloud, slightly offset by the evolving more personal computing business.
Want the latest recommendations from Zacks Investment Research? Today, you can download 7 Best Stocks for the Next 30 Days. Click to get this free report >>
Want the latest recommendations from Zacks Investment Research? Today, you can download 7 Best Stocks for the Next 30 Days.
Click to get this free report
APPLE INC (AAPL): Free Stock Analysis Report
MICROSOFT CORP (MSFT): Free Stock Analysis Report
ALPHABET INC-A (GOOGL): Free Stock Analysis Report
To read this article on Zacks.com click here.
Zacks Investment Research