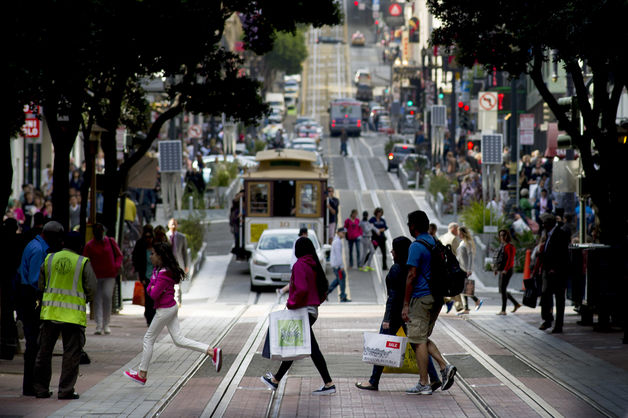 Photographer: David Paul Morris/Bloomberg

The longest commodity slump in more than two decades is helping to keep U.S. inflation in check as consumers benefit from cheaper supplies of everything from gasoline to peanuts.
Record-large crops this year sent corn, soybeans and wheat into bear markets. Rising oil output reduced fuel prices for U.S. motorists to the lowest for this time of year since 2010. InChina, which once sparked a decade-long commodity rally, slowing economic growth left world gluts in cotton and steel. And gold tumbled as investors exited in favor of equities.
The Bloomberg Commodity Index of 22 raw materials slid to a five-year low this week, after consumer prices in August fell for the first time in 16 months and the dollar surged. Lower costs are boosting profit at Delta Air Lines Inc. (DAL), The Gap Inc. and J.M. Smucker Co., the maker of Jif peanut butter. That's giving the Federal Reserve a reason to maintain low interest rates because inflation remains below its target.
"The commodity price slump is a good thing for the American consumer," said Jack Ablin, who helps manage $66 billion as chief investment officer at BMO Private Bank in Chicago. "Having lower food and energy prices is a benefit. It puts more money in household wallets."
The Bloomberg Commodity Index is down 12 percent since the end of June, heading for the biggestquarterly drop since the financial crisis in 2008. That's left the gauge down 5.3 percent in 2014, which would be the fourth annual decline and the longest slide since at least 1991. Since July, U.S.-based exchange-traded products backed by raw materials saw a net outflow of $777.63 million, data compiled by Bloomberg show.
Dollar Strength
The appeal of commodities has waned as an expanding U.S. economy sparked rallies for equities and sent the dollar to a four-year high. The MSCI All-Country World Index of equities is up 2.3 percent this year, as the Standard & Poor's 500 Index jumped 6.4 percent and touched a record 2,019.26 Sept. 19. The Bloomberg Dollar Spot Index rose 4.3 percent, signaling higher costs for foreign buyers of raw materials priced in the currency.
"Anytime you have the dollar strong against other currencies, a strong equity market, weak precious metals, there's not going to be as much demand," said Jeff Sica, who helps oversee more than $1 billion as chief investment officer at Sica Wealth Management in Morristown, New Jersey.
While commodities usually have a smaller impact on inflation than housing costs or wages, lower raw-material prices may allow the Fed to maintain interest rates that have remained near zero percent since 2008 in a bid to spur growth, said Cetin Ciner, a professor of finance at the University of North Carolina-Wilmington's Cameron School of Business.
Inflation Expectations
Fed officials said Sept. 17 that the central bank intends to keep interest rates near zero percent for a "considerable time," even after winding down monthly bond purchases meant to stimulate lending. The personal consumption expenditures index rose 1.6 percent in the 12 months through July and hasn't met the 2 percent target since April 2012. Inflation expectations as measured by the five-year Treasury break-even rate this week reached the lowest since June 2013.
Investors are selling gold, a traditional haven in times of accelerating inflation. Global holdings in exchange-traded products backed by bullion are down 2.5 percent since the end of July, helping to erase $5 billion in value, data compiled by Bloomberg show. Prices have dropped 12 percent from this year's high to $1,225.20 an ounce, down 36 percent from a record $1,923.70 in 2011. Goldman Sachs Group Inc. has forecast the metal will reach $1,050 by year-end.
Food Costs
Soybean, cotton, corn and wheat futures fell more than 22 percent this year. Farmers in the U.S., the world's largest agricultural producer, are expected to collect a record 14.395 billion bushels of corn and 3.913 billion bushels of soybeans, the government estimates. Prices should "hit their nadir" amid the U.S. harvest, further easing world food costs into year-end, Citigroup Inc. analysts said in a Sept. 24 report.
Retail food costs will rise 2 percent to 3 percent next year, down from the 2.5 percent to 3.5 percent gains forecast for 2014, the U.S. Department of Agriculture said. Global food prices fell 16 percent from a record in 2011, United Nations data show.
Oil Boom
Crude oil, used in everything from chemicals to gasoline, fell 6 percent this year to $92.56 a barrel, after touching a 16-month low on Sept. 11. Citigroup forecast prices may drop to $91 in the fourth quarter.
Global oil demand is growing at its slowest pace since 2011, and U.S. output climbed to 8.87 million barrels a day last week, the highest level since 1986, data show.
Gasoline at the pump fell this month to a national average of $3.338 a gallon, the lowest since February, and the fuel hasn't been this cheap at this time of year since 2010, according to data from AAA, a motoring organization. Prices may drop to $3 by year end as costs decline for the crude oil, said Michael Green, a AAA spokesman in Washington, D.C.
Fuel costs at Atlanta-based Delta Air Lines decreased by $40 million in the second quarter, Chief Financial Officer Paul A. Jacobson said in a July 23 earnings call. The carrier, which operates a refinery in Pennsylvania and hedged some fuel costs, paid $2.93 a gallon on average during the quarter and expects a drop to as low as $2.88 in the current quarter, Jacobson said.
Expensive Meat
Not all commodities are cheaper. Arabica-coffee futures are up 65 percent this year after dry weather eroded the crop in Brazil, the world's largest grower. Nickel jumped 24 percent after Indonesia, the largest supplier of ore used to make the refined metal, banned exports of the raw material.
Retail meat costs surged to records as smaller U.S. hog and cattle herds sent livestock futures to the highest ever. Steakhouse owner Ruth's Hospitality Group Inc. (RUTH), based in Winter Park,Florida, said last month its beef costs aren't likely to drop anytime soon, after gaining 8 percent in the second quarter. A rally in milk during the first half boosted food-buying costs by 3.5 percent for Domino's Pizza Inc., the Ann Arbor, Michigan-based company said on a July 29 earnings call.
Some economists say the impact of commodities on U.S. inflation is overstated.
"In modern developed markets, a box of cereal like Wheaties costs several times what the wheat does, and the marketing of the box is multiples of what the box is, and by the time it's delivered to the store, the cost of the underlying commodity is pretty immaterial," Jeffrey Currie, Goldman's head of commodities research, said Sept. 24.
Housing costs make up 41 percent of the consumer price index, while food and beverages account for about 15 percent, and transportation, including cars and motor fuels, is about 16 percent, government data show. Without sustained wage growth, inflation will have a hard time accelerating, said Laura Rosner, a New York-based economist at BNP Paribas.
Cheaper Peanuts
Wheat buyer General Mills Inc. (GIS), maker of Cheerios cereal and Betty Crocker bake mixes, said June 8 that its cost of ingredients and energy will grow by 3 percent in the 12 months that began in June, below its average of 5.25 percent in the previous four years. Orrville, Ohio-based J.M. Smucker, the maker of Crisco shortening, said Aug. 20 that cheaper peanuts and soybean oil helped boost profit in its fiscal first quarter.
"The global economy is likely not growing as fast as people predicted initially," said Jeffrey Sherman, a portfolio manager at Doubleline Capital LP in Los Angeles, which oversees about $52 billion. "That's what the commodity complex is signaling, that the global growth environment is a lot slower than people thought. Everybody's missing those economic targets, and commodities have taken it on the chin for that."