Best Buy is bearish since September, within a choppy 2015 mode. When we look at price action going back to the end of 2013, we can see that BBY has been in a sideways congestion - a triangle .

Best Buy (BBY) Daily Chart 11/18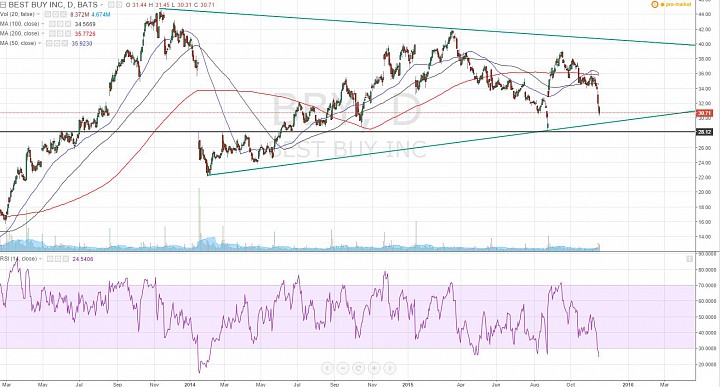 (click to enlarge)

Note that previous to 2014, price action was bullish (price was rising and holding above the 200-, 100-, and 50-day simple moving averages (SMAs). Indeed, there was a 2013-rally.  Currently, price is under this cluster of SMAs, but we can see that it has been whipping the cluster up and down. 

Okay, so we know the prevailing trend was bullish entering into 2014. That means we can respects key support factors. As price approaches the 28-30 area, we are going to see it challenged by 
1) A rising speedline since 2014. 
2) A support/resistance pivot area going back to 2014 as we can see, but actually back to 2011. 
3) Oversold condition in the daily RSI, as it dipped below 30. If the chart develops a bullish divergence, we can have even more expectation of support in this 28-30 area. 

The upside should first be limited to the 34 handle, near a previous support area. 40 Would be an aggressive target, but within the context of the almost 2 year long triangle consolidation.