Exelon Corporation EXC, a competitive energy provider, delivers electricity and natural gas to customers in central Maryland, northern Illinois and southeastern Pennsylvania through its subsidiaries. The Chicago, IL-based firm operates in 48 states and the District of Columbia of the U.S., and Canada.

Exelon's strategy of matching its load business with generation fleet, addition of renewable and natural gas based power generating units to its portfolio, systematic divestment of non-core assets will drive its performance. Exelon's acquisition of Pepco Holdings Inc. is expected to increase cash flow by $700 million to $850 million in the 2017–2019 time period.

Estimate Trend & Surprise History

Investors should note that the second quarter Zacks Consensus Estimate for earnings of 52 cents per share decreased by 21.2% over the last 90 days.

Coming to the earnings surprise, Exelon has surpassed the Zacks Consensus Estimate in three of the last four quarters, resulting in a positive average surprise of 10.85%.

Zacks Rank: Currently, Exelon has a Zacks Rank#3 (Hold). You can seethe complete list of today's Zacks #1 Rank (Strong Buy) stocks here.
However the rank could change following its second quarter 2017 earnings report which has just released. We have highlighted some of the key details from the just-released announcement below:

Earnings: Exelon reported earnings of 54 cents per share, surpassing the Zacks Consensus Estimate of 52 cents by 3.8%.
Exelon Corporation Price and EPS Surprise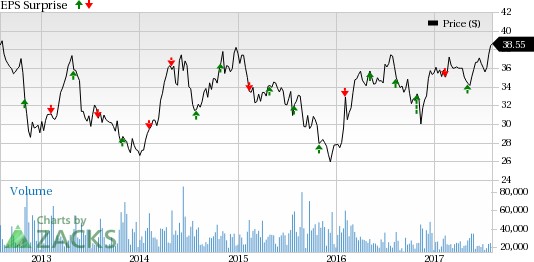 Exelon Corporation Price and EPS Surprise | Exelon Corporation Quote
Revenue: Exelon's total revenues came in at $7,623 million, 1.4% higher than the Zacks Consensus Estimate of $7,514 million.

Key Stats: Exelon's hedging program involves hedging of commodity risks for expected generation, typically on a ratable basis, over a three-year period. The proportion of expected generation hedged as of Jun 30, 2017, was 96–99% for 2017, 71–74% for 2018, and 39–42% for 2019.

Check back for our full write up on this EXC earnings report later!

More Stock News: Tech Opportunity Worth $386 Billion in 2017

From driverless cars to artificial intelligence, we've seen an unsurpassed growth of high-tech products in recent months. Yesterday's science-fiction is becoming today's reality. Despite all the innovation, there is a single component no tech company can survive without. Demand for this critical device will reach $387 billion this year alone, and it's likely to grow even faster in the future.

Zacks has released a brand-new Special Report to help you take advantage of this exciting investment opportunity. Most importantly, it reveals 4 stocks with massive profit potential.

See these stocks now>>
Want the latest recommendations from Zacks Investment Research? Today, you can download 7 Best Stocks for the Next 30 Days.
Click to get this free report
Exelon Corporation (EXC): Free Stock Analysis Report
To read this article on Zacks.com click here.
Zacks Investment Research