Cars must "change shoes"! Right tires not only reduce fuel consumption, but also improve significantly the safety of the machine. Even if our machines manage to fly, they will still need the tires, being changed periodically. Presentation of the flying machine from Aeromobil in 2014 only confirms it. Therefore, the TRADEintime team suggest you to consider Goodyear Tire & Rubber Company.
Introducing the company
GOODYEAR TIRE & RUBBER COMPANY

Company Goodyear Tire & Rubber was founded in 1898 by Frank Seiberling. Production is located in various countries, including 15 factories in the EU, in the United States and Canada - 23 factories, in Eastern Europe and Africa – 5 and in Latin America - nine. In addition, Company has their own used goods recycling facilities, and three centers for the R & D (Research and Development).
Division of Goodyear: Dunlop, Fierce, Lee, Sava Tires (Slovenia), Fulda (Germany), Dębica (Poland), Wingfoot commercial tire systems, LLC.
It participated and was engaged in the supply of the f well-known sporting events, namely NASCAR, IndyCar, Formula SAE.
Company website: www.goodyear.com
Status: The international corporation owning a large number of well-known brands.
Location: United States, Canada, the EU, Latin America, Asia, Africa.
Product portfolio: Goodyear manufactures tires for passenger cars, commercial trucks, light trucks, SUVs, racecars, airplanes, agricultural machinery.
Macroeconomic factors
Slightly less than in 20 years there will be about 2 billion cars on the road (Or better to say all vehicles that require tires usage). That is why tires sales will climb up steadily. Furthermore, the tires quality is improving with the time, increasing their profitability. We suggest to take a look at the forecast sales of the top ten tire manufacturers in 2019 and 2024 made by BCS Prime.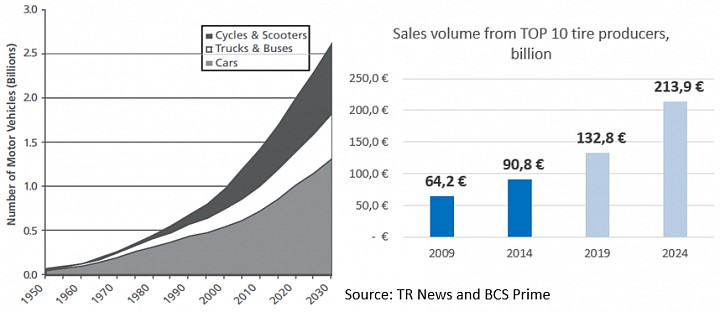 Global cars sales have increased significantly in recent years, which means it will be useful soon to upgrade tires. Goodyear receives 70% of its earnings from the secondary market; therefore, we are waiting for higher share prices of the company.
Sales volume according to various countries in 2013, 2014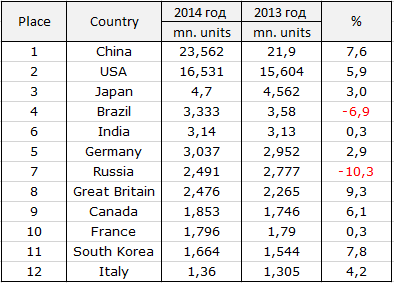 Source: European Automobile Manufactures Association (ACEA)
It is clear that the main driver is China. It have been continuously increasing purchases of cars since 2009 isn't going to give up positions now. This can be explained by the following macroeconomic factor:
According to Ernst & Young data in 2012 the number of Chinese households with an income of 35 thousand dollars in real terms will triple by 2022 and reach almost 80 million.
Now the company's share in the Chinese market is about 11% and Goodyear is going to increase it.
Comparison with competitors and the performance of the company
The company's activities also show excellent results in recent years. At the end of Q3 2015 operating profit amounted to 599 million $, representing a 15% increase in contrast with the last year. This is the best result in the 117-th history of the Goodyear. At the same time revenue becomes lower for 10.6%, numbering 4,2 billion $ in this period. On the one hand, the company has some problems with distribution and, on the other hand, it is mentioned the enormous cost optimization.
In comparison with closest competitor Goodyear seems to be quite cheap, which underlines the profitability of its shares purchase.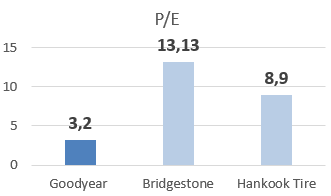 Source: Investing.com
Technical analysis
There were considered two timeframes: monthly and daily. On the monthly timeframe we can see that the Goodyear stock prices is growing from the end of the 2008-2009 crisis, and the most active growth began in the mid-2013. Shares reveal an price increase for 2,5 years and MA(6) < MA(12) during this time, that suggests a positive investors view on this dynamic. Now the stock costs $ 32.6 with the nearest resistance line at 36 $ per share. So, in terms of technical analysis the growth potential appears in a few months. On the daily chart, it is observed that quite high prices are not far from the strong line of resistance and even were higher for some time. It is also seen that the MA(13) < MA(50) < MA(150), which indicates the positive expectations in medium-term and short-term. However, within a few days, prices can go both up and down to approximately 31.5$ per share.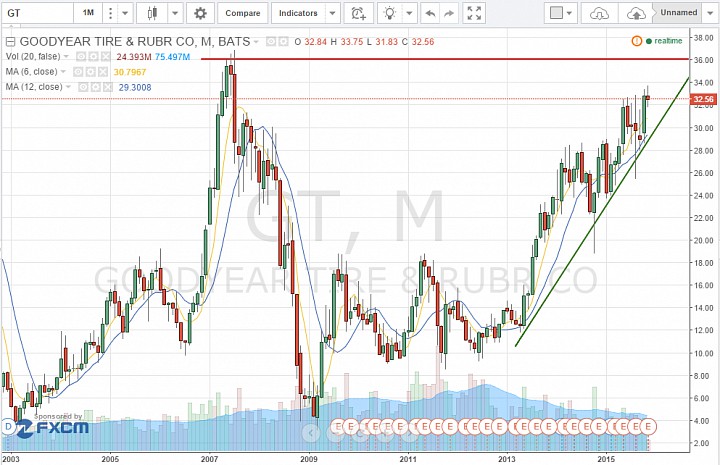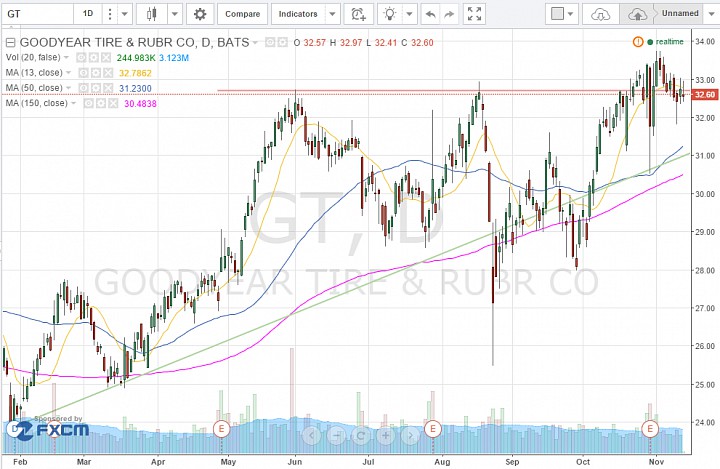 Source: Made by authors, based on platform Tradingview.com
Possible risks
1. In China there are a lot of competitors that can displace Goodyear, so the fight for shares in Chinese tire market will not be easy.
2. After several years of continuous growth in cars purchases China may slow down significantly.
3. Goodyear Share prices are at historically high levels, which means that investors may not rush to buy these shares.
Our recommendations
1. For the medium-term investment (a few months), we suggest to buy the shares at the price of 32.5 $, and take profits at 36 $ per share.
2. For long-term investment (5 years) is also recommended buying shares.