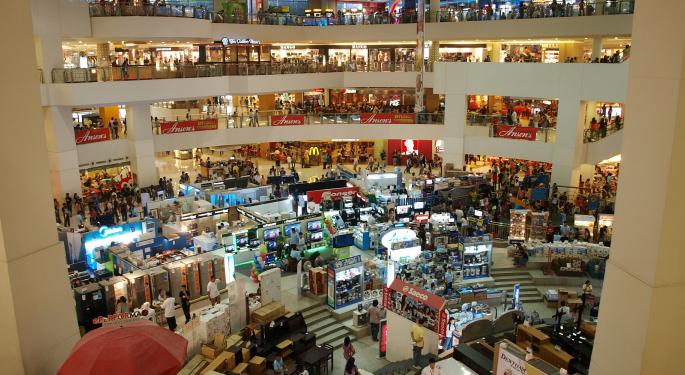 How the mighty have fallen. According to the Wall Street Journal, the once mighty retailers and mall tenants are no longer the preferred choice of mall owners.
According to the Wall Street Journal, mall owners are no longer looking at high-end retailers like Nordstrom, Inc. JWN 0.56% to drive traffic and are opting for some of the value-driven and "fast-fashion" chains like Forever 21, Zara and even restaurants to attract shoppers.
Sporting-goods retailers, supermarkets, gyms, movie theaters and other types of entertainment are also being favored over traditional big box chains.
CBL & Associates Properties, Inc. CBL 2.14%'s chief executive told the Wall Street Journal the traditional definition of a mall anchor has "changed," and restaurants, such as Cheesecake Factory Inc CAKE 0.6% now do as much business as Sears Holdings Corp SHLD 2.84%.
Related Link: Are Malls And Real Estate Owners In Trouble? The Bond Market Says "Yes"
In fact, the mall owner actually slashed a former 182,000-square foot Sears store in Franklin, Tennessee, into smaller section that house a Cheesecake Factory restaurant as well as an American Girl and H&M.
CBL & Associates isn't the only mall owner that has identified this trend. Since 2011, General Growth Properties Inc GGP 0.06% gutted 15 percent of its mall anchors and brought in occupants including H&M, 24-Hour Fitness, food grocers, restaurants and other new-age retailers.
Not As Easy To Kick Out Tenants
Mall investors assuming that it is easy to replace a traditional tenant, like Sears, with a hot apparel store or organic grocers should reconsider their position.
The Wall Street Journal noted that while more than half of Sears' mall leases expire within the next five years, the company holds renewal rights for the following 25 years.
In fact, Sears pays $4.29 a square foot in rent on its stores that part of the Seritage Growth Properties SRG 0.1% real estate investment trust (REIT) that it set up last year. Meanwhile, other Seritage tenants pay anywhere from $12 to $24 a square foot.
"Landlords have tried to be more active in buying back space," said DJ Busch, a senior Green Street analyst, "but there is a big gap in what they are willing to pay and what department stores are asking."
Did you like this article? Could it have been improved? Please email feedback@benzinga.com to let us know!
© 2016 Benzinga.com. Benzinga does not provide investment advice. All rights reserved.