The Bank of Japan noted to maintain the pace of monetary stimulus at 80 trillion yen a year. However, there was a dissent from BoJ Gov. Haruhiko's toughest critic, board member Takahide Kiuchi. Kiuchi proposed cutting the asset-purchase program to 45 trillion yen a year, but the vote was 8-1 against Kiuchi's proposal. 
Here's a link to the official BoJ Statement (PDF): BoJ Statement April 8.
While the dissent was singular, which means the stimulus is here to stay, probably for another year. In the short-term, the Japanese Yen should remain pressured. In the medium-term however, the JPY should start to show more resilience. 

Let's now turn to the 4H chart.
USD/JPY 4H Chart 4/8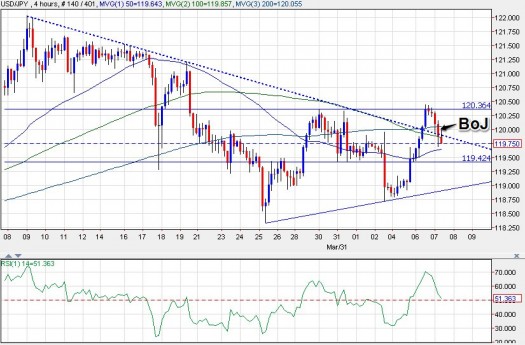 (click to enlarge)
The USD/JPY pair retreated after a bullish breakout. There was not much of a reaction to the BoJ statement, but there was a slowdown of the decline after the pair fell below 120. Now, if price falls below 119.40, the bullish breakout could be invalidated. A break below 119 would further confirm a bearish continuation in the short-term, with the 118.33 March low in sight, and with risk of extending lower towards a multi-month consolidation support around 115.65-116.
More likely, USD/JPY will be bullish in the short-term. If price holds above 119.40, and rallies back above 120.50, USD/JPY will have the 122.00 high in sight, with risk of extending higher. However, as mentioned above, we should not expect much of an extension because the JPY will likely be relatively resilient in the medium-term.