Paypal is going to report its earnings tomorrow after the closing bell. Fintech industry overall is moving forward very fast, we saw an example of Square that went public in 2015. Let's check whether Paypal could surprise us or disappoint. 
Q1 FY2016 results
In order to calculate the forecast we need to check two trends - quarter-over-quarter and year-over-year. Moreover, I always analyze the company's unit-economics to get a better understanding of business processes and check if the company is able to grow or there are some operating risks according their metrics. Paypal's investor relations department publishes the overall statistics regarding their active accounts, number of transactions and other important metrics. It could save a bit of our time.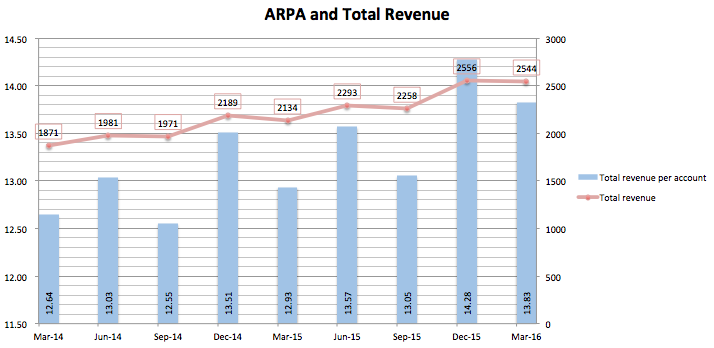 As you can see from the chart above, total revenue fell slightly on q-o-q basis. This trend repeats each year, the company is growing in Q2 and Q4, but falls in Q1 and Q3. Total revenue dropped less than .5% on q-o-q basis which is significantly less than a 3% drop in Q1 FY2015 on q-o-q basis. Take a look at the following chart: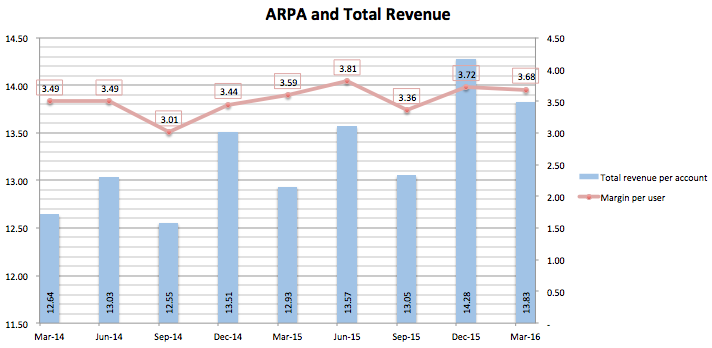 In order to calculate this margin per user (or per account, which is the same here), I divided all their operating expenses by a number of accounts Paypal has. The company increases its operating margin per user throughout the year after a significant drop in Q3. However, the company increased this metric in Q1 FY2015 but it was slightly down in Q1 this year. That's definitely not a significant change, it's not a trend yet, but it could be a first sign that business efficiency suffers right now. 
The most important fact which is coming out from Paypal's Q1 FY2016 report is that the company was able to stop payment volume downfall which had appeared over the last several years. Management broke this negative trend for the company, but we see that some operating margins were affected by that. 
Q2 FY2015 results
We'll use the same charts to check the trends for Q2 of each year. On both q-o-q and y-o-y basis Paypal's Q2 is an efficient one - they usually increase revenues, average revenue per account and margins. In Q2 FY2015 Paypal increased total revenue by 7% on q-o-q and 16% on y-o-y basis, increased ARPA by 5% q-o-q and 4% y-o-y and also improved their margin per user by 6% and 9% respectively. 
Forecast
As far as Paypal's business depends on two operating metrics - number of active accounts and a number of transactions made by this accounts (+ loans, which contributes 10% to total revenue), let's try to check those metrics and make our own forecast for Q2 FY2016. 
Number of active accounts is constantly growing 2-3% q-o-q. This is a very strong trend - company has shown those number for at least 8 consecutive quarters. I think that Paypal is going to show 2.3%-2.9% accounts growth this quarter. We will most likely see a number in 188.1M-189.5M range.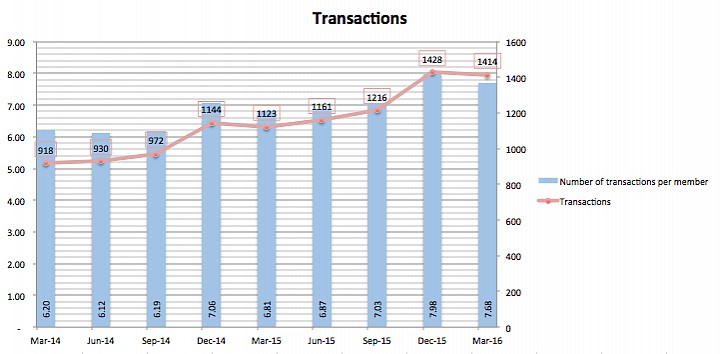 You can see from this chart that the company is slightly increasing a number of transactions each-quarter while it usually has a slowdown in Q1. I assume that they will be able to show 0.8-1.1% growth in a number of transaction per active account which will convert into 7.75-7.77 average number of transactions per account. Average transactions size hasn't moved by more than 1% upside or downside for 3 quarters in a row. In Q2 FY2015 the company was able to increase this metric by 4%, but I assume that this year they will have around 2-3% growth. So average transaction size in Q2 will be in $58.5-$59.0 range. 
It means that Paypal will have payment volume in $85B-$86.9B range, which will potentially contribute $2.3B-$2.45B to the company's transaction revenue. After a few assumptions regarding the rest of Paypal's revenue I got the following range for their revenue in Q2 FY2015: $2,680M-$2,723M. 
Conclusion
Checking the company's margins might be a little bit tricky - I'd better check it afterwards and then decide whether I will invest into their stock or not. My forecast is 3% higher than the consensus based on Financial Times data, therefore I assume that we could see a huge jump of volatility after the earnings call and the stock will most likely go higher. I'd better buy some OTM options now to hedge and get a maximum return.