Summary
You've not met Aswath Damodaran? Allow me to introduce you.
Damodaran lays bare the many follies & misdeeds behind the TSLA-SCTY fairness opinions.
In the Tesla fairness opinion kitchen, Goldman Sachs wrote the recipe, furnished the ingredients, and supplied the spoon; Evercore and Lazard merely stirred the pot.
Goldman Sachs has been consistently wrong in forecasting Tesla performance, and (very quietly) already has slashed the 2017 revenue forecast it gave Evercore and Lazard.
Ben Kallo stops by with an important reminder for us all.
I. Introduction
Today's topic is the behind-the-scenes role of Goldman Sachs (NYSE:GS) in Tesla's (NASDAQ:TSLA) proposed acquisition of SolarCity (NASDAQ:SCTY).
In what shapes up as the most rotten deal of the decade, Goldman Sachs is playing a crucial role, furnishing the data on which much of the "fairness opinion" analysis is based.
Indeed, though this has not been reported elsewhere, Goldman already has slashed the forecast for Tesla's 2017 revenues that it gave Evercore (NYSE:EVR) and Lazard Frères & Co. LLC (NYSE:LAZ), and on which both those firms based their fairness opinions.
Has Tesla reported this? No. Has Evercore or Lazard revised their respective fairness opinions, or the valuations therein? No.
Does this deal stink worse every day? It certainly does.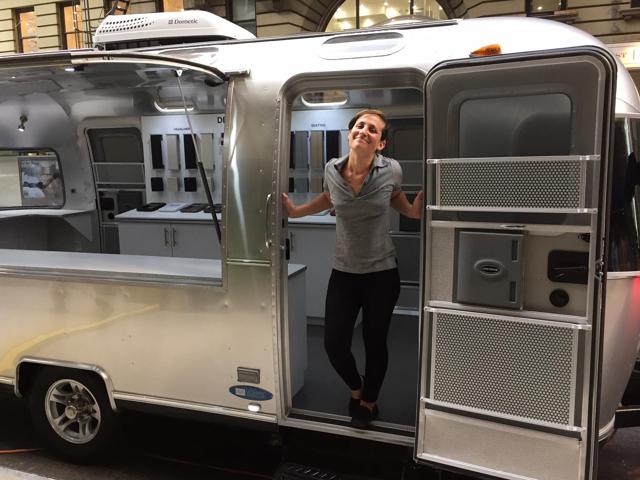 (Greetings from NYC, where Tesla's Model X pop-up store with Airstream trailer appeared last Friday. About which, more later...)
II. Professor Damodaran disassembles the Fairness Opinions.
In last Wednesday's article (Tesla & SolarCity: This Deal's Getting Worse All The Time), I wrote:
One of the most striking features of the S-4 is the extensive discussion of the "fairness opinions" prepared by Evercore Group L.L.C for Tesla and by Lazard Frères & Co. LLC for SolarCity.

When one pauses to reflect on them, both fairness opinions are truly staggering. I intend to write about them separately, soon.
Actually, I already had written at length about the fairness opinions, but the "Deal's Getting Worse" article had grown too lengthy, and so I decided to split it in two.
In the article comments, Seeking Alpha Member B4B00SHK4 called my attention to a and accompanying blog post by the formidable Aswath Damodaran, who teaches corporate finance and valuation at the Stern School of Business at New York University.
Damodaran is a leading, if not the leading, authority on corporate valuation.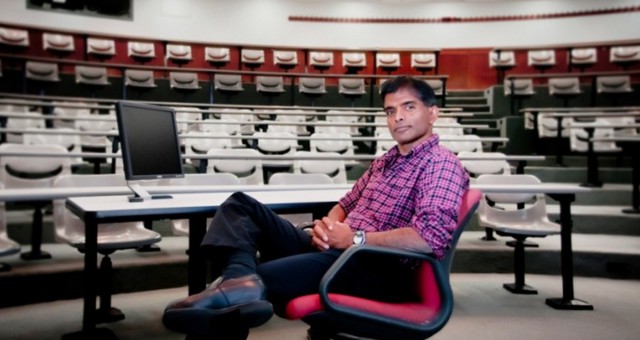 (Professor Damodaran, Stern School of Business, NYU)
In a lively, clear, and entertaining 24 minutes, Damodaran brilliantly dissects the valuations by Evercore and Lazard, comprehensively laying bare their errors and omissions. I encourage you - no, I urge you - to watch his YouTube discussion, or read his blog post, or both.
Damodaran outlines what he regards as the Misdemeanors committed by the bankers and, more seriously, the Felonies: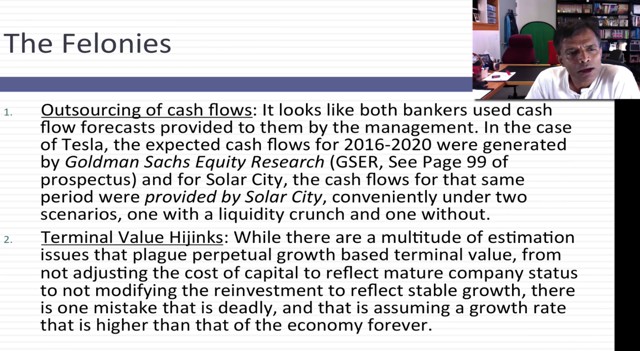 Damodaran covers crucial points that I won't repeat here. Among other things, he discusses:
the absurdity of Evercore's assumed annual growth rate for Tesla of 6% to 8% annually, in perpetuity;
Lazard's amateurish mixing of valuation metrics with price metrics;
the crafty selection of different discount rates by the two different bankers; and
the laughably wide range of per-share values derived by Evercore for Tesla (ranging from $89 per share to $451 per share).
Damodaran also briefly discusses the fees. Tesla has paid Evercore $1.25 million for the fairness opinion, and will pay an additional $5.75 million "success fee" if the merger is completed.
Lazard is also sumptuously compensated with $10 million in fees, and stands to receive a bonus of another $2 million if the deal is consummated.
Additionally, Tesla is on the hook for Evercore's expenses, including legal expenses, incurred in preparing its...
More