Well, a June rate hike it is, because despiate all the talk down of the February NFP number which was supposed to be whacked due to snow, it just came out and it is a doozy at +295K, smashing expectations of 235K, and above the January 239K (revised lower from 239K).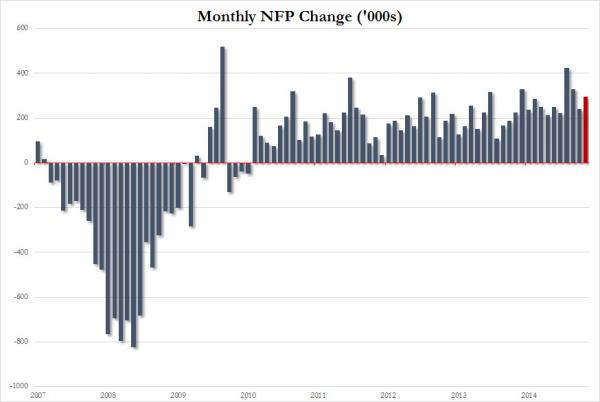 The unemployment rate came in lower than expected as well, printing at 5.5%, versus the 5.6% expected and down from 5.7% last month, as a result of the participation rate dropping again from 62.9% to 62.8%.
But the number everyone was looking at this month, the change in average hourly earning, came in at 0.1%, once again missing expectations of 0.2%, and sliding from 0.5%. So much for winter storms boosting wages as Goldman speculated.
As the chart below showing average hourly earnings shows, the January surge in wages was a fluke, and the number rose by a tiny 3 cents in February to $25.78, an increase of just 2.0%, and far below the Fed's target of 4.0%