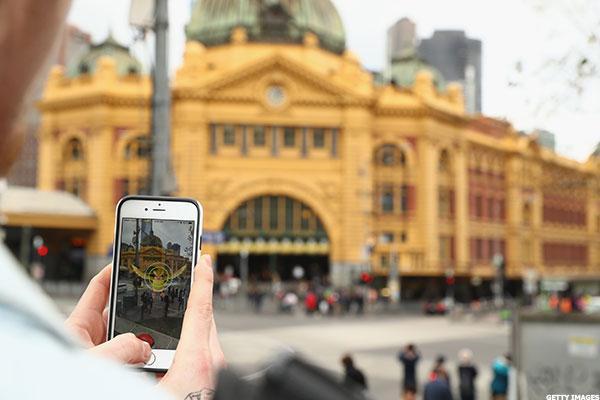 While it's unlikely to affect quarterly results this week, Hasbro ( HAS) and Mattel ( MAT) could try to take advantage of the success of mobile game Pokémon GO.
The Pokémon GO craze has nearly doubled Nintendo's Tokyo-listed shares, with effects rippling to other ancillary products. Roth Capital analyst Dave King, for example, believes that InvisibleShield maker Zagg's ( ZAGG) earnings per share will rise about 15% due to the game, although he questions the long-term impact. Zagg shares rose 21% last week.
BMO Capital Markets analyst Gerrick Johnson believes that Pokémon Go is more likely to "adversely affect engagement for PC and console game makers," such as Activision Blizzard ( ATVI) , Electronic Arts ( EA) and Take-Two Interactive Software ( TTWO) , but traditional toymakers like Hasbro and Mattel could also take a hit in the short term.
Like other analysts, he lauded the game's use of augmented reality, or AR, technology, but doesn't know how long the game's popularity will last.
"AR has been around for a while," Johnson added by phone. "To this point it's been a clever technology that really figured out a way to monetize. I've seen it in toys for a while, and when companies have used it it's cute and clever. This is the first viable use of augmented reality in the entertainment space that I've seen. You're going to see copycats. But we just don't know how long this thing is last."
However, it's difficult to disentangle the game's AR technology and the nostalgia factor from its popularity. "It seems to be older folks playing who knew Pokémon growing up, so it's unclear who it's going to impact," he said.
Johnson is pessimistic for the time being about the traditional toy companies' ability to use AR technology. He questioned whether toy companies like Mattel and Hasbro, whose products appeal primarily to kids, would be able to access that core market through mobile games.
"A lot of mobile games are played at doctors' offices or bus stops, where you don't see a lot of kids," he said. "And I don't think a guy playing 'Call of Duty' is going to put it down to play Pokémon."
Mattel and Hasbro customers may be too young to play Pokémon GO, but AR...
More