Money transfer using PayPal is now possible inside BlackBerry Messaging.
This feature will be available for the BB10, Android, and iOS versions of BlackBerry Messaging.
The top-notch security of BBM makes it an attractive payments gateway for mobile shoppers and online merchants.
BlackBerry (NASDAQ:BBRY) took time to write an official announcement dismissing the misconception over security issues concerning its QNX OS. I am now also, therefore, taking time to write about a very positive development over its BlackBerry Messaging app. PayPal (NASDAQ:PYPL) and BlackBerry have partnered up to allow users of BlackBerry Messaging to use their PayPal accounts to send/receive money.
The PayPal-as-a-payment-option inside BBM is definitely more secure than Facebook (NASDAQ:FB) Messenger's peer-to-peer money transfer, because the payment is processed inside super-secured BBM servers.
This feature is still being tested only in Canada, but BlackBerry promised a commercial rollout within the next few weeks. The integrated PayPal payment feature will be available for iOS, Android, and BB OS 10 users. It will also not require people to have the separate PayPal mobile app installed to send/receive money.
(click to enlarge)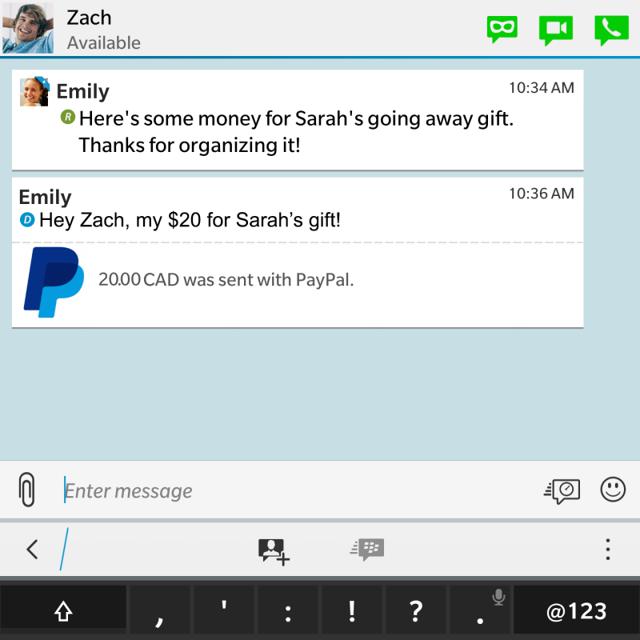 (Source: BlackBerry)
PayPal's leadership in mobile payments gives BBM the chance to become the best digital wallet.
The Best Digital Wallet
PayPal has 169 million monthly active users, and many of them probably own iOS and Android handsets. Promoting BBM as a safer option could help increase monetization of BBM users. The double layer of security in using PayPal accounts over secured BBM servers should also help dismiss the anxiety over past security breaches when using PayPal's app on mobile devices.
As of this month, BBM touts 91 million monthly active users.
August 2015 Statista Report:
(click to enlarge)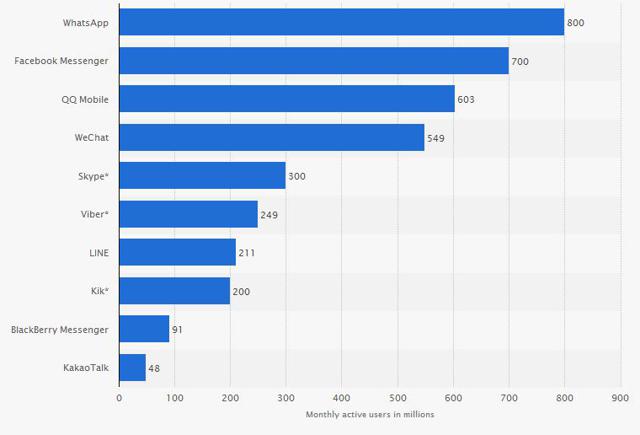 (Source: Statista)
BBM is one way for merchants to ease the security concerns over mobile shopping/payments. Unlike the free money transfer service offered by Facebook Messenger, I would like to believe that PayPal and BlackBerry will share the fees earned on payments processed through BlackBerry Messaging.
Mobile shopping is especially strong in the U.S/Canada. Both small merchants and mobile shoppers would benefit from using BBM as a digital payments gateway.
While it is free for people to send money using personal accounts, PayPal charges individual or commercial merchants a small fee for every transaction. I am therefore seeing potential revenue sharing from the BBM/PayPal partnership.
(click to enlarge)

The economic benefit of BBM getting $1/transaction from millions of future PayPal-powered commercial payments is pretty obvious. I see a big opportunity for BBM becoming a top digital wallet that could compete with Android Pay or Apple (NASDAQ:AAPL) Pay.
The loyal crowd that still uses BBM is way smaller compared to that of WhatsApp or Facebook Messenger. However, most BBM users probably have a higher purchasing power than $100 Android device-using WhatsApp fanatics.
Furthermore, as per SensorTower's latest July data, many iOS device owners in Great Britain, U.S., and Canada still use BBM.
BlackBerry Messaging Users: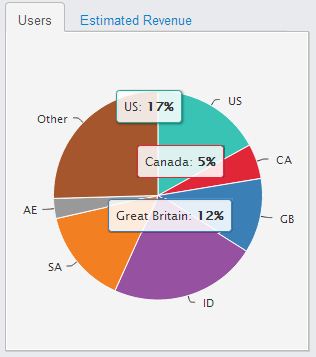 (Source: Sensor Tower)
There is, therefore, a chance that some iPhone and iPad owners (who still do not trust Apple Pay's security) who use PayPal would use BBM as their primary mobile digital wallet.
Conclusion
The team-up with PayPal is a strong reason for investors to keep faith in John Chen. The stock maybe down big time this year, but a global implementation of a PayPal-powered BBM is a tailwind that we should all appreciate.
The industry-leading reputation of BlackBerry security makes it the best option for merchants looking to win some sales from mobile shoppers. Unlike the QNX OS Jeep fiasco, BlackBerry has complete control over BBM. There is little risk that third-party software would be vulnerable to hacking.
Winning the support of PayPal gives BlackBerry Messaging a viable avenue to make some serious easy money. I am confident that many of those 91 million BBM users also have personal or premier PayPal accounts. Charging a fee for digital payments made using BBM is another way for BlackBerry to augment the $0.99/month that it charges iOS users who do not like ads on BBM.
The affluent iPhone/iPad crowd who do not mind paying $0.99/month to get their advertising-free BBM app could also afford paying the $2 transaction fee to buy something online. PayPal processed $46 billion in mobile payments last year. BBM has now a chance to get a share of the fees charged by PayPal from that $46 billion.
I would already be satisfied if BBM generates $50 million/year from the PayPal partnership. I'm still Long BBRY. I might also go long on PYPL. Marrying the popularity of PayPal with the top-notch security of BlackBerry is a perfect match in heaven.
There's a gold mine in transaction fees on surging purchases made on smartphones/tablets. Criteo's charts below should further convince you of the great promise of the BBM/PayPal partnership.
(click to enlarge)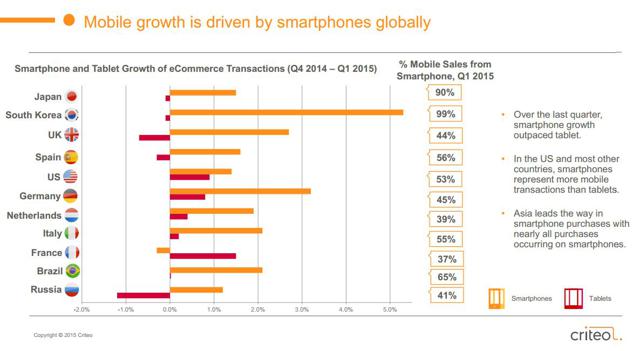 (click to enlarge)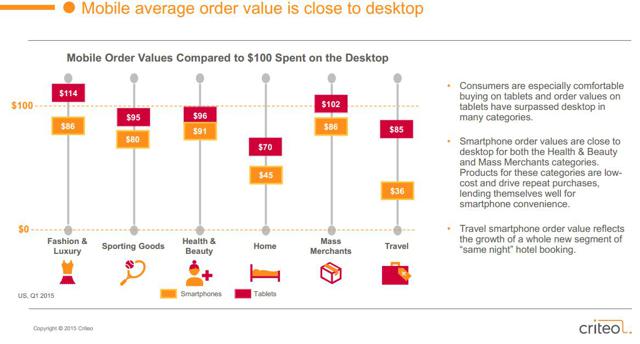 More