Deutsche Bank AG DB reported net income of €466 million ($512.4 million) in second-quarter 2017, significantly up on a year-over-year basis. Income before income taxes more than doubled to €822 million ($903.9 million) on a year-over-year basis.

Cost management and reduction in provisions were positive factors. However, lower revenues due to trading slump were an undermining factor. Notably, net new money inflows were recorded during the quarter.

Weak Revenues & Low Provisions Recorded, Costs Fall

The bank reported net revenue of €6.6 billion ($7.3 billion) in the second quarter, down 10.8% year over year.

Revenues at the Corporate & Investment Banking (CIB) division of €3.6 billion ($4.0 billion) declined 16% compared with the year-ago quarter. Lower global transaction banking, Financing and Sales & Trading revenues led to the fall. These negatives were partially offset by higher origination and advisory revenues.

The Private & Commercial Bank (PCB) segment's revenues totaled €2.6 billion ($2.9 billion), down 7% year over year.

The Deutsche Asset Management (Deutsche AM) segment posted revenues of €676 million ($743.3 million), down 4% year over year. Excluding the Abbey Life gross-up, revenues were up 7% year over year, driven by elevated performance fees in Alternatives and higher management fees.

The provision for credit losses plummeted 70% from the year-ago quarter to €79 million ($86.9 million). The decline resulted from improved performance in the Corporate & Investment Bank (CIB).

Non-interest expenses of €5.7 billion ($6.3 billion) were down 15% from the prior-year quarter. Non-interest expenses included reduced restructuring and impairment costs. Further, disposals and the closure of the Non-Core Operations Unit (NCOU), lower litigation costs and cost-management initiatives by the bank led to the decline.

Deutsche Bank's Common Equity Tier 1 (CET1) capital ratio (pro-forma Capital Requirements Regulation (CRR)/Capital Requirements Directive 4 (CRD 4) fully loaded) came in at 14.1% as of Jun 30, 2017, compared with 10.8% recorded as of Jun 30, 2016. Leverage ratio, on an adjusted fully loaded basis, was 3.8% as of Jun 30, 2017, up from 3.4% in the prior-year quarter. Risk-weighted assets amounted to €355 billion ($405 billion) as of Jun 30, 2017, down 11.7% year over year.

Our Viewpoint

Deutsche Bank reported a decent quarter with prudent cost-control initiatives. To resist another financial meltdown, banks in Europe are under stringent regulatory pressure to maintain a sturdy capital position. Following the capital raise last quarter, Deutsche Bank is focused on its series of additional actions and new financial targets, replacing the ones announced in Oct 2015.

Furthermore, if the planned investment reaps benefits, the excess capital in the future would be returned to shareholders, in turn, boosting their confidence.

Though the restructuring efforts of Deutsche Bank look encouraging, it is really difficult to determine how much the bank will gain, considering the prevailing headwinds.

Deutsche Bank AG Price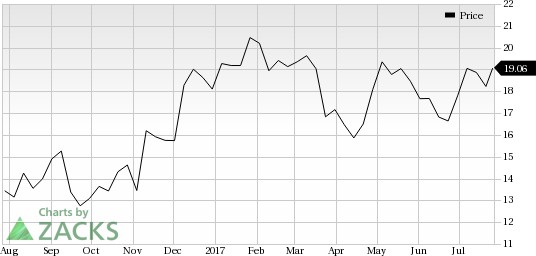 Deutsche Bank currently carries a Zacks Rank #2 (Buy). You can see the complete list of today's Zacks #1 Rank (Strong Buy) stocks here.

Among other foreign banks, Mitsubishi UFJ Financial Group, Inc. MTU, Itau Unibanco Holding S.A. ITUB and The Royal Bank of Scotland Group plc RBS are scheduled to report results on Aug 1, Jul 31 and Aug 4, respectively.

More Stock News: Tech Opportunity Worth $386 Billion in 2017

From driverless cars to artificial intelligence, we've seen an unsurpassed growth of high-tech products in recent months. Yesterday's science-fiction is becoming today's reality. Despite all the innovation, there is a single component no tech company can survive without. Demand for this critical device will reach $387 billion this year alone, and it's likely to grow even faster in the future.

Zacks has released a brand-new Special Report to help you take advantage of this exciting investment opportunity. Most importantly, it reveals 4 stocks with massive profit potential. See these stocks now>>
Want the latest recommendations from Zacks Investment Research? Today, you can download 7 Best Stocks for the Next 30 Days.
Click to get this free report
Deutsche Bank AG (DB): Free Stock Analysis Report
Royal Bank Scotland PLC (The) (RBS): Free Stock Analysis Report
Mitsubishi UFJ Financial Group Inc (MTU): Free Stock Analysis Report
Itau Unibanco Banco Holding SA (ITUB): Free Stock Analysis Report
To read this article on Zacks.com click here.