And to think all it took was Gartman going short of stocks in 25% correction terms yesterday...
Yesterday morning we remarked that while China staged a massive intervention in the market in the last hour of trading to push stocks higher, it came far too late to benefit Japan's Nikkei225, which closed red for the year, just before a dramatic move lower in the Yen prompted by the latest Chinese intervention. Because it was just after yesterday's Nikkei close that we saw the coordinated effort of Chinese and Japanese authorities send the world's carry trade, the USDJPY, soaring by over 100 pips, and combined with today's latest jump of over 50 pips, the result has been nothing short of a near-record one-day move in the Japanese Nikkei stock average, which jumped the most in nearly seven years in percentage terms, and the biggest point move in over 21 years. 
The Nikkei Stock Average surged 7.7%, or 1343.43 points, to 18,770.51, marking the benchmark's biggest daily percentage gain since October 2008. In point terms, it was the biggest gain since January 1994.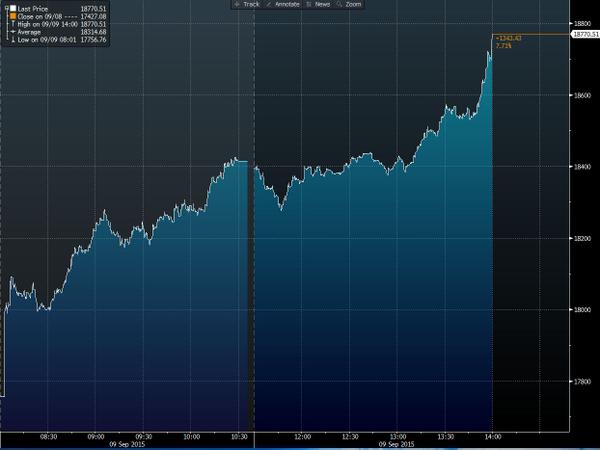 In addition to the central bank intervention to push the USDJPY higher over the past 24 hours, a major catalyst of the move was short covering. According to Mizuho's head of equity research, Yoshihisa Okamoto, hedge funds shorted Japanese index futures Tuesday afternoon speculating that Chinese stocks would fall after weak trade data, and are pushing Japan shares higher Wednesday as they close out positions. In other words, China's terrible trade data was just the equity surge catalyst the world needed.
Mizuho added that hedge funds had used Japanese futures as China proxy because regulations restrict their mainland trading, and very much incorrectly observed that "investors also closing out shorts amid growing speculation that BOJ will add to easing." Needless to say, not only will the BOJ not boost QE, but as a result of no marginal sellers, will soon be forced to taper it. But for now, price action dictates the newsflow, and certainly logic, and after a 7.7% move, there is no logic left.
Meanwhile, a modest two day rebound is all China needed to proclaim the "systemic financial risk" over:
China successfully fends off systematic financial risks: Premier Li at Summer

https://twitter.com/hashtag/Davos?src=hash

https://twitter.com/wef

https://twitter.com/hashtag/WEF?src=hash

pic.twitter.com/X07UPUHCz5

— China Xinhua News (@XHNews)

https://twitter.com/XHNews/status/641549698667417600
Supposedly this means no more monetary easing or market intervention, right? Yeah, that's what we thought...
The ongoing intervention in China where the Composite closed +2.3% now that index futures no longer trade, and Japan's mega short squeeze unleashed the biggest jump in the MSCI Asia-Pacific index since September 2011, pushing equities higher across the board. There were also broad based gains across the region's bourses with the ASX 200 (+2.1 %) and Hang Seng (+4.1 %) up on increased speculation of additional measures after yesterday's weak trade data.
JGBs traded lower as strength in equities dampen demand, while the BoJ also entered the market to purchase JPY 780b1n in government bonds ranging between 5yr to the super long end. In other meaningless from a trading standpoint news, Japan PM Abe said he will reduce corporate tax next year by a minimum of 3.3 percentage points and could seek a larger reduction if feasible. Considering Japan's actual underlying economy is in a tailspin, and about to undergo its 5th recession since Lehman, we somehow doubt any Japanese predictions and plans, especially those about the future, will hold.
Asia's euphoria carried over into Europe where stocks opened broadly higher, in reaction to the bolstered sentiment, with Asian equity indices rallying to see the Nikkei 225 posted its largest gain in a session since 2008.  Despite opening sharply lower in reaction to the pick-up in sentiment, Bunds have gradually come off the worst levels throughout the European morning as stocks pared part of the initial gains, but remain in the red as supply factors keep prices lower. 
Europe's Stoxx 600 rises 2.1% as of 12:30 pm CET time on volume that is ~105% of the 30-day average, tracking a sharp rally on Wall St and in Asian shares.  Europe's basic resources sector leads rally, up 4.1%; still down ~16% YTD, Europe's worst sector performance so far in 2015. Despite this week's gains, Stoxx 600, S&P 500 have not yet retraced 50% of July-August slump. German 2025 Bond Sale Yield 0.69% Vs. 0.61% Prior Auction
In FX, JPY continues to trade weaker across the board in reaction to the overnight announcement by PM Abe to cut corporate tax next year, with USD/JPY above 120.00 and in close proximity to the 200DMA line . The optimism filtered through to money market rates, where the 2y swap rate fell to its lowest since early January amid expectation of more aggressive policy easing measures.
Elsewhere, AUD continued to consolidate above 0.7000 level , as commodity sensitive currencies benefited from the pick-up in copper prices and expectation of further accommodation by China.Also of note, GBP/USD tested the 200DMA level to the downside following the release of disappointing industrial and manufacturing production reports, with the ONS attributing the drop to decline in motor vehicle output.
But keep a close eye on the USD: last night Krugman joined Goldman in saying he doesnt think the Fed will hike rates next week: "I don't think they are moving next week," economist Paul Krugman says at conference in Tokyo on Wednesday when asked about timing of possible interest rate increase by U.S. Federal Reserve. 
"I still think it would be a terrible mistake to move. But I'm not confident that they won't make a mistake." Krugman added that the Fed keeps sounding like it's eager to raise rates. "It's almost as if there exists an urge at the Fed to repeat the mistakes of the BOJ and ECB."
So a big part of today's move higher in US equity futures, which are up another 18 points most recently, is the market is now pricing in that the Fed is getting cold feet about a rate hike now that both Goldman and Krugman are saying a delay is inevitable.
The irony of course is that the higher stocks rise, the greater the probability the Fed does hike rates, so we go right back to square one.
In commodities, the price action was fairly muted across the energy complex amid light newsflow and a relatively flat USD. In the metals complex, copper prices advanced to its highest level since mid-July , benefiting from the pick-up in sentiment and also in reaction to the announcement made by Glencore earlier in the week which would result in the removal of 400,000 tonnes of copper from the market. Looking ahead, today sees the API crude oil inventories aftermarket having been delayed a day due to the long Labour Day weekend, as a reminder last week saw a build of 7,600K.
Going forward, today sees market participants digest the release of the latest US JOLTS report and the Bank of Canada rate decision.
Market Wrap
S&P 500 rose 2.5%, second-biggest gain this year
Nikkei 225 jumped 7.7%, largest surge since 2008
Shanghai Composite Index up 2.3%
S&P 500 futures up 1% at 1985.6
Indexes: FTSE 100 up 1.9%, CAC 40 up 2.6%, DAX up 1.8%, IBEX 35 up 2.4%, FTSE MIB up 1.8%, Euro Stoxx 50 up 2.4%
All of 19 Stoxx 600 sectors rise; autos sector up 2.9%, second-best performance after basic resources
V2X down 12% at 28.5
Euro spot down 0.4% at 1.1162; yen spot down 0.6%
GBP drops to 1.5361 vs USD session low after July IP, manufacturing data miss est
LME 3m Copper up 0.6% at $5375/MT
Brent crude down 0.3% at $49.35/bbl
Bulletin Headline Summary from Bloomberg and RanSquawk
Asian equities traded higher led by the Nikkei 225 (+7.7%) which soared nearly 1000 points after PM Abe announced a reduction in corporate tax next year
USD/JPY trades above 120.00 and in close proximity to the 200DMA after PM Abe's announcement, while GBP/USD tested the 200DMA level to the downside following disappointing industrial & manufacturing production
Today's highlights include US JOLTS report, Bank of Canada rate decision and API crude oil inventories after the closing bell on Wall Street
Treasury yields rise in overnight trading, led by the long-end as equities rally; U.S. will auction $21b 10Y (reopen), WI yield 2.215% vs. 2.115% in August.
Japanese stocks soared, with the Nikkei 225 Stock Average staging the steepest advance since the aftermath of the 2008 Lehman Brothers bankruptcy, amid speculation a selloff that drove valuations to an 11-month low was overdone
Five-year Treasury notes are near their most expensive level in 15 months relative to two- and 30-year securities before the Federal Reserve meets next week to decide whether to raise interest rates for the first time in almost a decade
U.K. industrial production unexpectedly declined and goods exports plunged the most in nine years, indicating a loss of economic momentum that may keep the Bank of England on a cautious policy footing
Citigroup's chief economist, Willem Buiter, said there is a 55% chance of some form of global recession in the next couple of years, most likely one of moderate depth and length
Chinese Premier Li Keqiang sought to soothe global concern about the nation's economy and stock market, saying growth is stabilizing and employment data show that it's operating in a reasonable range
Add the world's biggest stock-index futures market to the list of casualties from China's interventionist campaign to stop a $5 trillion equity rout
Sovereign 10Y bond yields mixed, with Greek 10Y yield falling ~23bps. Asian and European stocks gain, U.S. equity- index futures rise. Crude oil and gold fall; copper gains
US Event Calendar
7:00am: MBA Mortgage Applications, Sept. 4 (prior 11.3%)
10:00am: JOLTS Job Openings, July, est. 5.3m (prior 5.249m)
1:00pm: U.S. to sell $21b 10Y notes
DB's Jim Reid concludes the overnight wrap:
Onto the latest in Asia this morning and following a late surge in Chinese equities yesterday, which in turn kick started a strong relief rally across markets in Europe and the US, bourses have followed it up this morning with another strong showing with the Shanghai Comp (+1.69%), CSI 300 (+1.69%) and Shenzhen (+2.70%) all heading into the midday break with decent gains. The latest rally appears to have been supported by comments from China's Ministry of Finance late yesterday, stating that it would 'accelerate the implementation and improvement of proactive fiscal policy and related measures' as well as speeding up reform measures to support stable growth and promoting healthy economic development.
The better sentiment has spread to the rest of bourses in Asia this morning. The Nikkei has bounced +5.69% and the most since March 2011, while the Topix is currently up +4.98%. Elsewhere, the Hang Seng (+2.97%), Kospi (+2.25%) and ASX (+1.70%) have all followed suit. Asia credit markets are also benefiting from the strong risk tone, trading 4bps tighter this morning while S&P 500 futures are currently up just over half a percent, with 10y Treasury yields a couple of basis points higher.
Back to yesterday. More state intervention chatter was attributed to the strong surge in Chinese equities yesterday as the Shanghai Comp reversed course shortly after the midday break (and after we went to print), rallying over 5% off the intraday lows to close up just shy of 3%. As discussed above this triggered a relief rally wave across risk assets yesterday. In Europe the Stoxx 600 ended up +1.18%, while over in the US markets surged following a three-day break with the second best daily returns this year for the S&P 500 (+2.51%), Dow (+2.42%) and Nasdaq (+2.73%). It was similar story in credit markets too. In Europe Crossover rallied 8bps while across the pond CDX IG was over 4bps tighter and buoyed by a bumper day for primary market issuance following a 13-day drought for new deals. Meanwhile the VIX fell over 10% to close at 24.9 and back to the lowest level since August 20th.
In the Oil space Brent (+3.97%) had a strong day and more or less wiped out Monday's losses, although WTI (-0.24%) closed slightly down after playing catch up from the three-day break. Copper (+3.83%) surged on the back of production cuts while Aluminium (+1.91%), Zinc (+2.31%) and Nickel (+2.56%) also had a strong showing. The relief also spread through to a decent session for commodity sensitive currencies with +1% gains for currencies in South Africa, Russia, Colombia, NZ, Australia, Norway and Mexico.
The better tone in markets saw Treasury yields rise steadily over the day. The 10y eventually closed up 5.8bps at 2.184% while 2y yields finished +2.6bps higher at 0.735% and back pretty much to the highs for the year. Data wise there wasn't too much to report in the US with the calendar light as usual post payrolls. The highlight was a slight rise in the August NFIB small business optimism index, up 0.5pts to 95.9 (vs. 96.0 expected). This was the second consecutive monthly gain but still well off the December 2014 highs of 100.4. The labour market conditions index rose 0.3pts last month to 2.1, while consumer credit for the month of July came in slightly above market ($19.1bn vs. $18.8bn expected). All told, the probability of a September hike from the Fed now is sitting at 28%, a slight fall from 30% on Friday. On this note, the World Bank's Chief Economist has added to the recent chorus of opinions, warning that a move in September risks triggering 'panic and turmoil' in emerging markets and adding that it's the compounding effect of the last two weeks of bad news with China's devaluation that would likely trigger this panic.
Closer to home in Europe yesterday, sentiment was also given a lift following the preliminary Q2 GDP print for the Euro area, coming in at +0.4% qoq and a tenth ahead of expectations. That saw the annualised rate edge up three-tenths to 1.5% yoy and the highest since June 2011. Meanwhile, Germany's trade data surprised to the upside in July with the trade balance of €22.8bn reaching a new historical peak. This was after exports out of Germany bounced back in July (+2.4% mom vs. +1.0% expected and -1.1% mom in June), although imports were also notably higher during the month, rising 2.2% mom (vs. +0.7% expected) after a negative showing in June. Our colleagues in Germany noted that nevertheless, despite the good start to Q3, sentiment indicators (PMI and IFO export expectations in particular) point to a strong deceleration of German exports in the coming months. They point out that so far about half of nominal export growth was driven by the valuation effect caused by a mainly weaker Euro and that this depreciation has already faded. They also expect the demand side momentum to slow, especially given the slowdown of US vehicle sales and ongoing challenges in larger EM's.
Onto today's calendar now. We kick off in the UK this morning where the focus will be on the July trade data along with industrial and manufacturing production readings. Over in the US this afternoon the main focus will be on the July JOLTS job openings print, which as we've noted previously is an important release given that the data is among Fed Chair Yellen's favorite series with the jobs openings rate, hiring rate and quits rate of particular significance.