Biotech and medical-device companies are leading the charge, with gains up to 265%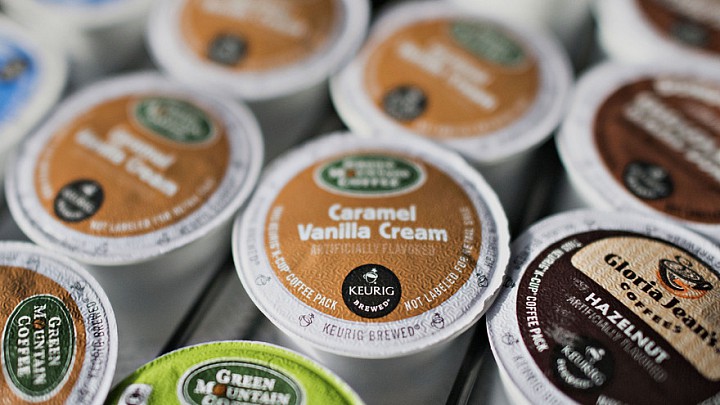 Bloomberg News/Landov
Shares of Keurig Green Mountain have returned 6,472% over the past 10 years, making them the second-best performers in the Nasdaq.

The Nasdaq Composite Index, which is about 50 points away from 5,000, hasn't been so high in 15 years, which is a long time to wait for a new record, but the benchmark for tech stocks may be better justified this time around.
The dot-com boom and bust are far behind us, yet investors still focus mainly on the large-cap-based S&P 500 Index as a gauge for stocks. The Nasdaq COMP, -0.02% has been a winner over the past 10 years, as you can see if you compare its performance to that of the S&P 500 SPX, -0.08% the S&P 400 Mid Cap MID, -0.10%the S&P Small Cap 600 SML, -0.06% and the New York Stock Exchange Composite Index NYA, -0.04% :
Index
Total return - YTD
Total return - 2014
Total return - 3 years
Total return - 5 years
Total return - 10 years
Nasdaq Composite Index
5%
15%
74%
134%
166%
S&P 500 Index
3%
14%
65%
111%
117%
S&P 400 Mid Cap Index
5%
10%
61%
120%
165%
S&P 600 Small Cap Index
2%
6%
59%
124%
143%
New York Stock Exchange Composite Index
2%
4%
37%
57%
52%
Total returns assume reinvestment of dividends. Source: FactSet
The Nasdaq is trading for 18 times consensus 2016 earnings estimates, among analysts polled by FactSet. That may seem high, when compared with price-to-earnings ratios for the three S&P indices. Curiously, the S&P indices are trading higher than they did 10 years ago, while the Nasdaq is cheaper than it was then:
Index
Price/ aggregate consensus 2016 EPS estimate
Forward P/E - 3 years ago
Forward P/E - 5 years ago
Forward P/E - 10 years ago
Nasdaq Composite Index
18.0
13.1
14.0
19.9
S&P 500 Index
15.6
11.4
11.5
14.9
S&P 400 Mid Cap Index
16.5
12.8
12.9
14.1
S&P 600 Small Cap Index
16.8
13.1
13.4
14.7
Source: FactSet
There's no shortage of warnings that the S&P 500 may be overvalued, based on the new records it keeps hitting and its high P/E, but maybe the Nasdaq would fare better during a pullback.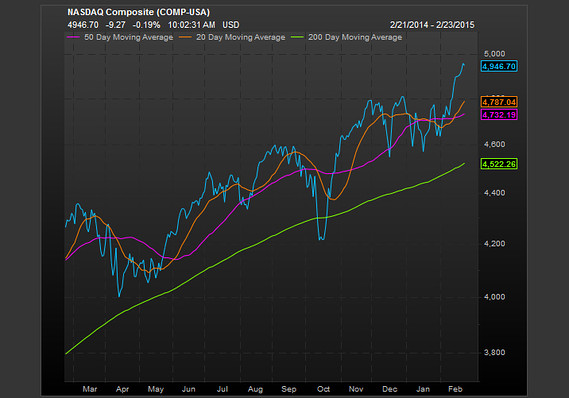 As you can see, the Nasdaq chart is looking strong, as the index is well above its 20-day, 50-day and 200-day moving averages, while the 20-day and 50-day averages are also well above the 200, and are on upward curves.
"Current market trends indicate that the outlook for the Nasdaq index is very bullish," according to Art Nunes, chief investment officer at Northwest Asset Management's Dynamic Investing Group.
During an interview on Monday, Nunes added that "the current rally has reversed the weekly price momentum indicators back to a buy signal and a rising trend again," and predicted that any selloff of the Nasdaq "in the near term will be short lived and be confined to the 5% - 7% area."
http://www.marketwatch.com/story/10-stocks-that-are-pushing-...