Toyota Motors (TM) has been bearish in 2017, but shifted to sideways price action since April.

TM Daily Chart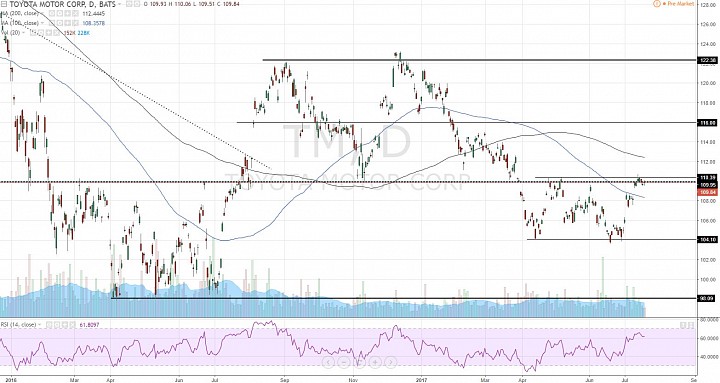 (click to enlarge)
2017 Price Action
- As we can see on the daily chart, price action in 2017 walked back most of the gains from 2016.
- There was a key support at 110. If price held above 110, TM would have maintained some bullish bias.
- However, the break below suggests TM is sideways and possibly bearish.
Range, Resistance, Bullish Outlook:
- Since the bearish break out, price reached down to the 104-104.10 area and began trading in a sideways range, with the resistance around that critical area around 110.
- July was a bullish month with price bouncing up from 104 to the 110 area, where it has stalled this week.
- A clean break above 110.40 should open up the 116.00 mark.
- This bullish outlook would only be for the short term. The general mode of TM is still directionless, so we don't have to have too aggressive a bullish outlook.
-116 would be the middle of the previous consolidation range, and a bull run to this level would still be within the sideways consolidation mode. It fact, it would start to look like a triangle (including price action since April 2016).