Who would have thought all it takes for Eurozone Q4 GDP to print above expectations, even if by the smallest of possible margins - one which even the Chinese goalseek-o-tron bows its head down to in respect - which at 0.3% Q/Q was above the 0.2% expected and above Q3's 0.2%, was for Europe to admit it has finally succumbed to deflation. Oh, and for the ECB to admit the situation has never been more serious by launching Q€. Oh, and add the "estimated contribution" to GDP from hookers and drugs. Put all that together and on an annualized basis, the European economy grew by 1.4%. This compares to the reported 2.6% growth rate in the U.S. during the same period.
Whatever the reason, Q4 GDP was the best print since Q1, even as Germany blew not only consensus of 0.3%, but the highest GDP estimate of 0.6% out of the water when it reported that courtesy of a spike in spending, its economy grew by 0.7% in the fourth quarter, up from the near-recessionary 0.1% in Q3. That, together with QE and ZIRP now raging across the continent, was enough to push the DAX above 11,000 for the first time ever.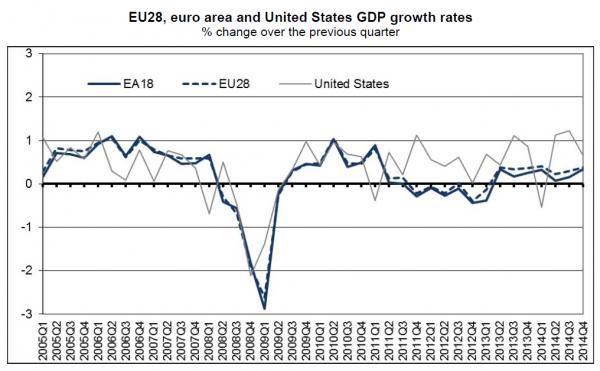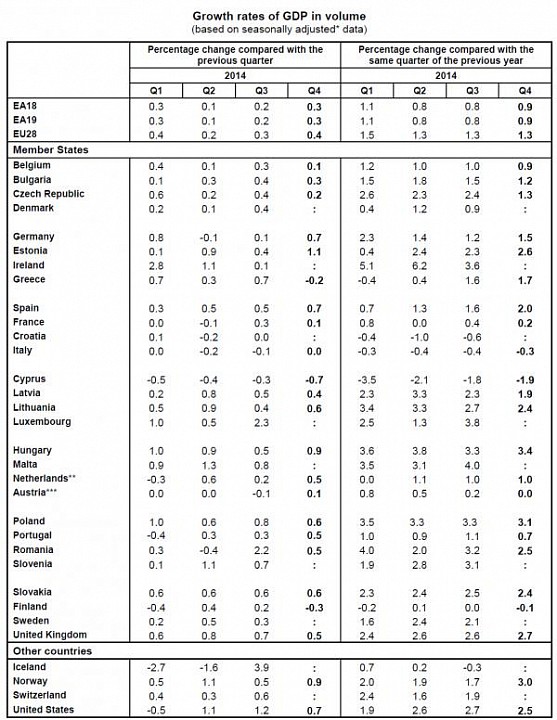 Some other observations on today's report from the WSJ:
Economic growth slowed in France, while Italy endured its 14th straight quarter without an increase in output. Elsewhere, Greece's economy contracted again after three quarters of expansion, a development that may reflect growing uncertainty ahead of January elections that saw the left-wing Syriza party lead a new government. Greece wasn't alone, however, as the economies of Cyprus and Finland also shrank.

 

In 2014 as a whole, the French economy expanded by just 0.4%, matching the growth rate in 2013. The economy has been largely stagnant for years, bedeviling President François Hollande 's efforts to encourage hiring by cutting corporate taxes.
However, all eyes were on Germany, about which Goldman had this to say:
German GDP was up 0.7% qoq (non-annualised, seasonally and calendar adjusted) after +0.1% in Q3. The Q4 growth rate was stronger than expected (Consensus: +0.3% qoq, GS: +0.4% qoq). The statistical office has not released a detailed breakdown of the different components yet, but suggested that strong private consumption and investment spending were the main drivers of growth in Q4. Exports "increased again significantly". However, imports rose, according to the statistical office, "at a similar rate", implying a neutral contribution from net trade in Q4.

 

German GDP figures tend to show a higher volatility than GDP figures in other big Euro area countries (the relative big size of the industrial sector is probably one factor behind this volatility). Hence, one should not take today's GDP figure at face value and some correction in Q1:15 is likely. But what today's figures nonetheless suggest, and what is consistent with the rise in business sentiment over the past couple of months, is that the underlying momentum of the German economy is now picking up again
It remains to be seen if this latest GDP rebound, all of it driven by the recent plunge in the euro, will translate into either higher inflation or greater European corporate profits: for the past three years the answer has been a resounding no, which incidentally is why European stocks now trade at around 20x PE.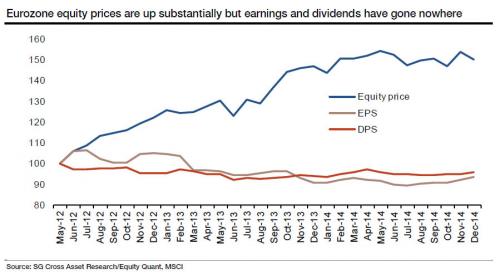 Perhaps this time will be different.
But enough about the future: it was the present the rejoiced at this latest "recovery", and as a result European equities drifted higher since the open, and the DAX rallied to fresh record highs on a break of 11,000 as sentiment was lifted by the prospect of a deal between Greece and the Troika.
Positive sentiment is evident in Greek assets as the Athens stock exchange trades with gains of around 7%, Greek banking stocks trade as the best performing in Europe, and a bid in Greek paper has seen the GR/GE 10y yield spread tighten by over 60bps. Fixed income has largely been driven by flows away from safe havens and into stocks, and this is particularly noticeable in the periphery with Italian, Spanish and Portuguese paper all outperforming AAA rated paper.
There have been several single stock stories of note pre-market including indication of solid performance from luxury name L'Oreal (OR FP) who trade higher by 1.5% after a positive earnings update, pharmaceutical giant GlaxoSmithKline (GSK LN) higher by 3.3% after a positive broker move at UBS, and steel giant Thyssenkrupp (TKA GY) down 3.3% after they missed EBIT expectations for Q1.
As noted earlier, the biggest highlight in overnight Asian trading was the latest bond market hiccup in Japan, which translated into a stop loss-triggering bout of JPY strength which in turn pushed the nominal Nikkei lower. Asian equity markets traded mostly higher led by a strong Wall Street close, which saw the NASDAQ 100 (+1.2%) close at its highest level since May'00. As also noted, the ASX 200 (+2.3%) outperformed surging to its highest level since May'08, while the Hang Seng (+1.1%) and Shanghai Comp (+1.0%) traded firmly in the green. Nikkei 225 (-0.4%) after being weighed on by a strong JPY. JGBs tumbled sending 10yr yields to their highest level in 2-months, weighed on by a poor 5yr auction, with the b/c ratio coming in at the lowest since Apr'13.
FX markets have been relatively quiet throughout EU trade so far although optimism around Greece has supported the EUR currency which has led to a bid in the EUR/GBP cross and hence some mild GBP weakness. Although the Greek situation continues to linger, progress is expected as the Greek PM meets with Troika officials today ahead of the second Eurogroup meeting on Monday, and after sources late yesterday suggested Germany are to soften their bailout stance and German and Greek officials are close to reaching a compromise.
In early trade AUD remains strong after rising overnight on short covering amid less-dovish than expected comments from RBA Governor Stevens where he made no explicit easing bias following last week's rate cut. AUD/USD trades just above large vanilla option expiries with 3.5bln due to roll off at the NY cut, and in USD/JPY the pair trades in close proximity to large expiries with 968mln at 118.50, 891mln at 119.00 and 1.9bln at 119.20-25.
Overnight Brent crude futures broke above USD 60 for the first time in 2015 as positive sentiment from Asia lifted commodity prices although energy and metals markets have been particularly quiet so far this morning. In corporate news Arcelormittal see 2015 as tough but outlook for steel markets will improve and the co. earnings missed forecasts due to losses on iron ore. Anglo American wrote down USD 3.9bln on its Minas Rio mine in Brazil due to falling iron ore prices however profits did beat expectations due to cost cutting, and ThyssenKrupp kept its forecasts unchanged although slightly missed profit estimates.
In Summary: European shares remain higher, though off intraday highs, with the basic resources and bank sectors outperforming and travel & leisure, food & beverage underperforming. German 4Q GDP ahead of estimates, DAX rises above 11,000 for first time. French 4Q GDP slightly below estimates on an annual basis, Italian GDP slightly above. Euro-zone GDP due at 11am CET. The Spanish and Italian markets are the best-performing larger bourses, Swiss the worst. The euro is stronger against the dollar. German 10yr bond yields rise; Greek yields decline. Commodities gain, with copper, natural gas underperforming and Brent crude outperforming. U.S. import price index, Michigan confidence due later.
Market Wrap:
S&P 500 futures up 0.1% to 2087.1
Stoxx 600 up 0.5% to 376.6
US 10Yr yield up 2bps to 2%
German 10Yr yield up 3bps to 0.35%
MSCI Asia Pacific up 1% to 142.8
Gold spot up 0.2% to $1224.4/oz
Euro up 0.11% to $1.1416
Dollar Index down 0.01% to 94.09
Italian 10Yr yield down 7bps to 1.58%
Spanish 10Yr yield down 6bps to 1.56%
French 10Yr yield up 2bps to 0.66%
S&P GSCI Index up 1% to 421
Brent Futures up 1.9% to $60.4/bbl, WTI Futures up 1.6% to $52/bbl
LME 3m Copper down 0.3% to $5722.5/MT
LME 3m Nickel up 0.4% to $14770/MT
Wheat futures up 0.2% to 520.8 USd/bu
Bulletin Headline Summary From RanSquawk and Bloomberg:
European equities drifted higher since the open, and the DAX rallied to fresh record highs on a break of 11,000 as sentiment is lifted by the prospect of a deal between greece and the Troika
FX markets have been relatively quiet however USD/JPY trades in close proximity to large vanilla option expiries with 968mln at 118.50, 891mln at 119.00 and 1.9bln at 119.20-25
In a continued theme from this morning's quiet conditions, it is likely markets remain calm heading into the weekend due to caution into Monday's Eurogroup and
Monday's US market close for Presidents' Day however the release of US Uni of Michigan Sentiment and comments from mega-hawk Fed's Fisher could all help drive short-term price action
Treasuries head for second consecutive weekly decline following quarterly refunding auctions, rally in risk assets including high yield bonds and as Greek and EU leaders signal a willingness to compromise on how to continue Greece's bailout.
Greek PM Tsipras emerged from his first summit with EU peers and said he sees political will to agree on what happens once the current aid program expires this month; Germany's Merkel said her first meeting with Tsipras was "very friendly"
Greece's goal remains a six-month bridge agreement that would lead to a new deal with euro-area authorities, Tsipras told reporters late Thursday
Eurogroup chairman Dijsselbloem is "still pessimistic" on Greece, according to ANP: "It is very complicated. You can only spend money when you have it. Greece wants a lot but has very little money to do that. That's really a problem for the Greeks,"
Euro-area GDP rose 0.3% in 4Q as Germany's 0.7% expansion offset weakness in Greece and Italy; DAX index broke through 11,000 level for first time
Denmark signaled it has adopted a new strategy to fight speculators as capital continues to flow into its AAA-rated assets at a record pace, threatening to undermine the krone's peg to the euro
Pro-Russian separatists focused overnight attacks on the Ukrainian crossroad town of Debaltseve hours after the agreement of a new cease-fire as European leaders expressed concern over whether the deal will come into force
Ukraine's $40b international bailout plan and cease-fire agreement are paving the way for the government to start debt restructuring talks with creditors
SocGen plans to eliminate ~1,500 jobs in Russia this year as the country's economic contraction squeezes profitability, according to a person with direct knowledge of the discussions 
Sovereign yields mixed; Greece 10Y yield falls ~82bps to 9.19%. Asian stocks mostly higher, European stocks and U.S. equity-index futures higher. Brent and WTI higher, gold rises, copper declines
US Economic Calendar
8:30: Benchmark Revisions of Producer Price Index
8:30am: Import Price Index m/m, Jan., est. -3.2% (prior -2.5%)

Import Price Index y/y, Jan., est. -8.9% (prior -5.5%)

10:00am: U. of Mich. Sentiment, Feb. preliminary, est. 98.1 (prior 98.1)

U. of Mich. Current Conditions, Feb. preliminary (prior 109.3)
U. of Mich. Expectations, Feb. (prior 91)
U. of Mich. 1 Yr Inflation, Feb. (prior 2.5%)
U. of Mich. 5-10 Yr Inflation, Feb. (prior 2.8%)

Fed's Fisher speaks in San Antonio, Texas
DB's Jim Reid concludes the last market wrap of the week
Two of the shadier areas of the market became slightly less grey yesterday as sentiment improved towards Ukraine/Russia and Greece. Indeed Mark Wall and I hosted a lunch presentation in Brussels yesterday and as we were walking out of the hotel, who should be walking in? Yes Angela Merkel on her way from talks on the former to the latter. Mark and I thought all the security outside the hotel was to keep our screaming fans at bay but alas no. The only scream last night was in my hotel room in Luxembourg when after getting up in the dark during the night I forgot I wasn't in my bed at home and walked into the wall bashing my bad knee hard. Ouch. Meanwhile my poor wife spent my day away cleaning up mess from our new puppy. Apart from this she's been relatively well behaved. I had lots of requests for a photo yesterday. Happy to send a couple to anyone that wants to meet Bronte. She'll break your heart this Valentine's Day.
Back to Greece, it seems negotiations carried on in Brussels yesterday behind the scenes even after the Eurogroup meeting disbanded. It appears that the chatter in meetings that followed on Thursday signalled some progress towards some sort of potential outcome on Monday. Reuters reports suggested that following PM Tsipras's meeting with the EC's Dijsselbloem, Greece have agreed to let the Euro-area engage with authorities to start a technical assessment in an effort to find common ground. Tsipras meanwhile said that 'we leave today having made some significant steps' according to Reuters. Merkel also helped the more supportive tone commenting that 'Europe always aims to find a compromise'. Having said that the FT goes on to quote her as saying 'However, it must also be said that Europe's credibility naturally depends on us respecting rules and being reliable with each other'. It still feels like it could go either way heading into Monday's meeting which is an important deadline as some countries will have to vote on any changes to any programs for Greece.
Elsewhere the ECB approved another €5bn in ELA funding which appeared to help support markets, although the release perhaps highlights what is most likely accelerating deposit outflows at the Greek banks and the official end of the waiver yesterday. The next ECB ELA review is on Wednesday. Greek equities yesterday finished 6.7% higher and 3y yields rallied nearly 300bps at the close.
Elsewhere yesterday's ceasefire agreement between Ukraine and Russia appeared to fuel the better sentiment across markets globally. We'll touch on the price action shortly, but in terms of the agreement, following a drawn out process overnight where talks lasted for some 16 hours, Russian PM Putin, Ukrainian PM Poroshenko, German Chancellor Merkel and French PM Hollande came to sort of agreement early in morning on a ceasefire which is due to commence from midnight on Saturday. The announcement appears to have attracted some caution however. Merkel in particular saying that 'we don't have any illusions that a lot of work is still required' and that the agreement offered a 'glimmer of hope' in quotes on Reuters. Austrian Chancellor Faymann meanwhile said that the deal is no guarantee, but a glimmer of light and French President Hollande urged that we have to continue to exercise pressure. The deal appears to be not too different from the initial ceasefire drawn up in September which proved to fail shortly after and is perhaps influencing the slightly more cautious comments. Crucially the agreement still fails to deal with the issue of the political status of eastern Ukraine and the lack of control that Kiev has over its Russian border. Clearly this is still a fragile situation which could still generate headlines in the near term.
It was a busy day for Ukraine yesterday. As well as the ceasefire talks, we also heard that the IMF has reached a provisional agreement on a new program for Ukraine. DB's Robert Burgess noted yesterday that the current two-year standby arrangement has been replaced by a four-year extended fund facility worth about $17.5bn. The new package is thought to be part of a wider $40bn package for Ukraine which includes private sector involvement. Ukrainian equities rallied 4.3% yesterday whilst in Russia the Micex finished 2% firmer. Both the Russian Ruble and Ukrainian Hryvnia bounced around although ended the day both modestly softer versus the Dollar.
Back to markets yesterday, in the US the S&P 500 (+0.96%) finished at its highs for the day. It has in fact been a better run for US equities lately. Having declined 3.1% in January, the S&P 500 is now +4.7% through the month of February so far and outperforming European equity markets which are 1-2% firmer generally. Year-to-date however, European equities are still some 8-10% better off following January's rally. The volatility in oil markets meanwhile continued with gains for both WTI (+4.85%) and Brent (+6.01%) – wiping out a bulk of the previous two days of weakness.
The better sentiment around the ceasefire talks appeared to help offset what was a weaker set of data prints in the US yesterday. Retail sales continued to weaken with the headline January reading coming in below expectations (-0.8% mom vs. -0.4% expected) as well a softer than expected ex auto and gas print (+0.2% mom vs. +0.4% expected) – although up from a revised 0.0% in December. Our US colleagues noted that the readings are slightly odd given the strong employment data and income growth during the period. Elsewhere jobless claims were also softer than expected. The +304k (vs. +287k expected) reading was up from +279k previously but the four week average still remains below 300k. Finally business inventories ticked down a notch to 0.1% mom from 0.2%. The Dollar was weaker with the DXY finishing 0.94% weaker whilst Treasuries firmed with the weaker data. The yield on the 10y benchmark tightened 3.3bps and back below 2% to close at 1.984%. Elsewhere there were further hawkish comments out of the Fed with Plosser in particular saying that despite the weak retail sales numbers, the consumer in general is in a lot better shape and that 'no theory' justifies zero interest rates in the current environment.
In terms of price action in Europe, the Stoxx 600 (+0.75%), DAX (+1.56%) and CAC (+1.00%) all closed higher whilst peripheral markets bounced as the IBEX and FTSE MIB both finished around 2% higher. With the better sentiment generally out of Ukraine and Greece the Euro finished +0.59% at $1.140. It was a stronger day for fixed income markets too with Crossover finishing 8pbs tighter and 10y yields in Germany (-3.5bps), Spain (-2.8bps) and Italy (-4.7bps) all lower. Data largely took a backseat, but Germany's final inflation reading for January ticked down a notch to -0.4% yoy (from -0.3%) and industrial production for the Euro-area came in below expectations in December (0.0% mom vs. +0.2% expected).
Elsewhere, Swedish markets were buoyed yesterday by the surprise news from the Riksbank announcing that it is lowering the repo rate to -0.1% from zero previously. At the same time the central bank announced that it would start buying SKr10bn of government bonds monthly in moves to combat low headline inflation. The Riksbank Governor Ingves also announced that the central bank is willing and ready to do more. According to Bloomberg, just 6 out of 18 economists had forecasted the cut. The Riksbank now becomes the first central bank to move its main repo rate into negative territory after the ECB, Denmark and Switzerland implemented negative deposit rates. Sweden also joins our list of countries that have eased this year, joining Europe's 19 countries under the ECB and 15 others. So that technically makes a grand total of 35 in just 6 weeks.
Staying on Central Banks, the Bank of England also opened the door to lower rates if needed even if Carney warned against complacency especially when we do see the likely dip into deflation in the coming months. In fact they were more hawkish further out in their forecasting period. However with the UK fast becoming a high yielder again in Europe with rates at 0.5% there is a possibility the next move in rates could be down and not up. So it's fair to say that the currency war continues to bubble under the surface even if the salvos are fairly subtle ones at the moment. This theme will likely build and build and again one wonders how the Fed can be that aggressive in the opposite direction when the majority of others are easing.
Before we move onto the day ahead, markets this morning in Asia are following the US lead and generally trading stronger. The Hang Seng (+1.06%), Shanghai Composite (+1.90%) and Kospi (+0.65%) in particular are firmer. The Nikkei (-0.24%) meanwhile is weaker whilst the Yen (+0.49%) has continued to strengthen versus the Dollar following a +1.1% rally yesterday. According to the WSJ, BoJ officials have grown increasingly concerned that the weaker currency could dampen consumer spending and sentiment which in turn makes the officials cautious that further easing measures could prove counterproductive.
In terms of the day ahead, the highlight this morning will likely be the Q4 GDP prints out of Germany, France and the Euro area. On the latter in particular, the market is looking for a +0.8% yoy reading. Away from the growth numbers construction output in the UK will also be worth keeping an eye on. Across the pond this afternoon, in the US we've got the import price index followed closely by the University of Michigan consumer confidence index.