Procter and Gamble $PG has been choppy all year, but did make new 52-week highs going in September. However, after cracking 94, it started to retreat sharply, and we could be seeing a major correction that could go deep into 2018.
PG Daily Chart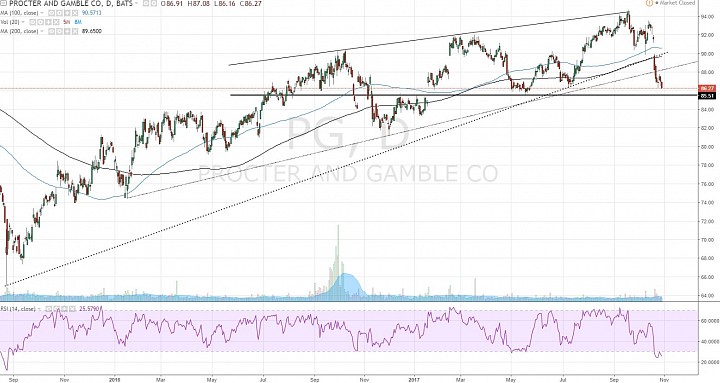 (click to enlarge)
Price Action Looks "Toppy":
- The daily chart shows a bullish market since August/September of 2015.
- Price rallied from just above 65 to almost 95 before the recent dip.
- The recent dip is what makes the above chart look like it is topping. Price has broken below a couple support trendlines and the 200- and 100-day simple moving averages. The RSI is dipping below 30.
Key Support:
- If price breaks below the 85.50 support, we would have even more evidence of a price top.
- In that scenario, a short-term bearish target would be 80.00.
Bullish-Neutral:
- The weekly chart shows that price is retreating from the 2014-2015 high.
- This failure to break resistance reflects a sideways market or at least a non-bullish market.
- In this scenario, we should anticipate price dipping towards the 76 area with the most aggressive bearish outlook being the 68 area.
- But because of the prevailing bullish bias, I would anticipate support above that 2015 low, and possible closer to 70-71.
- Again, this bearish outlook is going to depend on whether the 85.50 support holds.
PG Weekly Chart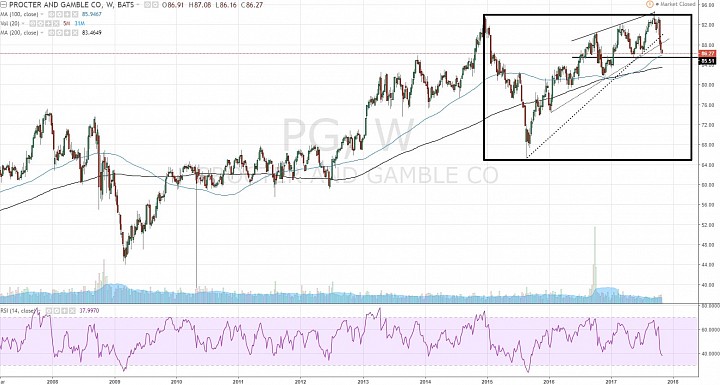 (click to enlarge)